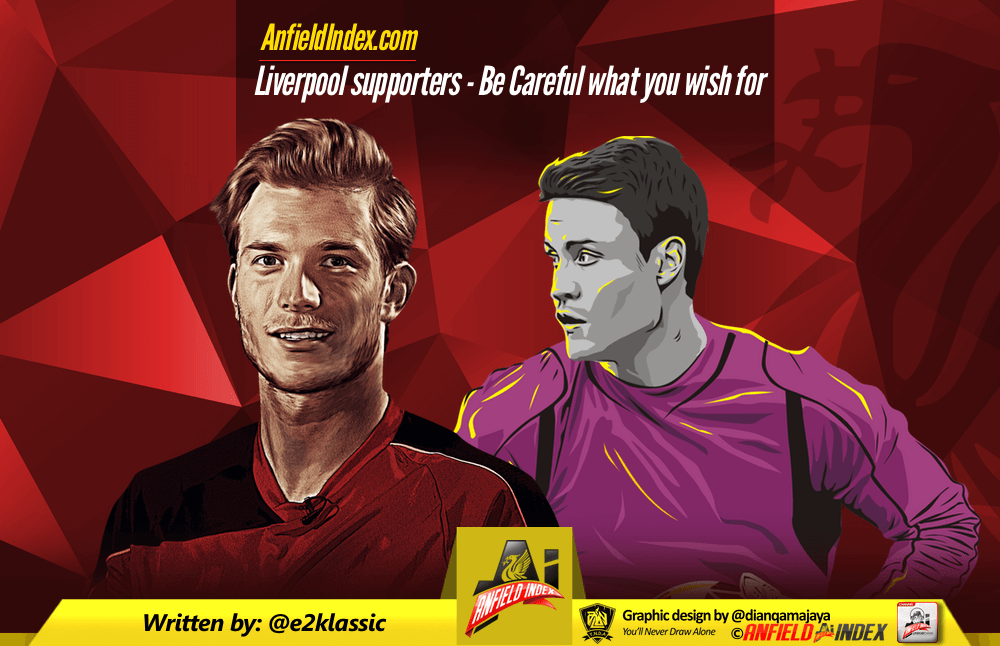 Liverpool supporters - Be Careful what you wish for
Liverpool goalkeeper Loris Karius, having presided over 3-0, 5-1 and 2-1 wins in his opening three competitive games for Liverpool, could probably be forgiven if a part of him has spent the international break wondering what he has done so wrong.
Having recovered from the broken hand which caused him to miss Liverpool's first five League games of the season, the man who was voted by his peers as second only to Bayern Munich's Manuel Neuer amongst Bundesliga goalkeepers last season was eventually handed his belated debut as soon as he was declared fit, against Derby County in the League Cup on 20 September. His immediate inclusion that night, coupled with the fact that the position has remained his for the subsequent League games against Hull City and Swansea City, tends to indicate that, somewhere between the lines of Jürgen Klopp's reluctance to explicitly label him Liverpool's number one goalkeeper, there is evidence that he has become precisely that.
It is difficult to get a read on the 23 year-old based on the three games he has played so far, given that Liverpool utterly dominated Derby (73% possession) and Hull (74%) and, having been out of sorts for the first half-hour, saved arguably their most impressive 45-minute performance of the season for the second-half against Swansea, leaving the German relatively idle as the likes of Coutinho, Firmino and Mané ran the show further up the pitch. That has not prevented some from trying and, ultimately, fearing the worst based primarily on the evidence of him coming for and missing a couple of crosses against Derby and Swansea (the latter with Mike van der Hoorn's elbow in his face, it must be said) and, perhaps more importantly, his failure to punch or claim much of anything in general, in particular the corners which eventually resulted in goals for Hull's David Meyler and Swansea's Leroy Fer.

This criticism has primarily been framed in terms of Karius' teammate and predecessor between the sticks, Simon Mignolet, a man who has suffered his own well-documented lapses on crosses and set-pieces since his arrival in 2013 yet whose stock has now climbed sufficiently high that he has apparently become the only man capable of taming the looming, towering spectre of Marouane Fellaini (another player whose attributes have mushroomed in the minds of some over the international break in direct proportion to the diminishment of Karius'), with many calling for his restoration ahead of Manchester United's visit on Monday night.
With that being said, this article does not seek to establish which of these goalkeepers is actually better, a subjective proposition anyway but one made all the more so by the differing ages and experience levels of the respective players. I will also happily admit to never having seen Karius play before his summer arrival at Anfield, and since he has only donned the gloves for Liverpool in three competitive games to date it would therefore be a waste of time for me to even attempt such a comparison. The immediate question at hand, the one which appears to have generated the most non-bowls team-related discussion over the past couple of weeks, is whether the German should be dropped for Monday night's game and it is the one which I am looking to explore here, based primarily on: (a) the evidence of his performances so far, and (b) the likelihood of Mignolet being the safer option.
Could Karius have done more for the two goals he has conceded so far? A case could be made, although he almost certainly would not have been able to lay hands on the superb in-swinging Swansea corner which was eventually nodded down for Fer to poke home, a back-post delivery which would have been hugely difficult to read as it swirled over his head. In fact, I would argue that Karius' judgement on this corner was thoroughly sound throughout, taking a couple of brief steps forward with the ball in the air and then back towards his line once he realised he wouldn't get there. He made his mind up quickly and elected not to take what would have been a fairly sizeable risk, looking mobile and light on his feet as he did so. He could have tried to gather it all the same, but is that really what we want from a Liverpool goalkeeper? Attempting to take crosses that he will struggle to even reach.
Well, could he have positioned himself better to get in the way of the slight flick-on which came off either van der Hoorn or Dejan Lovren from the knockdown, then? Maybe, if he was clairvoyant and therefore able to vacate his goal in the certain knowledge that the Swansea player would not get a proper touch and embarrass him at his near post. As far as I can see, under any fair-minded criteria there is very little else that Karius could have been expected to do for the goal and it might be a more useful exercise to examine what was going on in front of him (as has often been the case with Mignolet in the past, incidentally).
Jordan Henderson, originally marking the goalscorer until his attention was taken by a near-post run, appeared to allow Fer to wander free from somewhere in the vicinity of the penalty spot to an unmarked position about three yards out in the centre of the goal. Nathaniel Clyne was beaten with ease on the back post. And in the case of Hull's goal the previous week, a cluster of red shirts failed to clear the ball before it broke gently to Meyler a few yards out.
Klopp joked during his recent appearance on Sky that the answer to Liverpool's issues on set-pieces is to make the players taller, but height alone could not account for the two gilt-edged chances spurned by an unmarked Borja (one from play, one from a free-kick) in the first-half against Swansea or the utterly baffling failure of anyone in front of Karius to pick up van der Hoorn in the dying moments of the game when he was allowed the opportunity to sidefoot home from close range having had to beat precisely no one in the air, only to horribly slice his finish.
The body language of his centre-backs, Lovren and Joël Matip, suggested afterwards a strong belief that the German should have come for a cross which looked like one he would have been around 50/50 to reach first, but unless there was a shout from Karius (maybe there was, we don't know) then surely he would have been equally entitled to wonder why 6'5" Matip did not make more of an attempt to clear the ball at the front post? These are systemic issues with which Liverpool supporters will long be familiar, across eras, managers, systems and personnel, and the return of Mignolet would be unlikely to do anything in and of itself to solve them.
Nonetheless, the questions abound. Tony Barrett has suggested that "up to now, Loris Karius has got away with it." John Aldridge, writing in the Echo, has gone so far as to explicitly suggest dropping the German for the visit of Manchester United on Monday night, writing that "I'd say while Karius could come good one day, Mignolet should be between the sticks at this moment in time." "Got away with it", "could come good one day" – the lack of faith is stark. Others share similar reservations (for example, a Liverpool Echo poll on Thursday had Mignolet on 56% of the votes to start the next game) but, as I see it, these doubts are borne as much of perceptions unique to Liverpool's situation as Karius' actual level of performance across his first three games and, as such, are issues about which he can do very little. These are threefold.
1. Title drought
Firstly, Liverpool have not won a League title in over 26 years. John Gibbons, speaking on the Anfield Wrap podcast, argued recently that Liverpool should not have been looking to bed-in a new goalkeeper, with all of the uncertainty that brings, when they had started the season so well with Mignolet between the sticks for good results against Arsenal (4-3), Tottenham (1-1), Leicester (4-1) and Chelsea (2-1), last season's top-three and the previous year's champions respectively, and are in the thick of a title race where every point counts. This principle would appear to be fuelled to a large extent by history, specifically Liverpool mounting only three genuine title challenges in a quarter of a century (1996/97, 2008/09, 2013/14), only one of which involved integrating a new goalkeeper (Mignolet himself in 2013).
There is no hard and fast rule, however, to suggest that changing a goalkeeper at the start of a season is doomed to end in failure per se. Chelsea did it in 2004/05 with Petr Čech and again in 2014/15 with Thibault Courtois, both seasons where they won the League and in both instances replacing highly-regarded 'keepers (respectively, Carlo Cudicini, club player of the year as recently as two years earlier, and Čech himself, who has continued to be first-choice for a title-contending team in the meantime). Arsenal went unbeaten in Jens Lehmann's first campaign (2003/04). And Liverpool ended 2005/06 with the FA Cup and a new club record for consecutive clean-sheets in Spanish import Pepe Reina's first season (which was far from perfect, incidentally – I shudder to think what people would make of Karius if he let a shot like Dean Ashton's squirm through his hands or allowed a cross like Paul Konchesky's sail over his head).
The problem is that Liverpool have not changed goalkeepers and gone on to win the League since Bruce Grobbelaar replaced Ray Clemence in 1981/82, so a bit of trepidation at the very thought is perhaps understandable. That does not make it fundamentally a wrong idea, though. To consider it as such is to remove any hint of nuance from the discussion. There are many reasons why Liverpool have not won the League since 1990, and plenty of others besides the introduction of Karius why they potentially won't this season (the same, of course, would go for Mignolet should he be recalled).
2. Déjà vu
Secondly, the harsh reaction to Karius missing a couple of crosses against Derby and Swansea and failing to come for an awful lot else so far feels more than a little like a side-effect of watching error-prone goalkeepers struggle in similar situations for years, most recently Mignolet himself, and I think a lot of people are seeing the absence of a positive as a negative with the German as a result.
Some of these have included utter nightmares against Monday's opposition, such as David James presenting Andy Cole with an open goal to seal a virtual title decider with his team 1-2 behind in 1997 or Jerzy Dudek kindly gifting Diego Forlán his greatest moment in English football in 2003 before allowing a Wayne Rooney shot under his body two seasons later. Sander Westerveld, meanwhile, eventually prompted the signing of two goalkeepers on the same day but, strangely enough, this singular event was neither related to him struggling to hold his own in a fight with Francis Jeffers nor once punching into his own net under pressure from the towering presence of Dennis Wise. Under such trying circumstances (the majority of Pepe Reina's stint the major exception), a bit of impatience is perhaps understandable.
Before the season began, thisisanfield.com ran a feature where Sky Sports Bundesliga reporter Alex Chaffer and Mainz season-ticket holder Conor Garratt were asked to provide an insight on what Liverpool supporters could expect from their new goalkeeper. Chaffer remarked on "his speed off his line" and suggested that he "is strong in the air", while Garratt stated that "his best attributes are his shot-stopping…and the command of his area; from crosses and corners, you always have the feeling he'll come out on top." A detailed profile on the player by outsideoftheboot.com stated the following: "Karius has emerged as one of the best keepers in Germany, and not without reason. His super quick reflexes, and amazing point blank saves make him a tough man to have in goal…Another important, but underrated trait, is his ability to come and claim the ball with confidence and without ambiguity. 88% success when trying to claim is a decent enough rate, and a very important part of being able to defend set pieces."
He was, therefore, advertised as an aerially-competent goalkeeper by those who would have watched him playing for Mainz, an area long identified as a weakness for Liverpool, so perhaps it is natural to wonder why he is not hurtling off his line and snatching everything within a 15-yard radius? Well, firstly, any expectations we may have had in this regards are not Loris Karius' fault. And secondly, the counterpoint to that argument is whether it is fair to expect him to come for everything? Would Mignolet be able to do that with every single cross? Going by over three seasons' worth of evidence, probably not. For that matter, would David De Gea, Neuer, Gianluigi Buffon or even Peter Schmeichel at his best have been guaranteed to pluck or punch any of those aforementioned crosses or set-pieces from their respective penalty areas? No. Would they have even tried? Or would Schmeichel have typically entrusted Bruce/Pallister/Stam to clear the danger, or Cannavaro/Bonucci/Thuram in Buffon's case, or Hummels/Boateng/Mertesacker in Neuer's?
It is something to consider, and it is also worth examining how we came to the point where a goalkeeper's perceived failure to try and come for corners and crosses inthree games where he had comparatively little to do, even ones that any goalkeeper might be struggling to make (Gylfi Sigurðsson's delivery in particular was evil), is worrying us to the degree that we see it as preferable to recall a player who has suffered from those exact same issues in the past.
And what about the team around him? Go back to the summer of 2004 and Čech was arriving to play behind a Chelsea defence which included John Terry and Portugal stalwarts Paolo Ferreira and Ricardo Carvalho, shielded by Claude Makelele. He was guided by a coach with a strong reputation for building defensively robust teams, as was Courtois when he returned from Atletico Madrid in 2014 (Mourinho on both occasions). Lehmann had the likes of Sol Campbell, Kolo Touré, Ashley Cole and Gilberto Silva guarding his goal. And in 2005, Reina was blessed with a back four of Steve Finnan/Sami Hyypia/Jamie Carragher/Jon Arne Riise, with Xabi Alonso, Momo Sissoko and Didi Hamann often shielding in front and Rafael Benítez organising from the sideline.
The point is, if Liverpool are continuing to struggle defending set-pieces and crosses, is it fair to place this much of the blame on Karius alone given that he is acclimatising to life behind a relatively raw defence (Matip and Milner are new arrivals in the back four) in a team which, as Klopp himself mentioned during his appearance on Sky, sometimes lines up in what resembles a 2-1-7 formation? To be fair to him, Mignolet has never had a strong defence in front of him during his time at Liverpool either and plenty of his erratic form over the years could be attributed to that (at least Karius has been spared Martin Škrtel's particular set of inconsistencies, for example), but the Belgian has had three seasons to forge a legacy, the German only three games.
3. The opposition
And thirdly, it is Manchester United who are next up at Anfield, the club's bitterest rivals and fellow challengers for a top-four finish. It is also a side packed with aerial threats (Fellaini, Zlatan Ibrahimovic, Chris Smalling, Paul Pogba, Marcus Rashford) and a dead-ball expert (Juan Mata) overseen by a coach whose approach often ventures into stone-age territory and will therefore likely be playing for set-pieces (Mourinho again). Having said that, half of the Premier League would probably adopt a similar approach at Anfield – the real problem is that we don't want to lose to them, we cannot afford a mistake against them, and I get that. None of this, however, is Loris Karius' problem, or indeed Jürgen Klopp's. And if Karius is likely to be perceived as a weakness to be attacked by Mourinho, then surely so too would a recalled Mignolet given his past record?
Additionally, I think it is a fair assumption that crosses and set-pieces are not the only danger that Liverpool will face against Manchester United. According to the same Mainz season-ticket holder mentioned earlier, "Karius makes spectacular stops look routine and probably pulled off the best save of the season in the Bundesliga from an almost impossible-to-miss Borussia Monchengladbach chance", handy I would suggest against finishers of the calibre of Ibrahimovic, Pogba, Rashford and Anthony Martial (he was also, impressively, inches from getting a hand on Meyler's point-blank thunderbolt against Hull).
This fixation on Karius' perceived nervousness on crosses ignores the fact that Mignolet's shot-stopping statistics (which stood at a cumulative 67.6% just before last Christmas, good enough for 18th out of 31 eligible 'keepers at the time) were worse than ever across his five League games this season (18 shots faced, 8 goals conceded for a 55.6% save rate). Again, it is difficult to get an accurate gauge of Karius at this point having only faced 6 shots on target against the combined strike forces of Derby, Hull and Swansea (putting him on roughly the same mark as Mignolet last December), and shot-stopping ratio is a notoriously imperfect measurement in any case. Nonetheless, his reflexes have been specifically mentioned as an attribute and he has hardly had the chance to exhibit that yet. The "speed off his line" mentioned by Chaffer, meanwhile, may very well be useful against a team likely to be defending in numbers and with the pace of Rashford, Martial and Jesse Lingard to hit Liverpool on the break.
Karius may very well make a mistake against Manchester United, but is he any more likely to do so than Mignolet? I have argued previously that the Belgian is a good goalkeeper on the whole whose major problem has been an unsuitability to play how Liverpool (first under Brendan Rodgers and now Klopp, both managers with an attacking focus) have wanted him to play, with a resulting impact on his confidence and comfort in his own skin. And, assuming that Karius remains Liverpool's number one indefinitely, he immediately becomes arguably the Premier League's best reserve 'keeper until he decides to leave for one of the many other clubs who will no doubt be keen to offer him first-team football.
However, the idea of bringing him back in for Manchester United after three games in which Karius failed to collect a couple of crosses and Liverpool conceded from corners ignores the mistakes and lapses in judgement repeated regularly across three seasons by Mignolet: the missed punches which resulted in goals conceded against Norwich (at 1-0), West Brom (at 1-0) and Newcastle (at 2-0) last season, being beaten on his near post against Arsenal (twice, at 1-0 and 2-1, one of them from a corner) and in the League Cup final against Manchester City (at 0-0), and failing to set up a wall properly against Sunderland (at 2-0), all of which came at the potential cumulative cost of a trophy and 10 points which would have put Liverpool comfortably in the top-four, level on points with third-place Tottenham and one behind runners-up Arsenal (in fact, in this hypothetical scenario, a win over Arsenal at Anfield would have seen Liverpool finish above them in third).
Those mistakes are not perceived, they are real, they happened and they comprise a pattern over time. For good measure, let us recall him failing to even venture towards collecting a cross to the edge of his own six-yard box for Fulham's second at Craven Cottage in the 3-2 win in February 2014, or delaying so long over a backpass at Turf Moor in December 2014 that it went out for a corner, or backing away from a through-ball that he was favourite to reach against Manchester City in the 2-1 win at Anfield in March 2015 which resulted in Sergio Aguero hitting the post, or being penalised for holding on to the ball for 22 seconds which resulted in Bordeaux taking the lead at Anfield last November.
It is impossible to simply disregard the evidence of that three-year period, and while a compilation of similar errors by Karius may well exist somewhere, it seems bizarre in that context to be discussing the German's flaws after three games. What we have seen from him so far may very well be cause for wider concern, but by the same token a few solid punches to open the season surely do not change a player's basic level of competency and, more importantly, his judgement of when to come and when not to? It is highly debatable whether Mignolet was playing so well prior to Karius' debut last month that he should have been retained at all costs or that he would represent that much of a safer bet now. His role in Robert Huth's header against the crossbar at Anfield against Leicester City which almost made it 2-2 before half-time, for example, was nightmarish from his weak clearance which landed at the feet of an opposition player to his failed attempt at punching away the resulting corner.
Mignolet has had very solid runs of form before but they have never lasted and, in truth, Klopp would have no more guarantees restoring Mignolet for Manchester United than he would with Karius because the Belgian has at no point in his Liverpool career demonstrated the kind of guaranteed safe pair of hands that he is suddenly perceived to be.
To me, it is awfully premature to label Karius the potential liability that some clearly feel he is and I consider it a reminder of the danger of perceptions. Perceptions are powerful things and can change games, results, seasons, even the course of a club's history if they are allowed to persist. Mignolet, dropped in favour of a man considered by most to be his necessary replacement before the season began, has seen his stock suddenly rise as high as it has been since arguably his first season at the club because of a perception that his rival is less dependable on crosses than he is (even while clearly being more mobile and confident with the ball at his feet) and that he will cost Liverpool the game against Manchester United.
Well in the spirit of this kind of speculation: what happens if Klopp agrees with some of these misgivings, drops Karius on Monday night, Mignolet has a nightmare, Liverpool lose and eventually end up finishing a point off fourth-place or the title? Or what if Karius plays and thinks "shit, I better start coming for more crosses", ends up forcing one that he should have left alone and allows the winner into an empty net? What if such indecision over the goalkeeping position at this early stage of the season develops into a kind of "goalkeeper by committee" situation where individual mistakes by either man result in immediate calls to drop him? What if we reach a point where both men end up being considered too nervy or erratic to start at all? What then? Send for Danny Ward, presumably.
Perceptions, at their very mildest, are minor headaches to be endured; left to fester unchecked, they can develop into myths that eventually become received wisdom. Liverpool supporters should be aware of that more than most. When Jim Boardman challenged then-Chairman Martin Broughton over Benítez's departure in 2010, he was met with "I'm sorry you think like that but you are entitled to your opinion. I note your opinion doesn't seem to be shared by the media" in response. The media of which Broughton spoke had long peddled myths and half-truths (spectacularly and repeatedly debunked by Paul Tomkins in the past) about everything from zonal-marking to rotation to "mind games" to Benítez's transfer business, personality and relationship with his players, and yet here was one of the most powerful men at the club apparently relying upon it for validation.
Without wanting to get into it in too much detail, there are perceptions about Benítez's time in charge which can be argued against strongly (I previously outlined, for example, that this "conservative" coach won 48 of 60 League games against lower-half opposition at Anfield and that his record against "bus-parkers" was generally in keeping with the League's best teams in those years). What cannot be argued is that Liverpool reached two Champions League finals, winning one, and became UEFA's number-one ranked club in 2009 under his watch. And yet the departure of this decorated, world-class manager in 2010 was received with remarkable calm by many of the club's fanbase who, perhaps feeding a little too heavily on the slop being served by the mainstream football media, presumably felt that he was too fatally flawed as a coach for Liverpool and that Roy Hodgson was the right man to "steady the ship" (that's a whole other box of myths to sort through).
Speaking earlier that season, Arsène Wenger had said in defence of Benítez that "we live in a world where democratic judgment is only in the present, and that's why it's very important to have directors who are strong enough to resist…" The same could be said to apply to managers. I believe Jürgen Klopp when he says that "I am really happy with both of them" and that any decision "doesn't mean we will go like this for the next five years", but he did not sign a player widely regarded as one of the brightest young goalkeepers in German football to simply provide a bit of competition for Simon Mignolet. He signed him because Liverpool, as virtually everyone acknowledged last season, needed improved play between the sticks and inside their own penalty area. Whether Karius brings that on a consistent basis remains to be seen, but we forget the reasons for his arrival at our peril.
Everything is a potential weakness until it isn't, and ultimately the only way for Karius to dispel the negative perceptions about him is by having a few solid games under high balls and crosses (how he is meant to have those from the bench, I'm not sure). In the meantime, and fortunately for Liverpool, we can rest assured that top managers don't deal in perceptions or vague senses that a player has a mistake in him. If Mignolet does start against Manchester United then I will naturally be hoping he has a 10/10 performance but, from this vantage point, Karius was picked as soon as he was fit and has kept his place since, so consider my mind boggled if he is dropped for Monday night based on what we have seen so far.