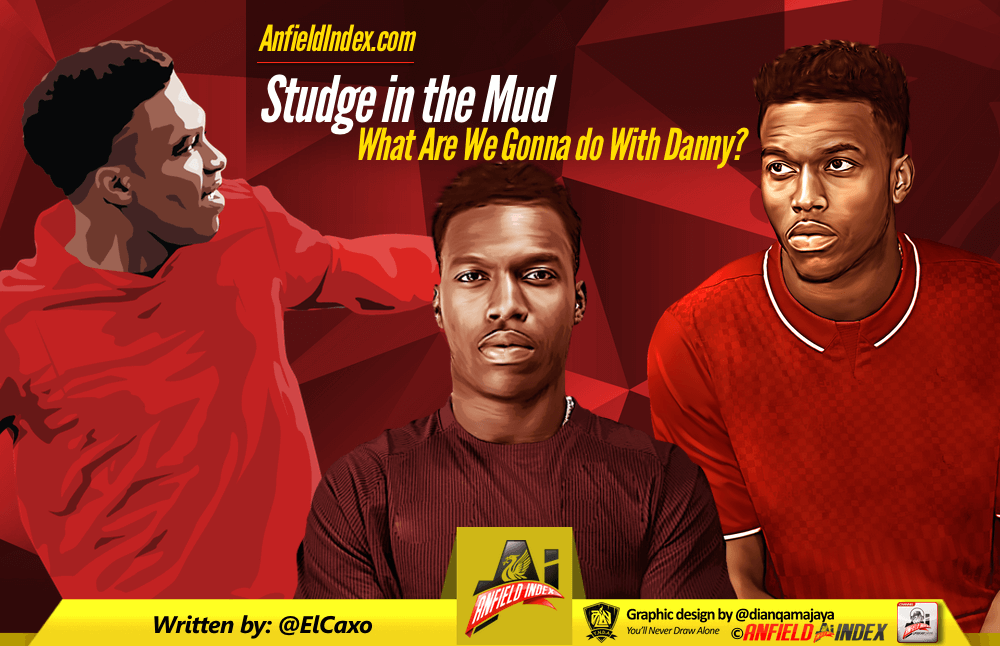 Studge in the Mud - What Are We Gonna do With Sturridge?
Christ on a bike, have you ever seen one substitution change the tempo, style and atmosphere as much as when Adam Lallana entered the melee on Monday night? Like when the producers switch to the infrared cameras in the chopper on police interceptors, or during Planet Earth. Suddenly all became clear. Liverpool began to play they like have the rest of this season; hunting in packs, closing down on bad guys and gazelles alike with the reckless abandon that has been so very enjoyable to watch this season. The switch from arduous and clumsy to snappy and refined was impressively quick.
Credit where credit is due, Adam Lallana has come on leaps and bounds this year under Jurgen Klopp, taking to his tutelage like a duck to water footballer player who had all the tools but needed a bit of direction. Feel free to read more about this here.
For now let's discuss how much Daniel Sturridge looked like a kid who has lost their mum in a supermarket during Monday's fixture, shall we? It's difficult to recall many games where the England International has been truly that ineffective and isolated up the pitch. It made for some very painful watching. Admittedly Liverpool as a whole were firing about as randomly and inaccurately as is possible so it's not really fair to apportion all the blame on Sturridge however the big switch did come when he was substituted.

It makes for difficult reading to see that Sturridge has 0 Premier League goals this season when Firmino, Mane, Lallana and Coutinho all have 3 each. One can allow for the fact that Sturridge has only started a single game this season but that then further lends itself to the growing sense that he is no longer integral to the ongoing success of this new look Liverpool side. The paradigm Jurgen Klopp has shifted to is all too recognisable now and running is the foundation it is built on. Is Sturridge built to be a cog in the machine? Can he shape his game as Adam Lallana has done?
"When Jurgen Klopp picks his best team, when everyone's fit, I don't think Sturridge is in it, at this moment." (quote from Carragher)
This is a pretty damning summary of the current state of affairs. The pundits on Monday Night Football, in all it's preened, touchscreen based glory, even went as far as to suggest that Klopp has no time for players who can only score goals. Surely this is undervaluing Sturridge? His assist production per 90 minutes so far this season is 0.26, just under the near title winning season in 13/14 (0.28) and above the season before that (0.25). For a player who has been on the periphery this year that's not too shabby is it. Equally when you look at the context of the game, is it fair to heap too much criticism on him? Sturridge was surrounded by United players from the off and the rest of the teams insipid attempts to move the ball around didn't help one bit. It certainly wasn't a match with many Liverpool players who can truly walk away from that game saying they played to a standard that they're proud of.
All in all however it comes down to more than just Daniel Sturridge vs. Adam Lallana in the setting of one game of football. Even more so it doesn't just come down to the No. 15 vs. his other team mates; it comes down to the player vs. himself. When given a proper run Sturridge has demonstrated a fantastic capacity to influence games and get on the score sheet. When sent on loan to Bolton he scored 8 in 12 and was duly recalled to Chelsea. In following 11/12 season when given an opportunity by Andre Villas Boas he scored 10 goals in the first half of the season even after missing the first 3 games through suspension. His scoring record at Liverpool speaks for itself even amongst the injury problems. At the time of writing he has 56 goals in 100 appearances across all competitions. Hardly a ratio to be sniffed at. Let's also not forget how truly jaw-dropping some his goals have been as well, the man is more than a mere tap-in merchant. Can Liverpool afford to move on a player of such obvious talent? Only Sturridge can force Jurgen Klopp to answer this question come the transfer window next summer.