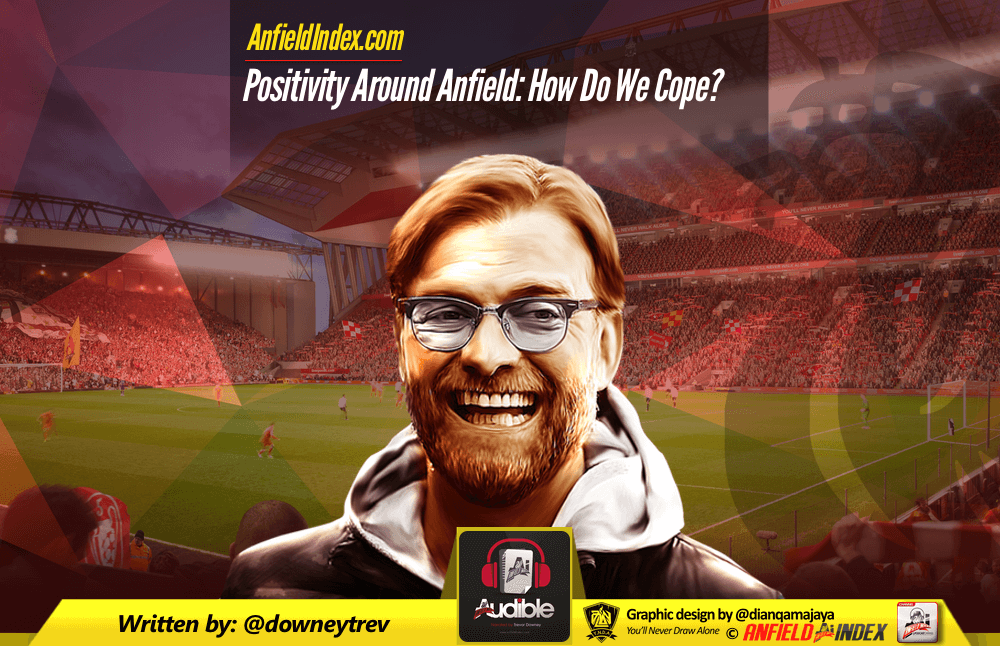 Positivity Around Anfield: How Do We Cope?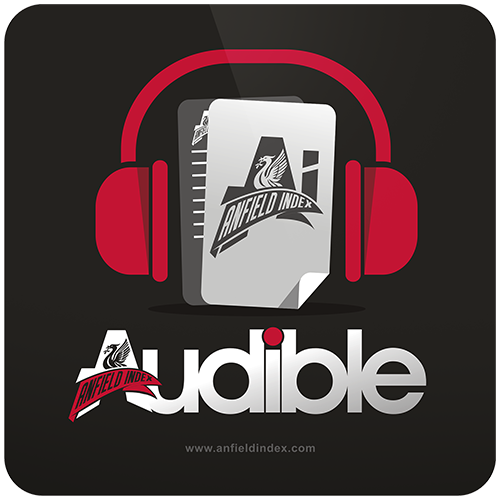 Listen to this article via @AIAudible !
What with the revelations about plans for further expansion of Anfield, the decision to dedicate an entire stand to Kenny Dalglish, the proposed state-of-the-art training facility in Kirkby and a rumoured bumper transfer spend in the summer, one could be forgiven for thinking that things were looking reasonably positive for Liverpool Football Club.
This is a truly novel concept for a lot of supporters, but when you add to the mix the heady combination of a clutch of rivals dropping points and an absurdly beautiful goal placing the Redmen's fate back in their own hands, then factor in a couple of players actually returning from injury, well, many of us may need to reassess our default setting of gloomy pessimism where our beloved club is concerned. It's all a bit….weird.
Should Jürgen Klopp's men see out their only remaining objective in the best way possible and secure third place and the attendant automatic Champions League qualification, it will be time for some of the more nihilistic of us to genuinely rethink our world-view. Even the new jersey and the training kit revealed by New Balance today is wonderful. What seems to be happening here??

It's not just L4-based, either. There's great fun to be found in the stories tangentially linked to LFC in today's news. Ronald Koeman, who outraged some Bluenose ultras a few months ago when he had the audacity to share a picture of his Christmas tree featuring red decorations, has further irked the more partisan Everton fans by giving an interview to the Catalan newspaper, Sport, about his deeply-held ambition to manage Barcelona. He even talked up Philippe Coutinho as a player who could "fit in well" at the Camp Nou. What an em-Barca-ment – sorry. You know I can't resist that stuff.
Meanwhile, up in Scotland, Brendan Rodgers, on the brink of being a treble-winner in his debut season as manager of Celtic, has been doing one of the other things he does best – talking tremendous amounts of guff. Nobody can question the Carnlough native's achievements north of the border, and as a man who appreciated him for the most part when he was at Anfield, I am particularly pleased for him. However, Brendan being Brendan, he always has to over-egg the pudding, and in a recent interview he was keen to stress that he was now a "better manager" than he'd been for Liverpool because of his Celtic players, "the quality of the other coaches" in the SPL and the crucial factor of the "unpredictability with surfaces". There's a valid point or two in there, somewhere, but it was classic Brenno blatherskite.
Of course, nobody could accuse the current Liverpool boss of being taciturn. Since his arrival to replace Rodgers, the British media have been obsessed with the charismatic, cordial and garrulous German. Today's press conference was a perfect Kloppian media cameo – deal frankly with the questions, hint at exasperation not far beneath the surface, express a genuine tendency towards philosophical positivity and leave 'em rollin' in the aisles.
Highlights of his chat to the assembled hacks included a reference to the aforementioned Coutinho's injury-impaired running style as being reminiscent of John Achterberg's and a sly dig at Emre Can's vanity and childish glee, as evidenced by the younger German's 250 iPad viewings of his spectacular Watford winner. The manager lauded his compatriot's "hard-working" nature and his "fantastic attitude," having played through injury. He reassured fans that a contract will more than likely be forthcoming for the player an American pal of mine calls The Sex Panzer.
"There is no secret how much I like Emre – not only him, but him also, and that's all," Klopp said a touch confusingly. "He likes the club and it's a completely normal situation that we are in talks. You can imagine there is absolutely no pressure, all good, two partners with big respect for each other and in the end everything will be good, but [for now] nothing else to say. Good players, that we can keep good players, I think that makes real sense for development and he is one of these good players. I am quite positive."
There is, it seems, no escaping this theme of positivity, although as I write, several masochistic Twitter types are watching Harry 'I See Dead People' Kane and his pals take on West Ham and the clouds are definitely gathering. Klopp, though, is typically upbeat about the chances of Coutinho's involvement against Southampton, encouraged by the progress of Danny Ings and Sadio Mané and, still, frustratingly vague about the rehabilitation status club captain, Jordan Henderson.
"We cannot be 100 per cent sure," he said of the Brazilian, "because we always have to wait to see how he improves, but in this moment, it looks rather positive. Mane is doing really well but there is no chance [for Southampton]. He is around and everything has really went well so far. It's not exactly the same with Hendo; there is nothing new. That's the thing with this, you have to wait – especially he has to wait, but it is quite difficult like this. So there is nothing new about this. Ingsy is doing well, really well. He is enjoying training now for the first time with the ball a little bit and all that stuff. He is on a good way."
The whole place seems to be "on a good way" under Klopp's stewardship. Despite all the setbacks and fan frustration, something very wonderful could still be achieved by the Swabian and his players. A Champions League encounter with Brendan Rodgers' Celtic could be a thing that actually happens next season. Imagine the quotes, if that happens. This column will write itself.