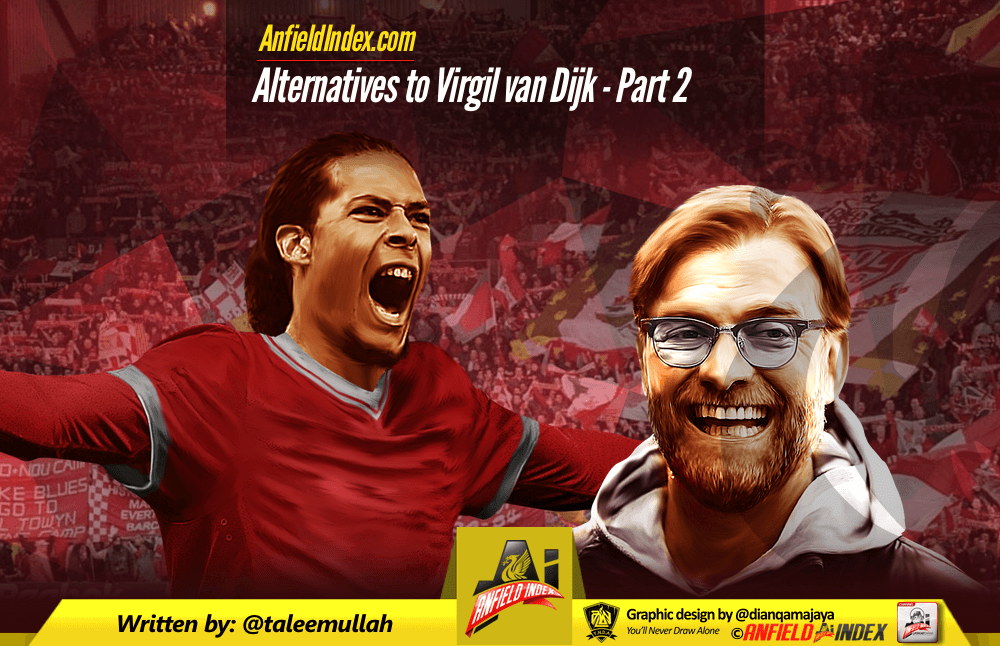 Alternatives to Virgil van Dijk – Part 2
In Part 1, I analysed why Benedikt Höwedes of FC Schalke 04 should rank highly on Liverpool's list of alternative centre-backs to Virgil van Dijk. Before reading this Part 2 article, please also see Part 1 for an overview of Liverpool's defensive weaknesses and the profile of centre-back needed for Klopp's current style and systems of play. You can find it here.
Nota Bene
At the time of writing this Part 2 article, recent unfortunate events affecting my primary target saw me divide this section into two sub-parts, where I will recommend two centre-backs instead. Although from a holistic footballing and recruitment sense, I value one significantly over the other for Liverpool F.C., a transfer for him at this time would be impossible due to mitigating medical circumstances. However, both players are talented players who fit the profile of the ideal centre-back in Klopp's system and help to resolve our defensive weaknesses. Without further ado, here they are.

Yeray Álvarez (22 years old, Athletic Bilbao, €15 million w/ €30 million release clause)
Although Aymeric Laporte has been the crowning defensive jewel for Athletic Bilbao, valued with an inflationary €65 million release clause, it is his young Basque partner at right centre-back who is the overachieving gem that has truly made the jewel look all the more impressive.
Yeray is an Athletic youth product who has flourished in his promotion to the first team for this season. He has already established himself as one of the most talented, modern centre-backs in La Liga and in European competition. From the chaos-embracing genius of Marcelo Bielsa to the intelligent possession focus of Erenesto Valverde, Athletic Bilbao have always been an entertaining and effective pressing team to watch and Yeray has slotted seamlessly into their current system and style.
To have an idea of the type of team Yeray has been playing in, let me summarise Athletic's tactical style of play. They consistently focus on vertical attacking using a variety of intelligent build-up patterns through their adventurous fullbacks, box-midfield of defensive and offensive specialists, creative false 10s and dynamic target man.
They employ an aggressive high and mid counterpressing style that demands shared positional discipline, athleticism and concentrated marking in transition moments to create defensive superiority in midfield. This often exposes the centre-backs, who are auxiliary to the middle third midfield press, to similar defensive scenarios that Liverpool often face – one-on-one duels against creative and athletic attackers, while retracting from a high line with little full-back support.
Once set in a block in the box, positional awareness of the opposition's players, decision making to track runs, cover passing lanes and regain possession from the person with the ball, all become vital moments that leave almost no room for error. It is in this system that Yeray has performed at an elite level.
Yeray's composure in possession, including his sublime passing technique, seamlessly enhances Athletic's wing-oriented play. He helps recycle and probe around zonal defences, moving forward to pick out a free attacking midfielder in central areas of space, by playing a pass to the teammate with the most space to attack from.  He is adept at dribbling forward into central areas in the opposition's half towards the right channel, before swiftly and adeptly switching to the free and attacking left fullback or left winger, displaying outstanding vision for a centre-back and thought of play for transition football.
At 6 ft tall with a strong frame, he is extremely athletic and uses his agility to cut out long vertical passes aimed at dangerous areas, while using his strength in aerial situations or double-team defensive moments, to regain possession. He is a direct and indirect aerial threat from attacking set-pieces. He notably has excellent headed control of the ball which allows him to create chaos in open play exchanges of possession and within the opponent's box. Winning aerial duels purposefully, he consistently brings other attacking teammates into play when the opposition play long passes or clearances during their build-up, while in the box, Yeray creates defensive gravity around him from the opposition, leaving other teammates free or threatening a shot on target himself.
Yeray is excellent at winning dangerous one-on-one duels against creative and lethal attackers in counter-attacking situations and will protect his right-hand side half-space diligently – he almost never lets dangerous plays proceed into the half-space or from the half-space into the box, reducing the opportunity for teams to create high quality chances. He does this by tracking opponents as they themselves pass out of midfield overloads and move from the wing towards the box. He also understands when to break from his line to create defensive midfield overloads and is comfortable at marking space from two attackers that can potentially be brought into play. At times, he can lose mark of the more dangerous of the two, if play suddenly breaks beyond poor defending by Laporte on his far side, and this will be an area for him to improve upon.
While writing this article, recent circumstances meant that a transfer for Yeray this window, is now impossible. On the 22nd December 2016, Yeray's explosive start to senior football was sadly halted as he was diagnosed with testicular cancer and underwent surgery to remove the tumour.
But a mere 46 days later on the 4th February 2017, he returned to play the full ninety minutes in a 3-0 away loss to Barcelona. To rewards his mental toughness, resilience through adversity and highly talented performances in La Liga and the Europa League, Athletic rewarded him with a contract extension til 2022. His buyout clause is set at €30 million.
Upon his return, he continued to be one of the most dominant and highly performing centre-backs in La Liga up until the last match day and I would not have hesitated at Liverpool or any club looking to attain his signature.
However, despite being set to represent Spain at the European U21 Championship, a recent check-up on the 12th June 2017 revealed the cancer had returned. Yeray will now undergo complementary chemotherapy and will be absent for 3 months, likely to return to first team action in late September. Given the difficulty of this period, the unyielding support of Athletic towards him and his local passion to develop and contribute to the club in a post-Valverde era, it may be next season or ultimately the season after that clubs around the world can look to woo him.
Here is a summary of the descriptive quantitative statistics for ball-related defensive actions that Yeray made in the 2016/17 season. Be warned that these are listed without any tactical context and there are discrepancies depending on the source.
Via WhoScored.com:
81 per cent success rate of 3.1 tackles per 90 minutes (6th among all La Liga centre-backs with more than 12 appearances)
3.8 interceptions per 90 minutes (1st among all La Liga centre-backs with more than 12 appearances)
55 per cent success rate on 3.8 aerial duels contested per 90 minutes
1.1 fouls suffered per 90 minutes, 2.1 fouls committed per 90 minutes
Via Squawka.com:
44 per cent success rate of 4.2 tackles per 90 minutes
3.96 interceptions per 90 minutes (1st among all La Liga defenders with more than 12 appearances)
57.3 per cent success rate on 3.54 aerial duels contested per 90 minutes
1.07 fouls suffered per 90 minutes, 2.1 fouls committed per 90 minutes
75 per cent of total passes are forward per 90 minutes
While discussing Athletic Bilbao, I will give a special mention and a caveat to Aymeric Laporte. He is a highly-rated, modern centre-back who will not be a new name to most, particularly Anfield Index readers, as John O'Sullivan wrote about him here.
From an on-ball technical point-of-view, there are few young centre-backs in world football as dynamic on the ball as Laporte, with regards to receiving the ball in a variety of different spatial situations and then purposefully recycling or moving play forward through the team's creative midfielders. He is comfortable at dribbling through midfield while under pressure, or adeptly playing curved vertical passes to advancing fullbacks, or quickly switching play from one side to another.
However, against the best teams in La Liga this season, that is Real Madrid, Barcelona and Atletico Madrid, he has consistently been the focal point for the opposition to exploit due to his defensive weakness in protecting his half-space – he cannot deal well with combination plays between two attackers advancing towards his side or into the box and is particularly passive in cutting out passing lanes or challenging the ball-carrier during counter-attacking movements down the left-hand channel.
Given the required fee for his signing is two-and-a-half times his market value and him having spatial defensive weaknesses to improve upon against better opposition, which I am sure he will improve upon with further development time, Laporte may not be a luxury, expensive signing for Liverpool to wait on at this point in time.
From an athletic point-of-view, he is perfectly suited to Liverpool's requirements, as he is tall, strong in the air in all defensive and attacking scenarios, with tremendous acceleration and agility to recover when play breaks beyond Athletic's last line which is a situation that occurs quite frequently. He fits the profile for our system but may not be a good enough defensive step-up from Lovren relative to the amount Liverpool will have to pay. It might be best to wait on both Yeray and Laporte til next season to see which of the two would be the stronger investment.
Benjamin Hübner (27 years old, TSG Hoffenheim, €5 million)
The Bundesliga is a ripe place for late bloomers and intelligent footballers. It's a league for players who can thrive in a specific role under a manager that understands their abilities and potential. The most recent personification of this path of player development is left-centre back, Benjamin Hübner, who only made his Bundesliga debut at the age of twenty-six, after signing for Hoffenheim from FC Ingolstadt 04 last season.
Hübner has been the most pleasant surprise for Hoffenheim's defence, with highlight performances including man-marking Aubameyang out of the game against Dortmund away, and calmly handling the high-press and counter-attacking style of Bayern Munich at home, where he was instrumental to nullifying Lewandowski and Robben. His intelligent positioning and physically aggressive, but composed, defensive style has quickly been expanded upon with an effective reliability to play timely passes and to dribble only in opportune moments. This has consistently helped his team to create positional superiority and carry the ball past opposition defensive lines.
Nagelsmann's impressive reign at TSG Hoffenheim has seen him instil an effective and dominant approach to football. It blends a Rangnick-like medium to high press with a very patient style of build-up that focuses on high possession and creating positional overloads in mixed zones – the zones in-between opponents' defensive lines.
In his 3-1-4-2 system, Hübner, being the wide left centre-back, has been tasked with several duties that he has accomplished to a very high level. On the ball and in possession, these include:
recognising moments to dribble forward into space in the middle third of the pitch and past opposition attackers,
patiently recycling possession within tight and deep triangular overloads with the goalkeeper, fellow centre-backs and the number six midfielder, and,
playing incisive passes on the floor to bypass midfield lines to fellow midfielders, or, playing accurate vertical passes in the air to release runners moving towards the opposition box.
Off the ball, some of the common defensive scenarios where Hübner has excelled in, include:
spreading laterally towards the sideline to cover for his full-back and aggressively contest creative or pacey wingers to prevent crosses, or, regain possession and once again play out from the back,
protecting the left-hand half-space in a high line during defensive transition moments, either from long vertical passes or in one-on-one duels against counter-attacking or direct teams, and,
providing aerial dominance in the box in defensive and offensive situations.
Hübner himself boasted about playing the kind of football that people can identify with, reflecting on his suitability to a positionally dynamic team, as he said "We want to have the ball…playing long balls is only a last resort for us; we want to solve problems by playing well…we're very flexible tactically and can change our shape several times during a game if we need to."
With maturity and strong leadership, he staunchly stands up to opponents to protect his fellow teammates and to referees as well, to assert the balance of play towards his team's favour, while reacting to conceding goals with an increase in performance level. When under the threat of a dangerous cross into the box or the arrival of new attackers into the box, he always communicates with other defenders to ensure they are aware and marking their zone or man. He can immediately and tangibly improve the defensive qualities of Liverpool's first team, enhance their tactical ability to play the 3-5 formation and improve the defensive mentality of the team as game states change.
Hübner stands very tall at 6 feet and 4 inches, and is extremely strong in the air, physically using his strength and height to manipulate his body into a favourable position to win any aerial duel. Given his aerial ability defensively, teams are always cognisant of overloading more players on one side and spending more time passing and making cute off-ball runs in wider areas, to try and destabilise Hoffenheim's defensive lines. Although this tries to create a stronger one-on-one aerial opportunity for their striker, it almost never works, and hence Hübner's presence allows for a more stable zonal defence for one's team.
Hübner, much like Matip and Lovren, is not a particularly fast player when it comes to recovering over the first five to ten metres when a pacey striker breaks beyond his team's offside trap. But he is agile in his reactions to pressure advanced attackers receiving passes, and, in turning his body in tight defensive situations, hence placing himself in a position to tackle or cut out a player option from an opponent's attacking move.
Hübner is typically very vocal about directing fellow defenders to where new offensive threats are arising and once possession is regained, directs where the free 3rd man or greatest space to attack from is.
He is positionally disciplined and an extremely strong slide-tackler in all defensive scenarios. However, he can prematurely go to ground and miss the ball in areas close to his box – a carelessness he needs to be more mindful of, even though he almost exclusively takes these risks when his team have double-teamed an attacker and are set in a deep defensive block. This often forces the opponent's play into non-threatening areas.
The highlight of Benjamin Hübner's performances is his intelligent reading of the game, meaning his movement in build-up proactively helps his teammates in possession and most impressively, his subtle but nigh consistently perfect positioning in defensive transition, is often the key reason Hoffenheim quash counter-attacks in central areas and down the left-hand channel.
Here is a summary of the descriptive quantitative statistics for ball-related defensive actions that Benjamin Hübner made in the 2016/17 season. Be warned that these are listed without any tactical context and there are discrepancies depending on the source.
Via WhoScored.com:
84 per cent success rate of 3.7 tackles per 90 minutes
3.4 interceptions per 90 minutes (3rd among all Bundesliga centre-backs with more than 12 appearances)
67 per cent success rate on 4.2 aerial duels contested per 90 minutes
1.4 fouls suffered per 90 minutes, 2.3 fouls committed per 90 minutes
Via Squawka.com:
47 per cent success rate of 4.8 tackles per 90 minutes
3.36 interceptions per 90 minutes (1st among all La Liga defenders with more than 12 appearances)
70.2 per cent success rate on aerial duels contested per 90 minutes
1.30 fouls suffered per 90 minutes, 2.23 fouls committed per 90 minutes
64 per cent of total passes are forward per 90 minutes
Summary
If it were not for the unfortunate medical issues affecting Alveray, he would have made a perfect value signing for Liverpool with tremendous upside. He is the archetype of a modern, ball-playing centre-back who plays in a high-line with little auxiliary defensive support – physically combative, intelligent and apropos in his positional defending, effective in influencing build-up play and dominant in protecting the halfspaces. He has had a consistently high performance level in only his debut senior season, where his mental resilience and tenacity has seen him overcome surgery to remove his testicular cancer, to be key to Athletic's strong spells of defending in the second-half of the season. Given the small qualitative sample size, I highly recommend monitoring his and Laporte's progress through next season, and making a move for him then.
Til then, Benjamin Hübner represents a more 'agrarian' and physically combative defender who is a solution ready for the here and now. He can enhance Liverpool's ability to execute on ideas of superior positional play and expand the tactical ability of the team to play the 3-4/3-5 system. His aerial prowess, aggressive positioning and tackling in defensive transition and low-risk approach to defending can provide a solid base for the attacking-oriented midfield set-up that Liverpool will undoubtedly pursue. Not to mention, his highly vocal style in marshalling defenders in front and lateral to him, can eliminate error-prone defensive manoeuvres and provide defensive leadership that allows Matip and Karius to thrive. Although AC Milan have had a stellar transfer window, for £10-15 million, Liverpool could make Hübner the most underrated signing of this off-season.