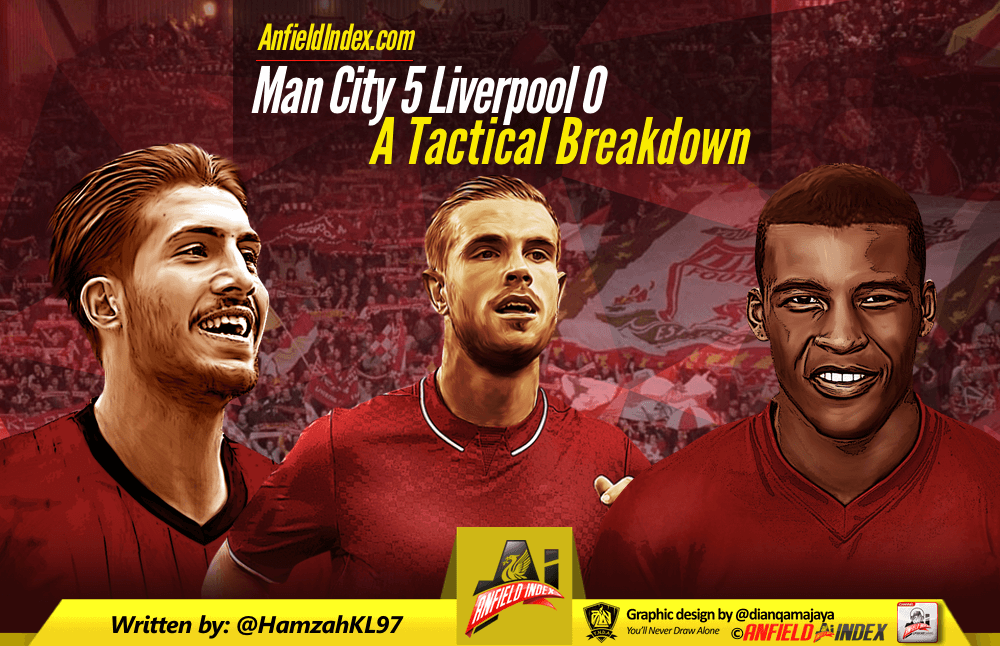 Man City 5-0 Liverpool: A Tactical Breakdown
A brutal decimation unbefitting of a club like Liverpool, but one handed out nonetheless.
I usually enjoy reviewing the game and scrutinising key points within it, but this was anything but enjoyable. In fact, only on my second and third viewing did I fully comprehend what a truly abysmal performance it was.
For this analysis, I'm going to take a slightly different approach: rather than solely looking at the goals, and how they progressed, we'll be discussing Liverpool's shape and structure, relative to Manchester City's, and how both changed over the course of the match. So whilst we will still analyse the goals, discussing the tactical battle, City's superiority, Liverpool's midfield, and how/why the game developed as it did is the real focus.
The Stats
Possession
MCFC: 66pc
LFC: 34pc
Touches
MCFC: 891
LFC: 535
Passes
MCFC: 732 (91pc success)
LFC: 370 (77pc success)
Key Passes
MCFC: 11
LFC: 4
Shots
MCFC: 13 (10 on target)
LFC: 7 (3 on target)
xG
MCFC: 2.3
LFC: 0.43
Distance ran
MCFC: 114km
LFC: 106km
Defensive Aerials Won
MCFC: 8 (most in team – Kyle Walker: 4)
LFC: 5 (most in team – Alberto Moreno: 2)
Tackles
MCFC: 14 (58pc success rate)
LFC: 15 (79pc success rate)
Interceptions
MCFC: 11
LFC: 8
Saves
Ederson/Bravo: 3
Mignolet: 6
A tentative start
Both Liverpool and City struggled to make a clear impression in the first twenty minutes of the game.
With Manchester City using a three at the back system, as both Arsenal and Hoffenheim did, there were positive signs, as Liverpool attempted to use the same tactics as in those games: Mané and Salah were supposed to be positioned between the L/RCB and the respective L/RWB.
Liverpool had a little bit of joy with this, with Salah notably isolating Otamendi on one occasion, on the edge of the box, and getting him booked. Additionally, Salah also broke through on the right-side, and was only denied by a good save by Ederson.
However, Liverpool's success over the first twenty minutes was hardly comparable to the success in the same positions against Arsenal & Hoffenheim. Why so? Well, that's attributable to Pep's own setup for City.
Instead of letting Mendy and Walker bomb forward, initially, they were positioned very close to the L/RCBs, tucked in so close as to not let Mané and Salah in behind.
In the instance below, Mané, who attempts to position himself between Walker and Danilo, comes short, pulling Danilo out of place.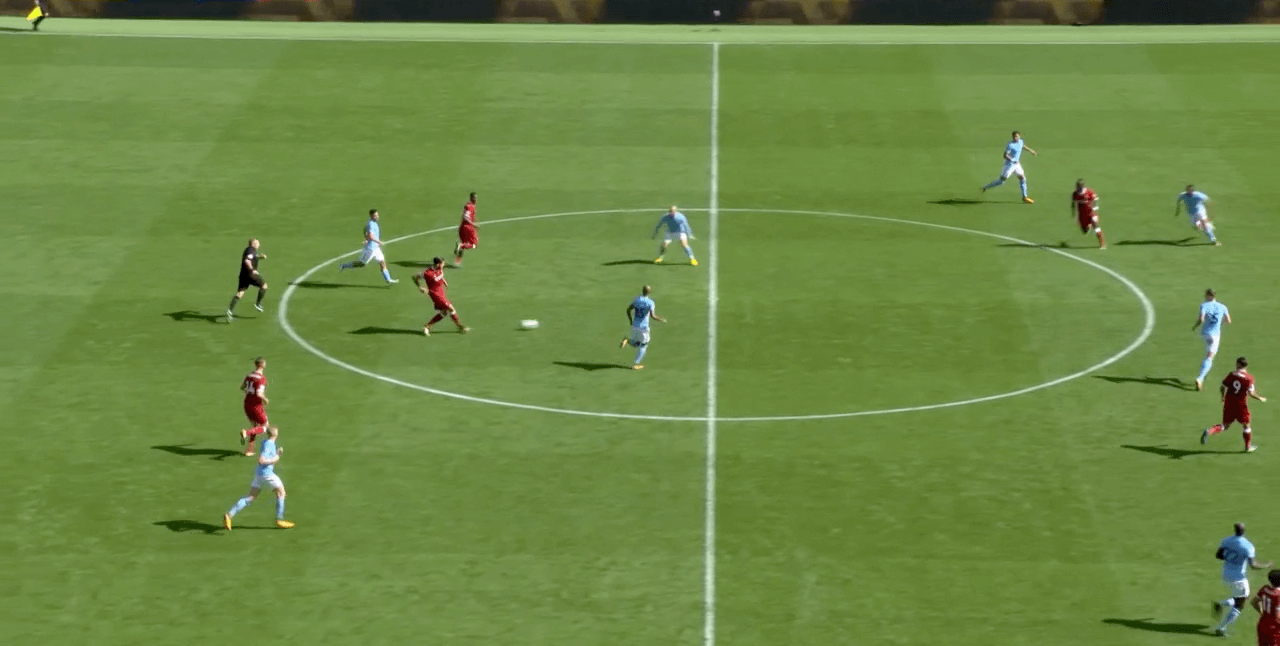 Despite pulling Danilo, one of the three CBs, out of position, Walker filled in, so City still had a back-four in place.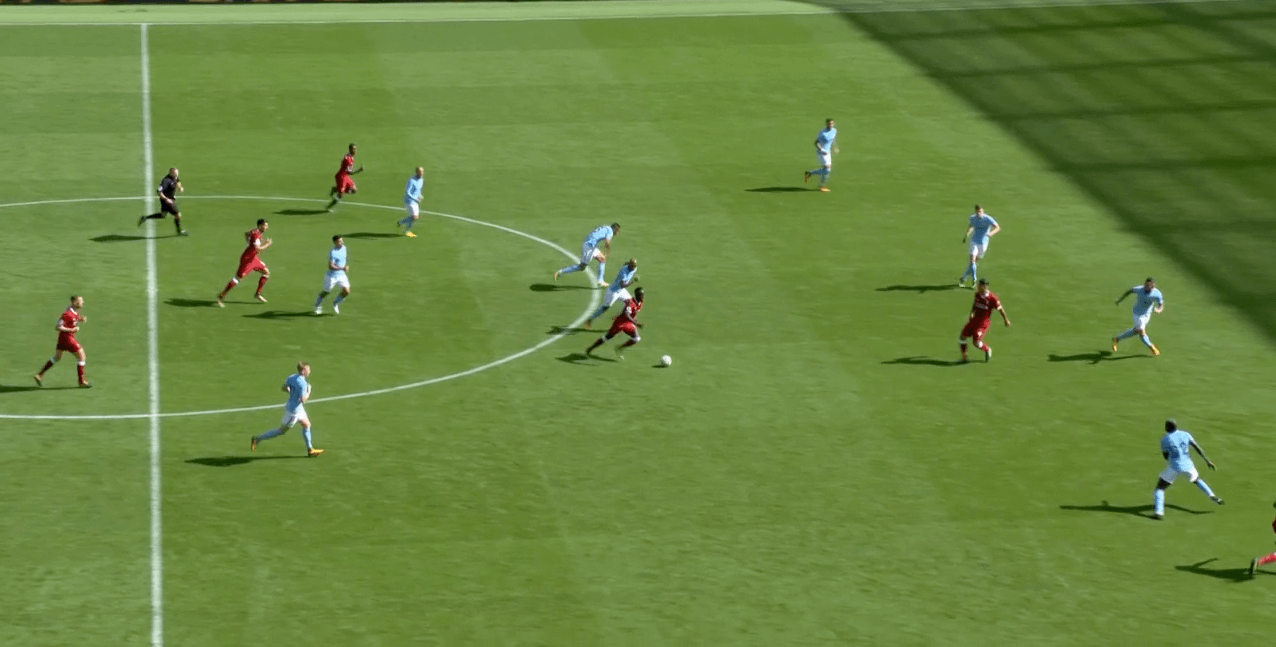 The back-four was compact, but Mané threaded through a pass, bisecting both Otamendi and Mendy, allowing Salah to race through. Firmino helps facilitate this through positioning himself near Otamendi, making him apprehensive to move definitively across to cut out the pass, wary of allowing Firmino to take on Stones in a one-on-one.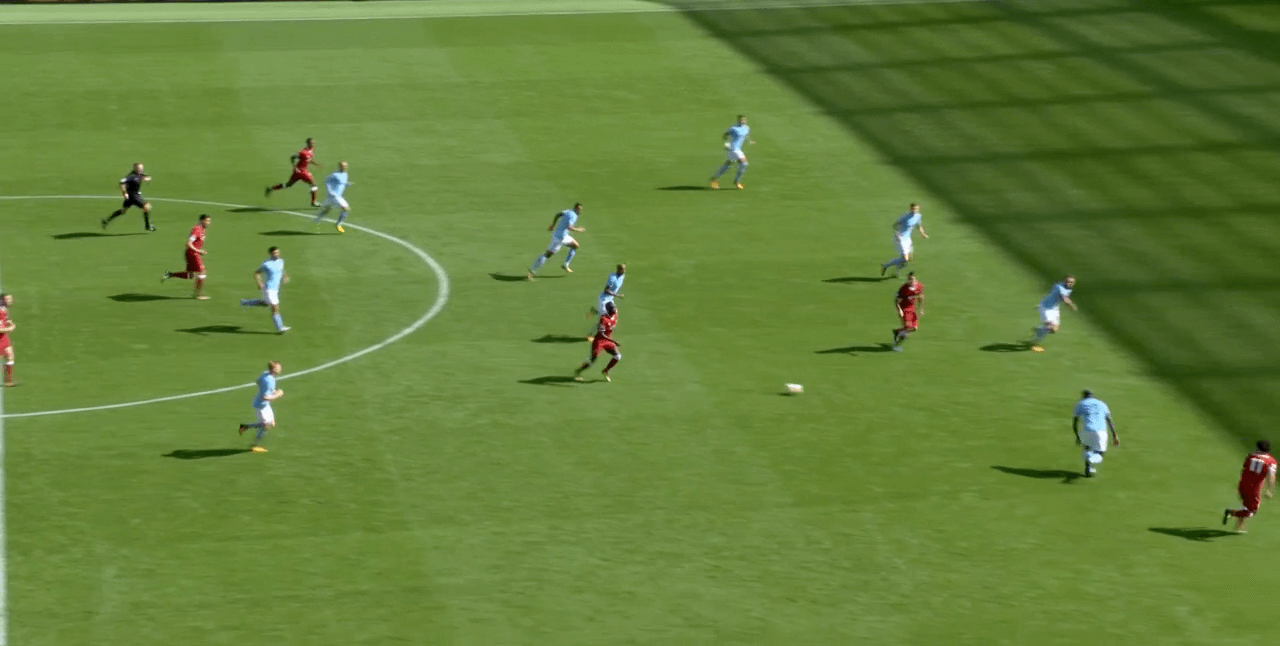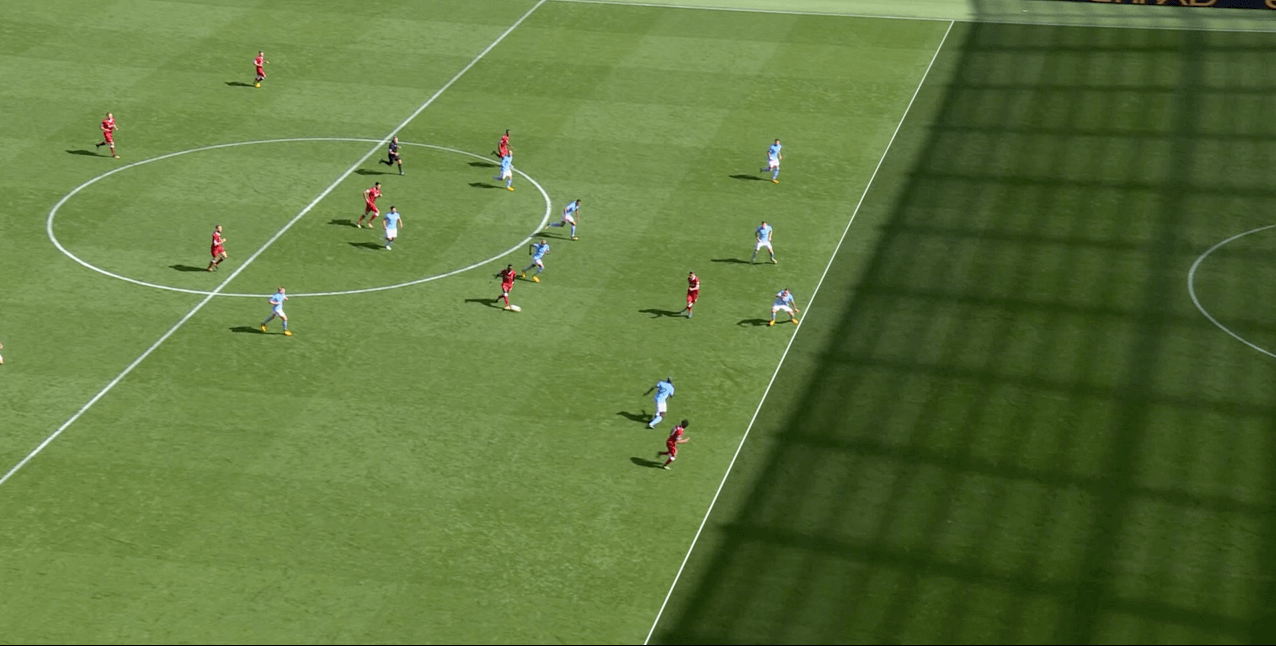 From here though, Salah should score, but Ederson makes a fine save, committing to the dive early.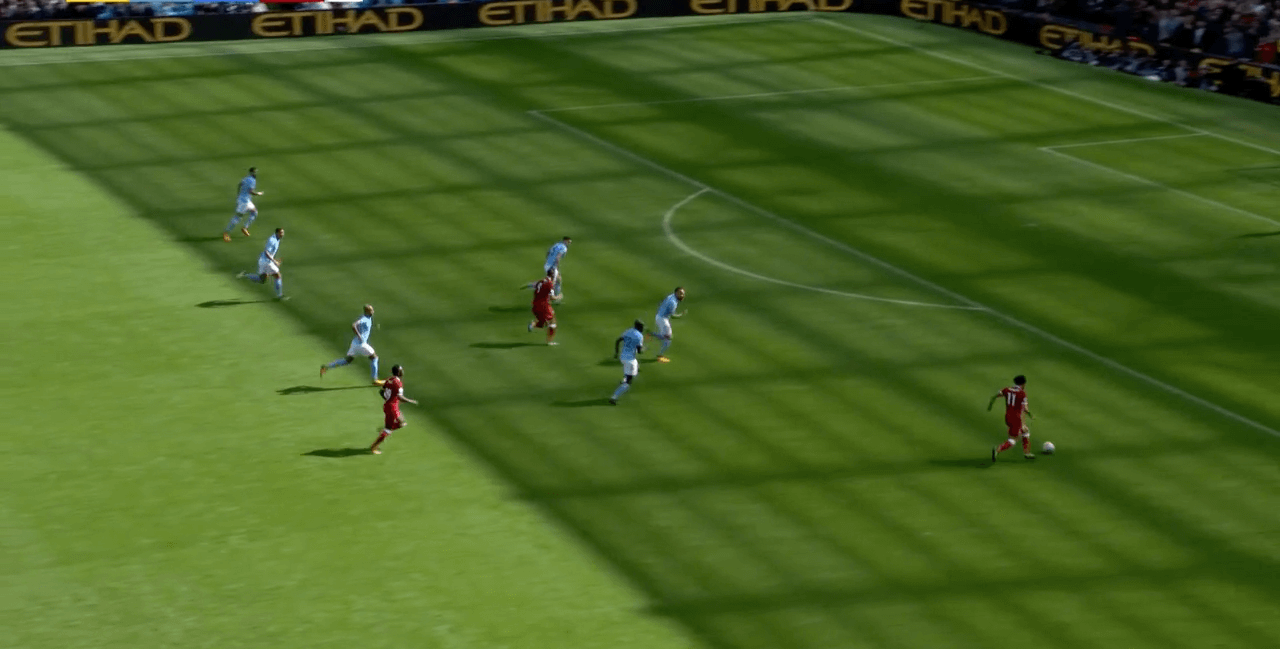 1-0, Man City, Agüero, 24′
Before Liverpool's Sadio Mané was sent off, the signs were already present for a Liverpool midfield and defensive masterclass in how not to defend.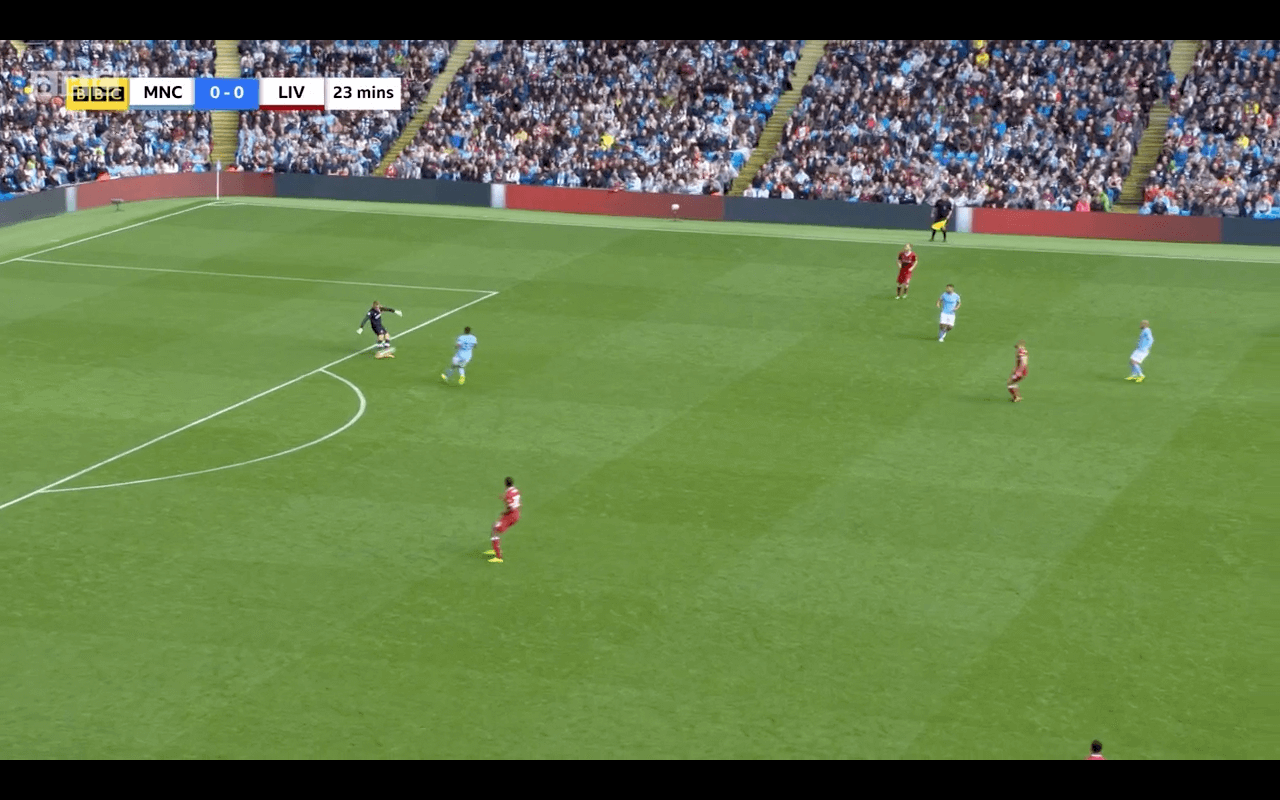 As Simon Mignolet launched clear, it was clear Sadio Mané was not going to win the aerial challenge, and he did not even attempt to do so.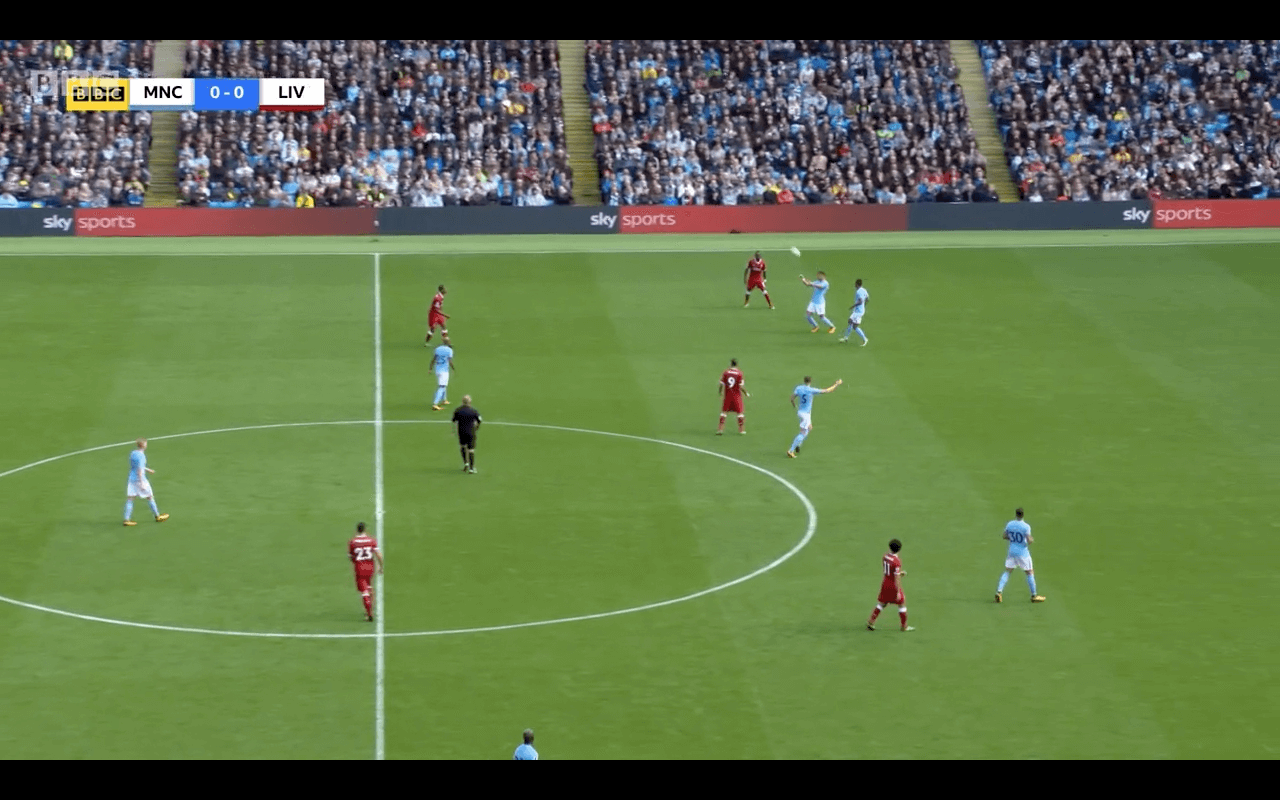 But for Liverpool, there are two immediate issues that arose as a result of this, one of which we are all too familiar with – the 'second ball'.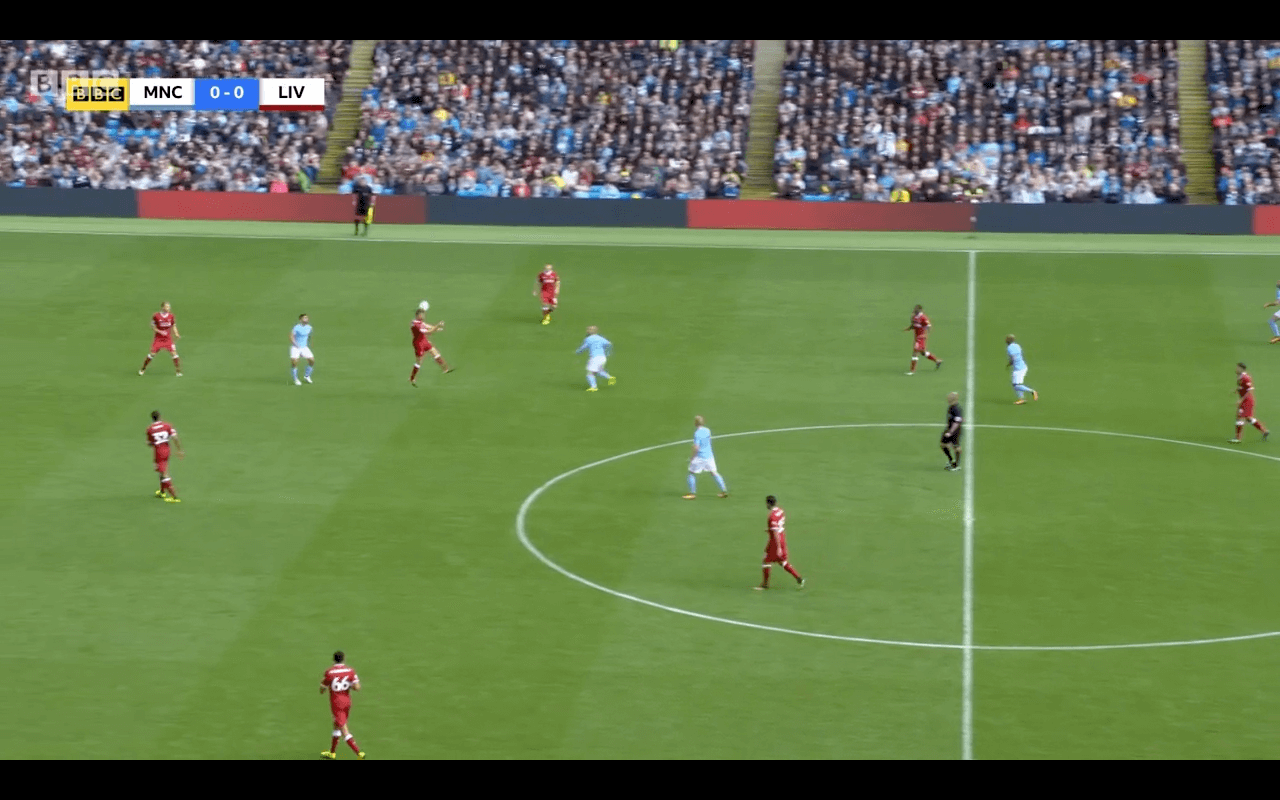 Henderson finds himself positioned well enough to cope with the City defensive header, but cannot get enough direction on it, and heads it upwards, allowing Fernandinho to barge through, and claim the ball ahead of Wijnaldum.
Now to the second issue: De Bruyne.
Over the course of the match, there was one player that for some reason was almost always available. Perhaps the most dangerous player in the league to leave free, Kevin De Bruyne.
With Liverpool utilising similar tactics to the Arsenal and Hoffenheim fixtures, Firmino's role was to screen passes from the centre-backs, and block passing lanes into and from Fernandinho too. So the onus for tracking De Bruyne must lie with one of the midfield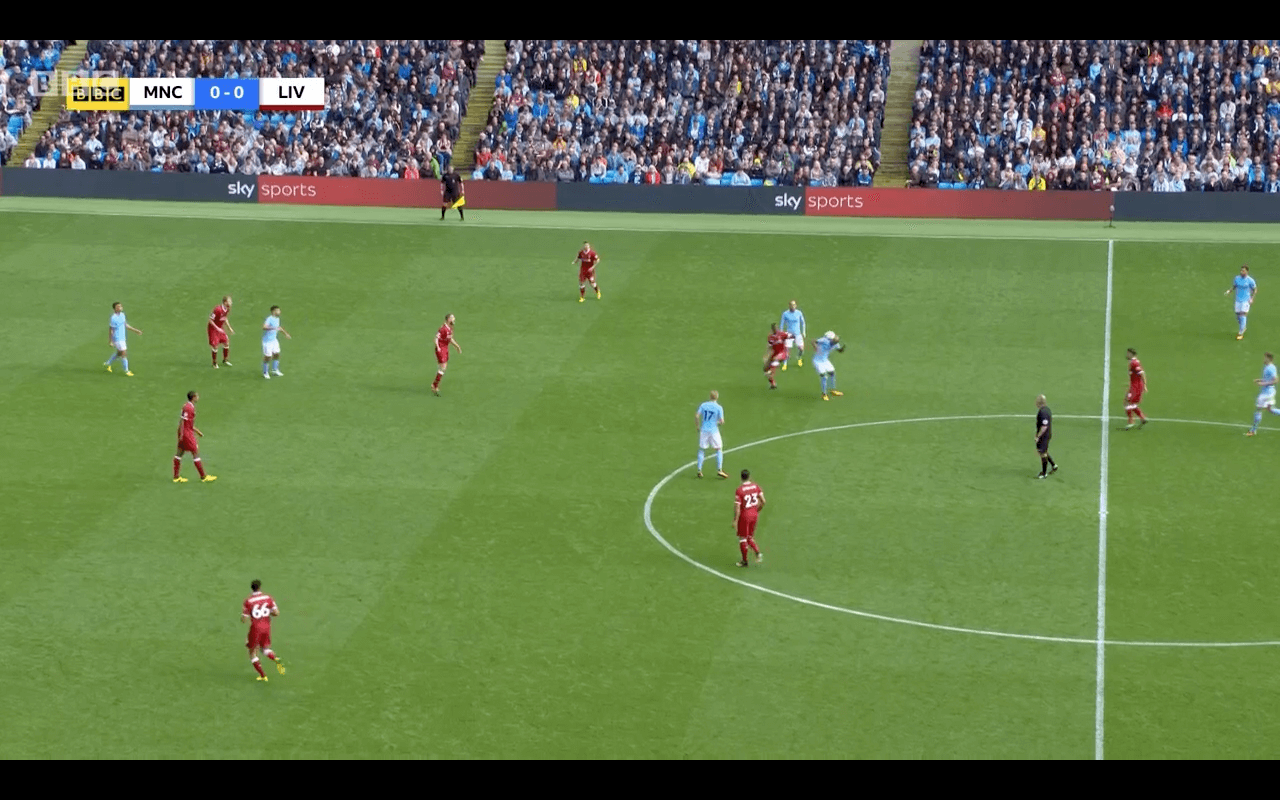 In the frames above and below, Emre Can is the closest to him, and should pick him up. Once Can realises though, it's too late.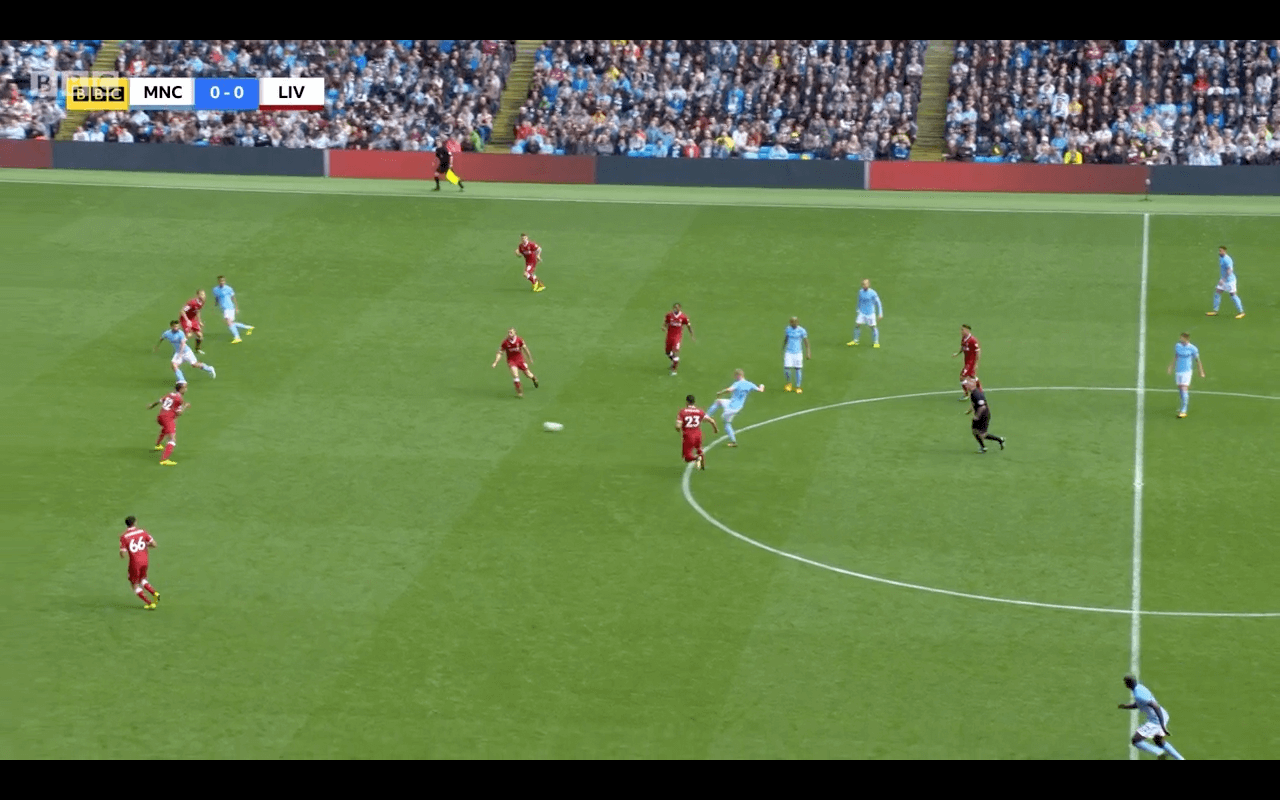 There is also another issue with this goal too, and one that Klopp raised in his post-match interview. The Liverpool defence not pushing up.
Personally, I felt the defensive line was high enough, as it was, but perhaps what Klopp is alluding to is Ragnar Klavan in particular not pushing up.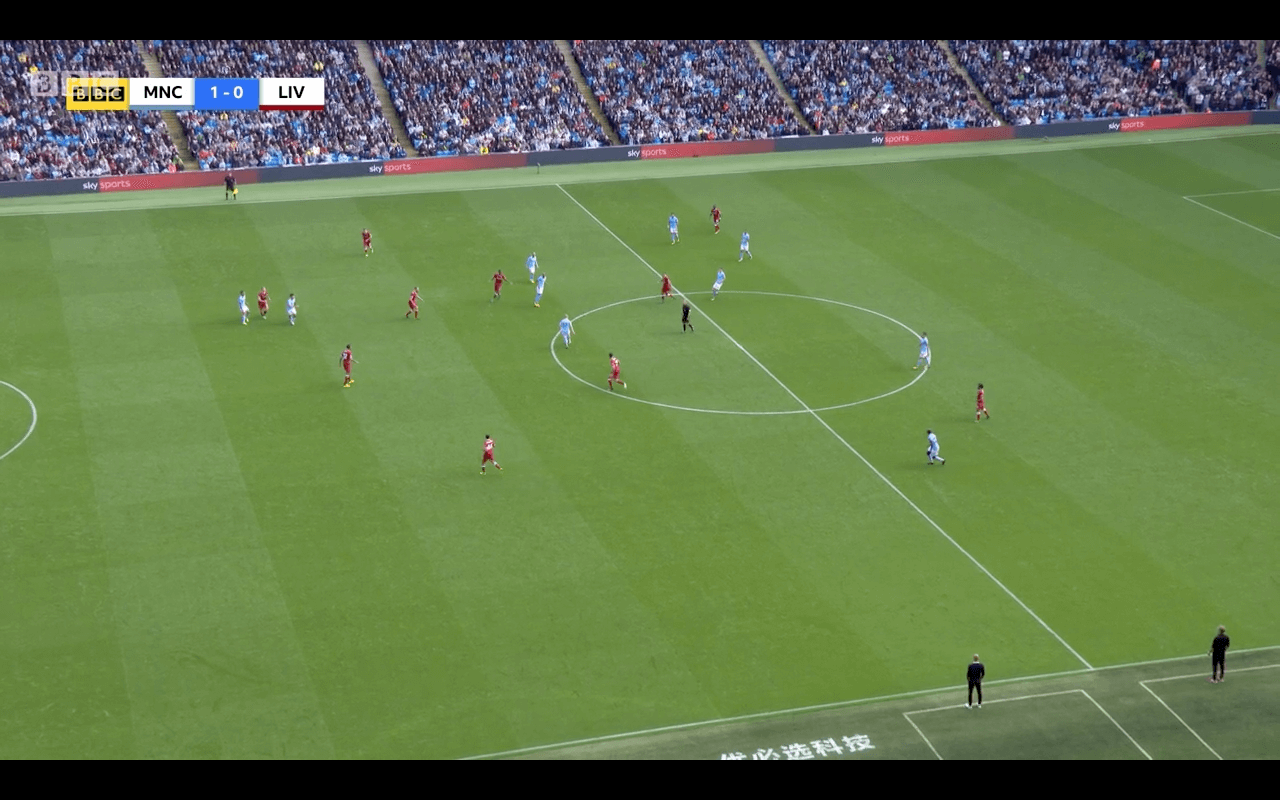 At the point which De Bruyne received the ball, Klavan has a split-second decision to make – to push up and play Agüero offside (as Gabriel Jesus, who pressed Mignolet was already in an offside position), or instead to drop, and allow De Bruyne the opportunity to play it into either Agüero or Jesus.
In retrospect, the decision is an obvious one, but the blame should not solely lie with Klavan – even if he did play Agüero off, Agüero still has the pace to run in behind and meet the pass. Thus the blame must lie with the midfield who allowed De Bruyne the time and space to turn and pass – it's utterly mad defensive midfield work, and something that persisted throughout the game.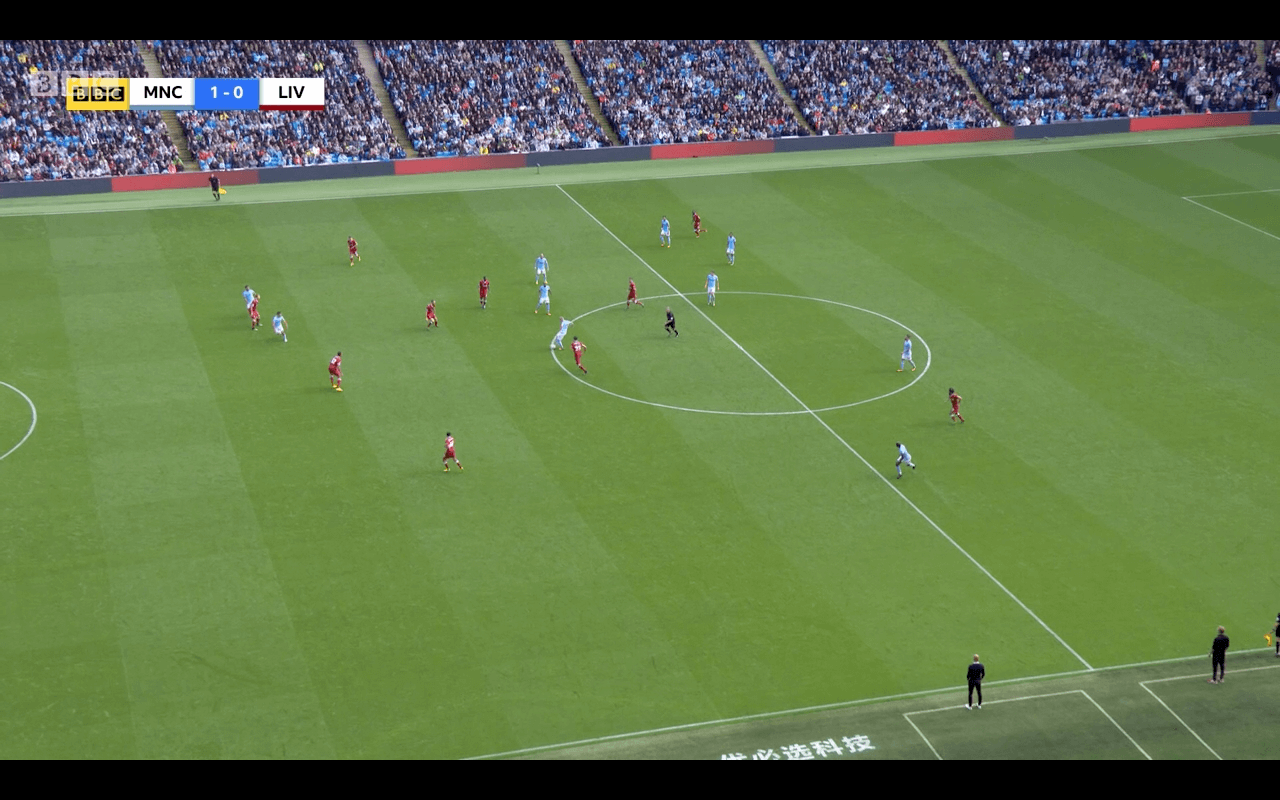 The turning point?
Sadio Mané's red card in the 37th minute undoubtedly turned the game on its head, but why so?
Match Stats when 10v11
Possession 28%
Goals 0-4
Shots 0-7
On Target 0-5
In Box 0-6
Big Chances 0-4

— AIUnderPressure (@AIUnderPressure) September 9, 2017
For Liverpool, its best defensive attribute lies with its front three and midfielders' pressing. Through pressing, Liverpool attempt to stop, or reduce the number of penetrative or meaningful passes made in the second and third fifth of the pitch.
Not only this, but as we discussed earlier, Liverpool's wingers were positioned to target the Man City centre-backs, and because of this, the City wing-backs were instructed to hold steadfast – reducing their offensive contribution and output.
Once Mané was sent off, Liverpool's ability to press across the front line vanished.
Add into the mix City utilising two strikers, then having De Bruyne and Silva both occupying the half-spaces between the Liverpool defence and midfield, and, on top of that, Walker and Mendy pushing onto the Liverpool full-backs – it's easy to see why Liverpool were run ragged.
Even this though does not explain the picture fully – only when we look at Pep Guardiola's style do we really realise why Liverpool were outclassed in the second half.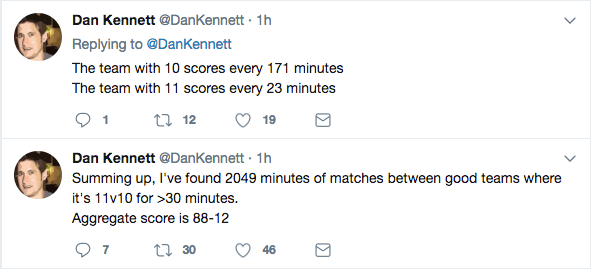 City's domination of possession and movement is a different class to any other Premier League team, despite them not yet being at Guardiola's desired level. Watching City is fascinating, but for the opposition team, it is utterly exhausting. Brendan Rodgers' 'death by football' adage springs to mind – and by the 70th minute, it was plain to see Liverpool's midfield was worn out. Once Sané came on the field it was going to be an immense challenge to contain City.
Yet despite all of this in City's favour, were they particularly good value for scoring five goals? Perhaps not; BBC Sport's xG had City at 2 goals, whilst FiveThirtyEight's Micheal Caley's xG had City at 3.
xG map for Manchester City – Liverpool. It is roughly impossible to contain City at 11 v 10 for an hour. pic.twitter.com/JFrDEY64nL

— Caley Graphics (@Caley_graphics) September 9, 2017
City were doing well enough before Mane kicked Ederson in the face, but afterward it was just silly. pic.twitter.com/Do5b83Wsj1

— Caley Graphics (@Caley_graphics) September 9, 2017
The most infuriating thing with the goals is that despite City taking advantage of having a player extra, and overwhelming Liverpool – the goals were still preventable had the defence or midfield simply got the basics right.
2-0, City, Jesus, 45'+6
Once Sadio Mané was sent off, Man City took full advantage of not having to worry about Mané and Salah pinning back the wing-backs on both sides. Almost immediately, Mendy and Walker charged forward.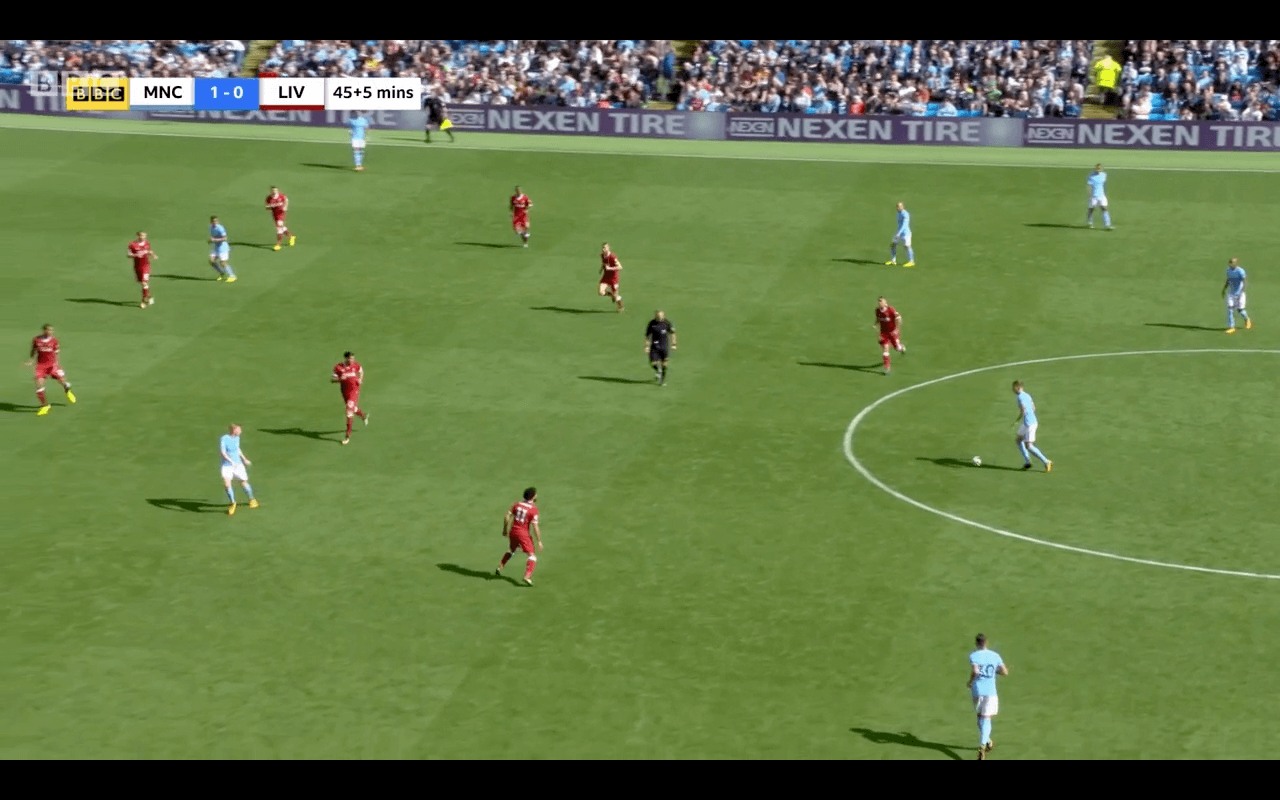 But yet again, it was that free-man, De Bruyne who was afforded space, whilst the midfield was also invisible in terms of its defensive duties.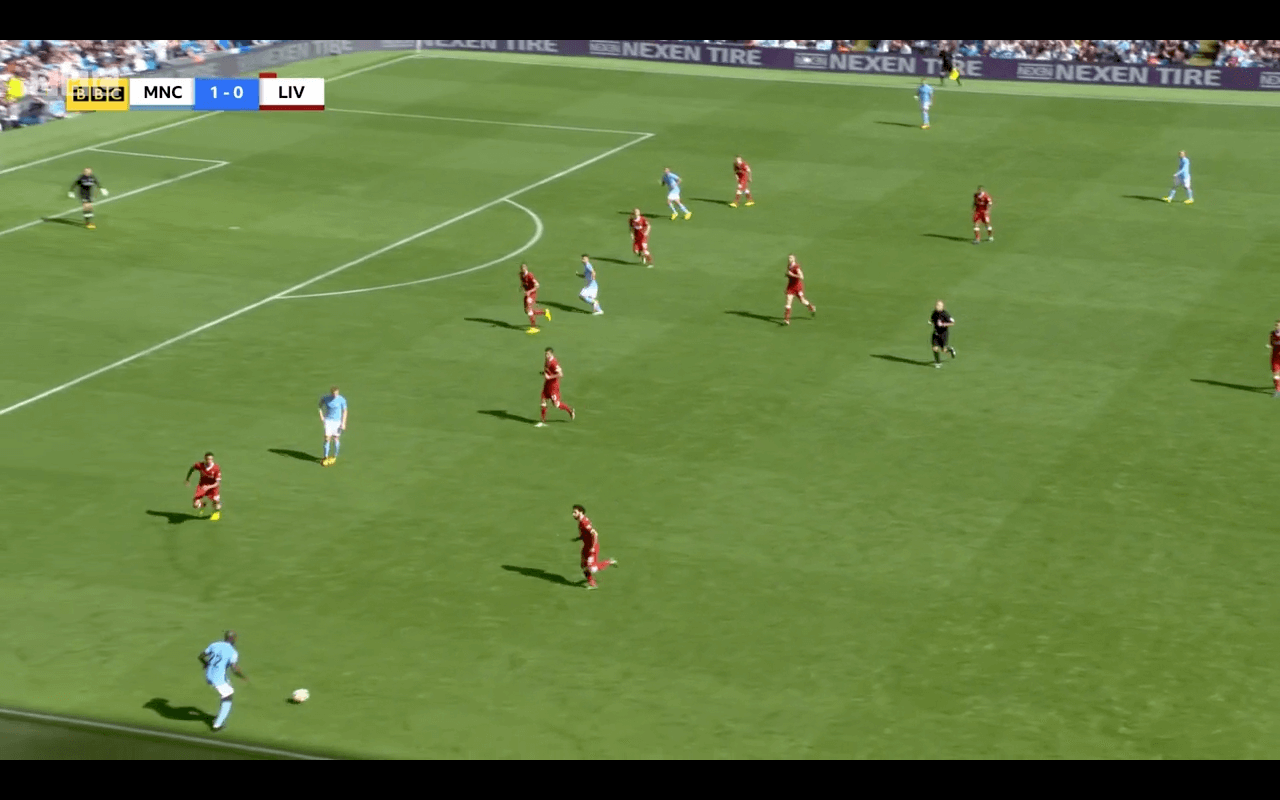 De Bruyne does Trent Alexander-Arnold all ends up with a simple dummy, and the cross into the box is delightful, but there are still some serious questions that must be asked.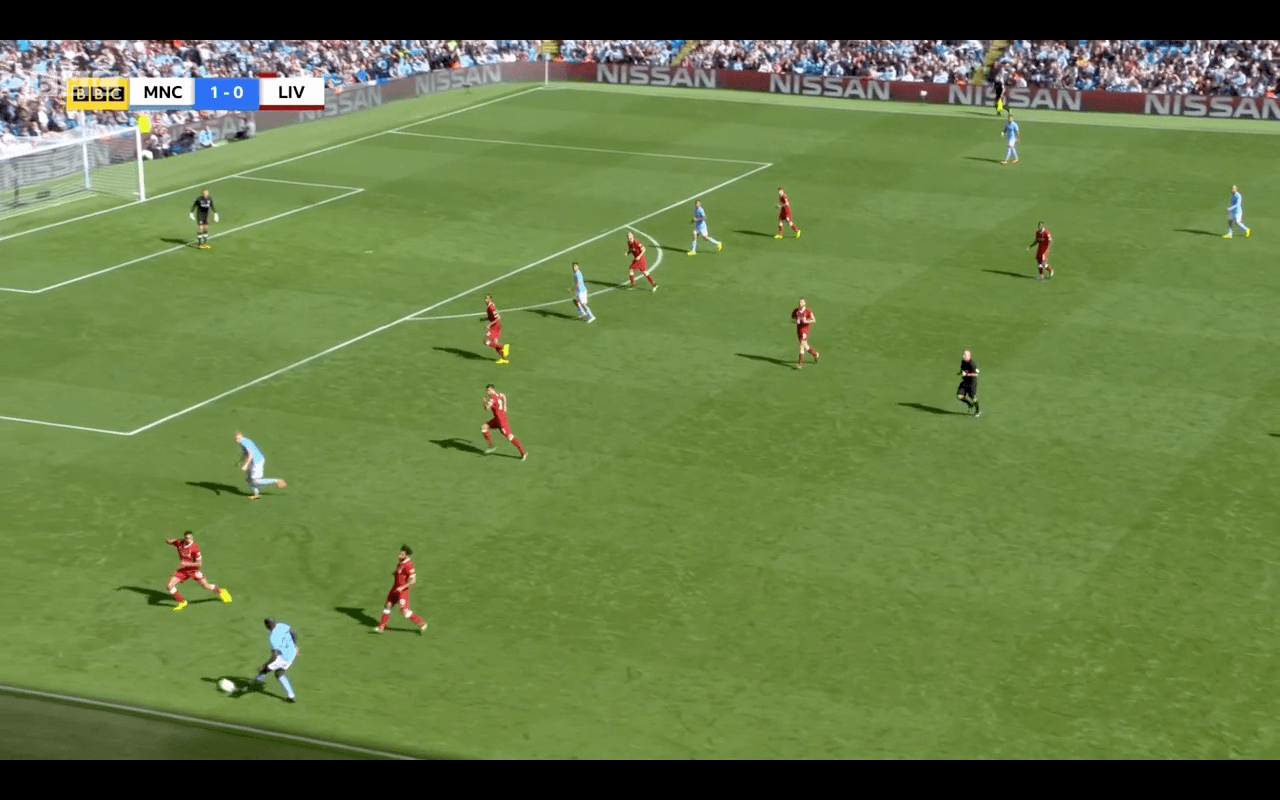 As we can see below, Matip is positioned in front of Agüero, but when the ball comes in he does not move, with Klavan essentially marking both him and Gabriel Jesus.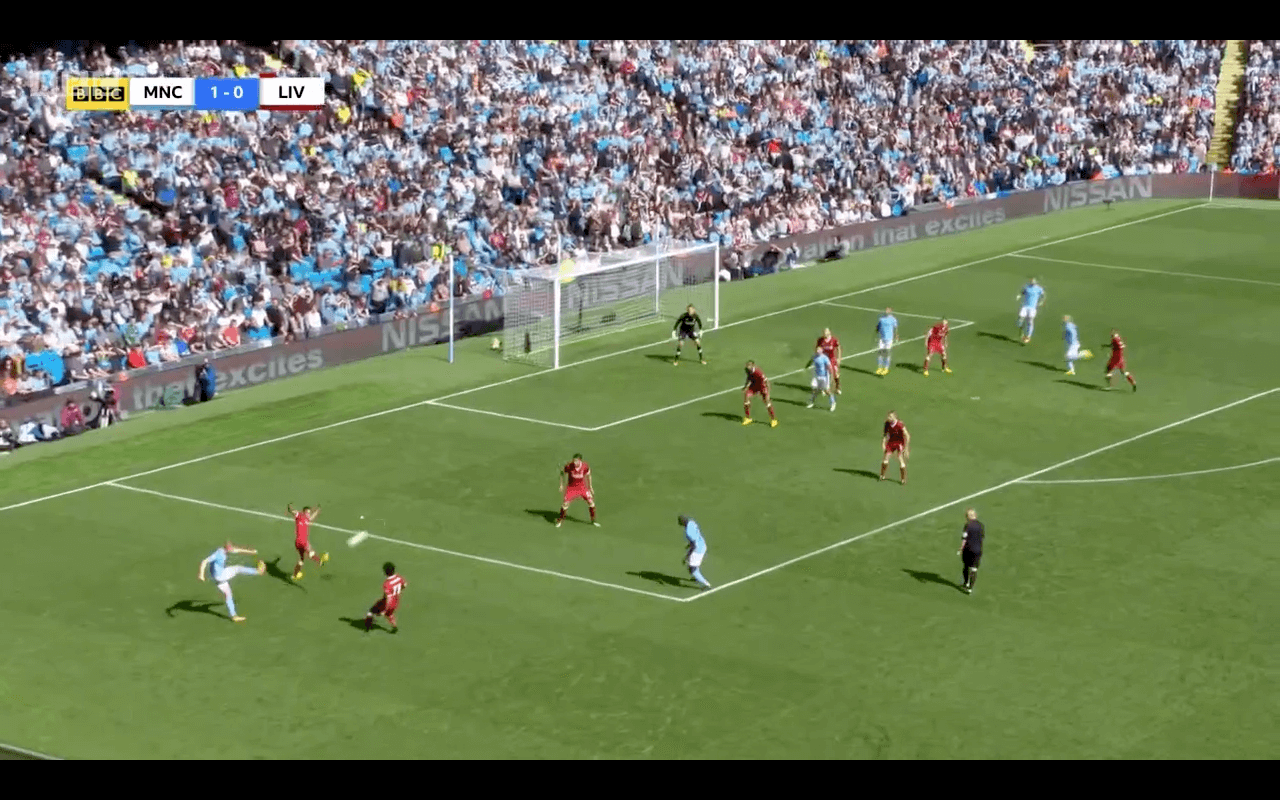 We can also see Wijnaldum attempting to follow David Silva's run, but he simply lets him go.
Should Jesus have missed the ball, Silva would have swept home. Moreno was stranded, expected to mark three players – with his teammates forgetting that Mané was not present to track back on the left side.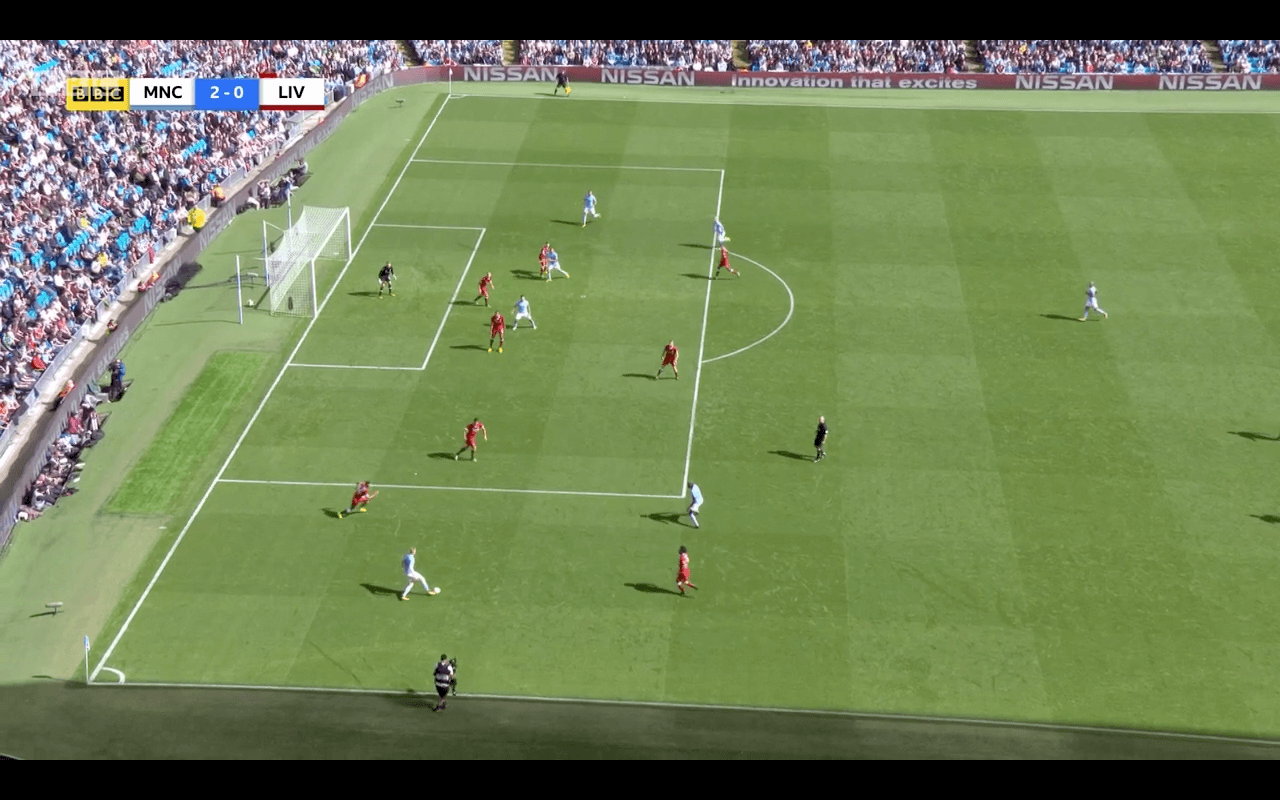 It's a truly sorry goal, with Klavan, Matip, Wijnaldum and Can all at front – the centre-backs for failing to organise themselves and effectively challenge for the ball, Wijnaldum for not tracking Silva, and Can for not tracking De Bruyne when Alexander-Arnold attempted to close down Mendy.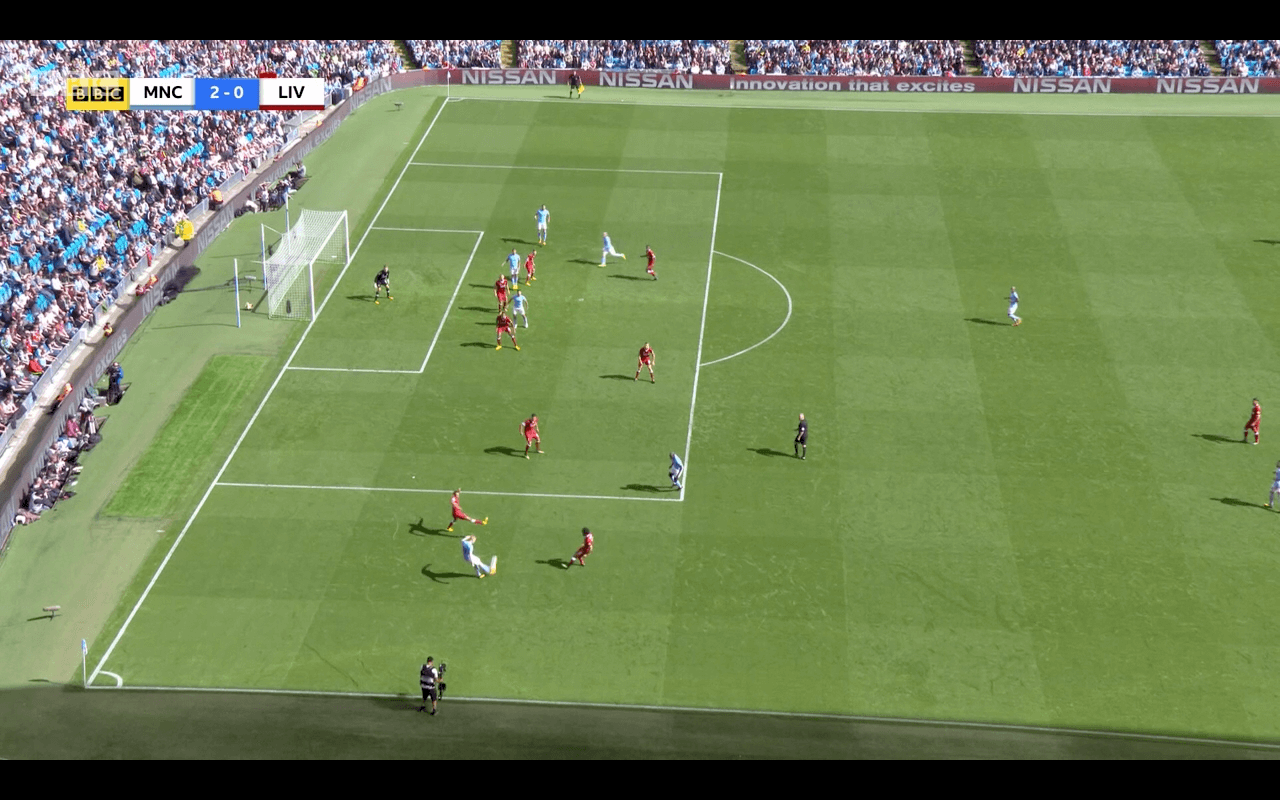 Half-time reshuffle
Liverpool's change to a back three seemed a logical one. Matip and Klavan were struggling marking both Agüero and Jesus, whilst a bank of three midfielders ahead of them should provide protection and the capacity to track runs into the half spaces. Instead of Silva, De Bruyne, Agüero and Jesus facing up against Henderson, Matip and Klavan, there would now be Can to help ease the burden of the two South American forwards, and Wijnaldum and Oxlade-Chamberlain to help watch the runs, and block off passing channels. No doubt, Liverpool had the capacity to track those runs, but they simply did not.
Salah was brought off for Oxlade-Chamberlain, in the hope of restoring some control and solidity to Liverpool, and that too made sense. There's simply no point in Salah functioning as an offensive output when Liverpool needed control before they could think about attacking, whilst with a Champions League game on Wednesday, and a jam-packed month, in which Liverpool's other winger is suspended, it makes clear sense to keep Salah injury free and ready for the next match.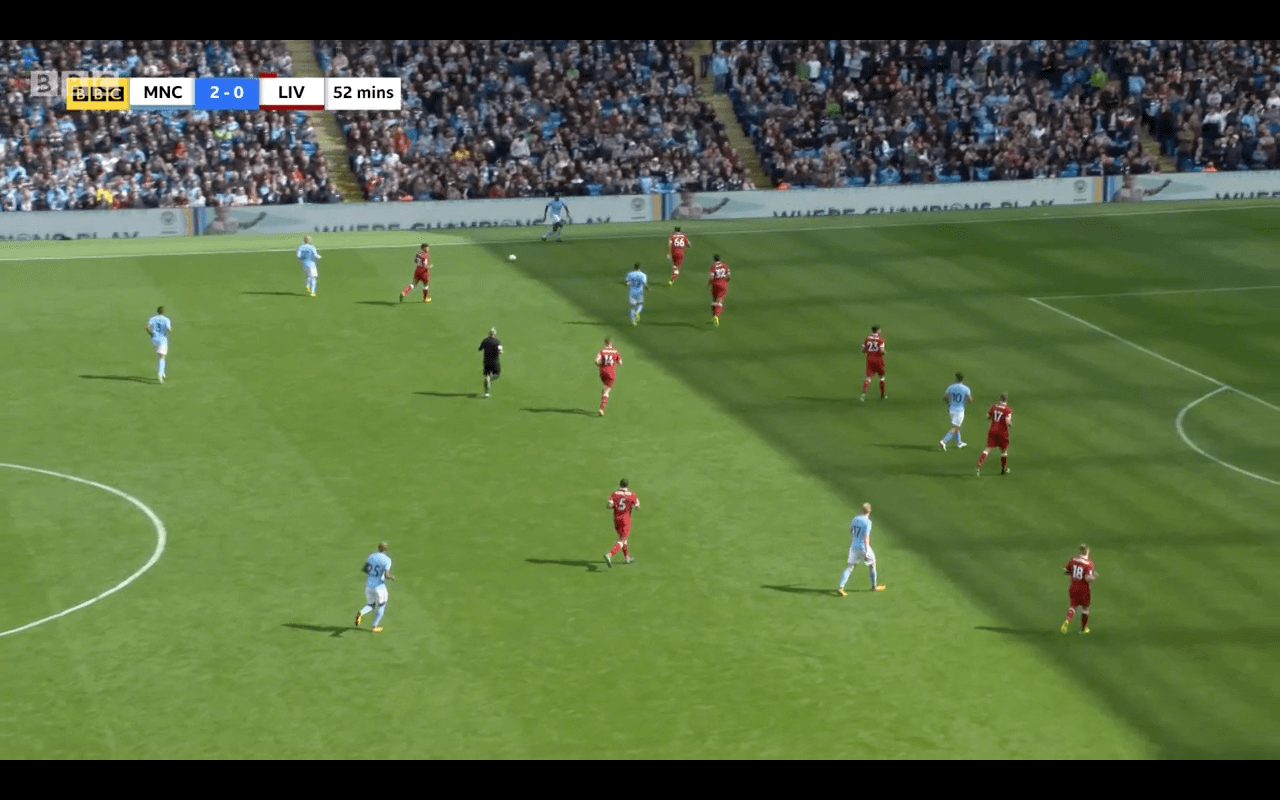 3-0, Man City, Jesus, 53′
Man City's third was simply a mess.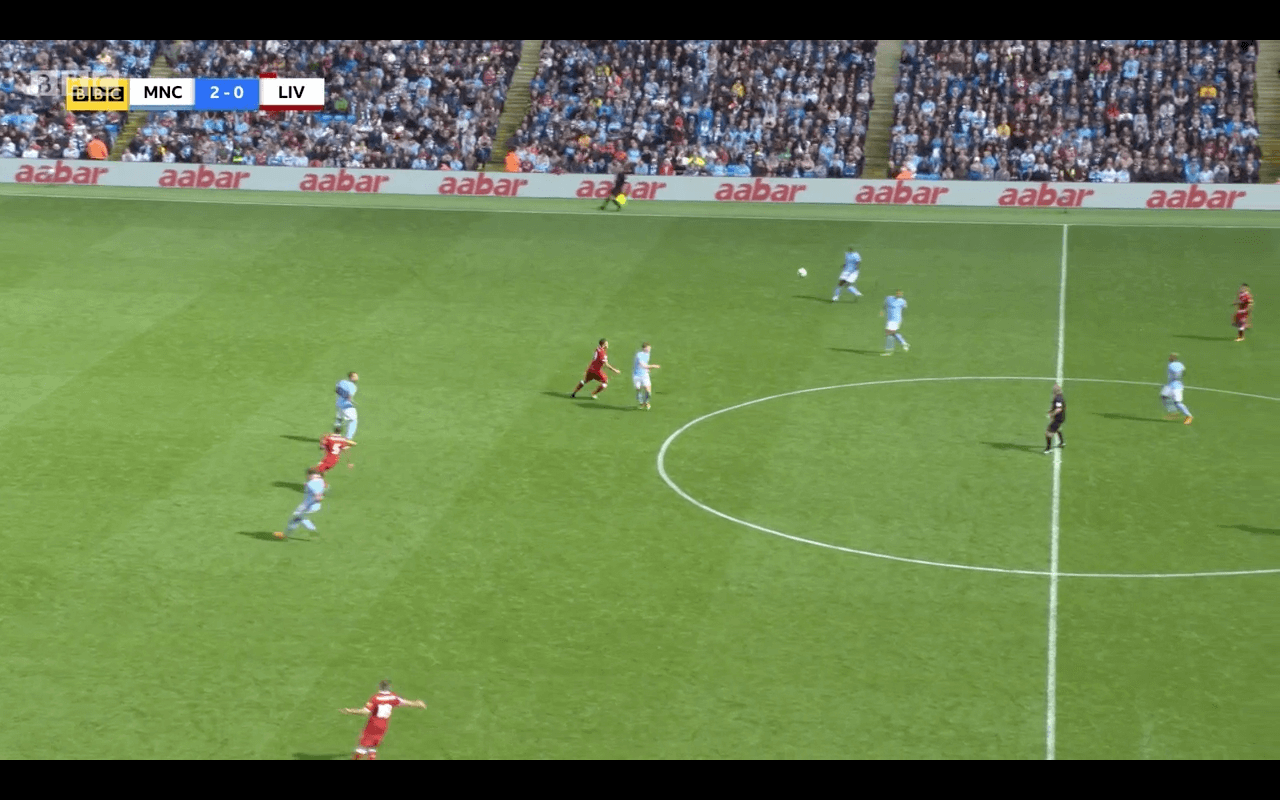 Henderson played the ball forward, but Stones headed the ball into Fernandinho, who was free and had no pressure on him.
With Wijnaldum committed forward – I don't know why he did this – there was not enough protection in front of the back three, with just Oxlade-Chamberlain and Henderson positioned between them and Fernandinho.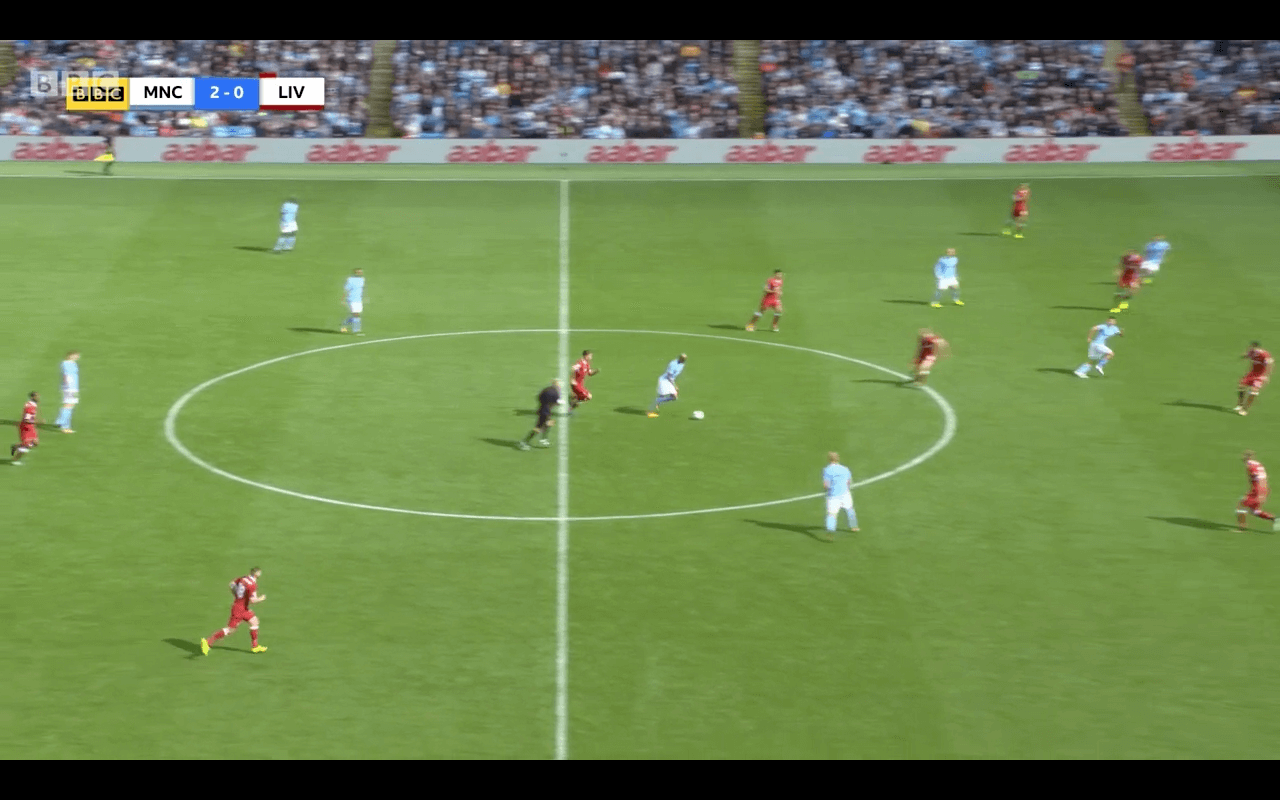 The lack of pressure on Fernandinho allowed him to play the pass into Agüero – positioned in the channel between Can and Matip.
Can's own lack of defensive skill in these centre-back situations proved costly as Agüero raced past. A simple tap in for Jesus was the result, and the game was gone.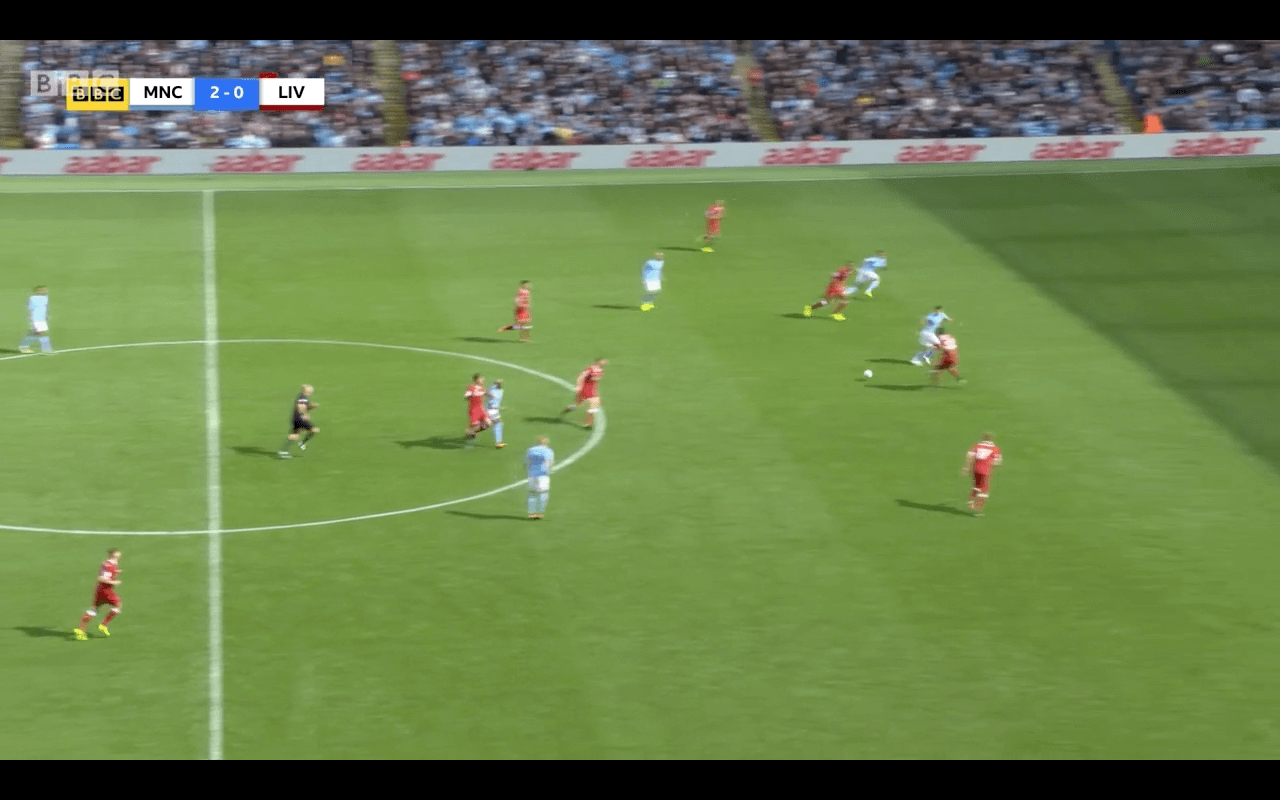 4-0, City, Sané, 77′
Bringing on Sané was rubbing salt into the wounds for Liverpool, but it hardly felt like that, as the menace Jesus was removed in favour of him.
By this point, Firmino and Wijnaldum had been removed for Solanke and Milner, but that made no difference to City who attacked at will, and carved through Liverpool like butter.
Henderson and Matip are the main culprits here.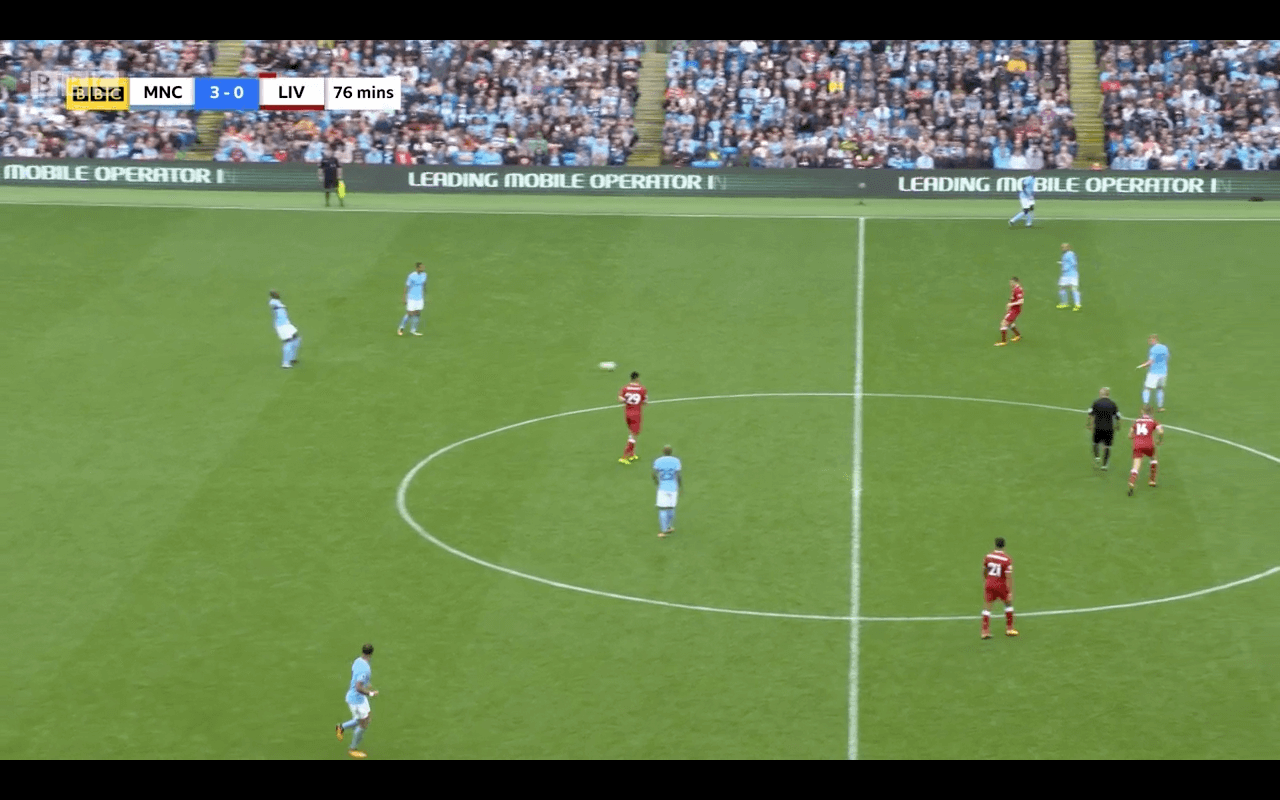 Astoundingly, De Bruyne was still both finding himself in space, but also with room to turn and then run with the ball, directly at Liverpool.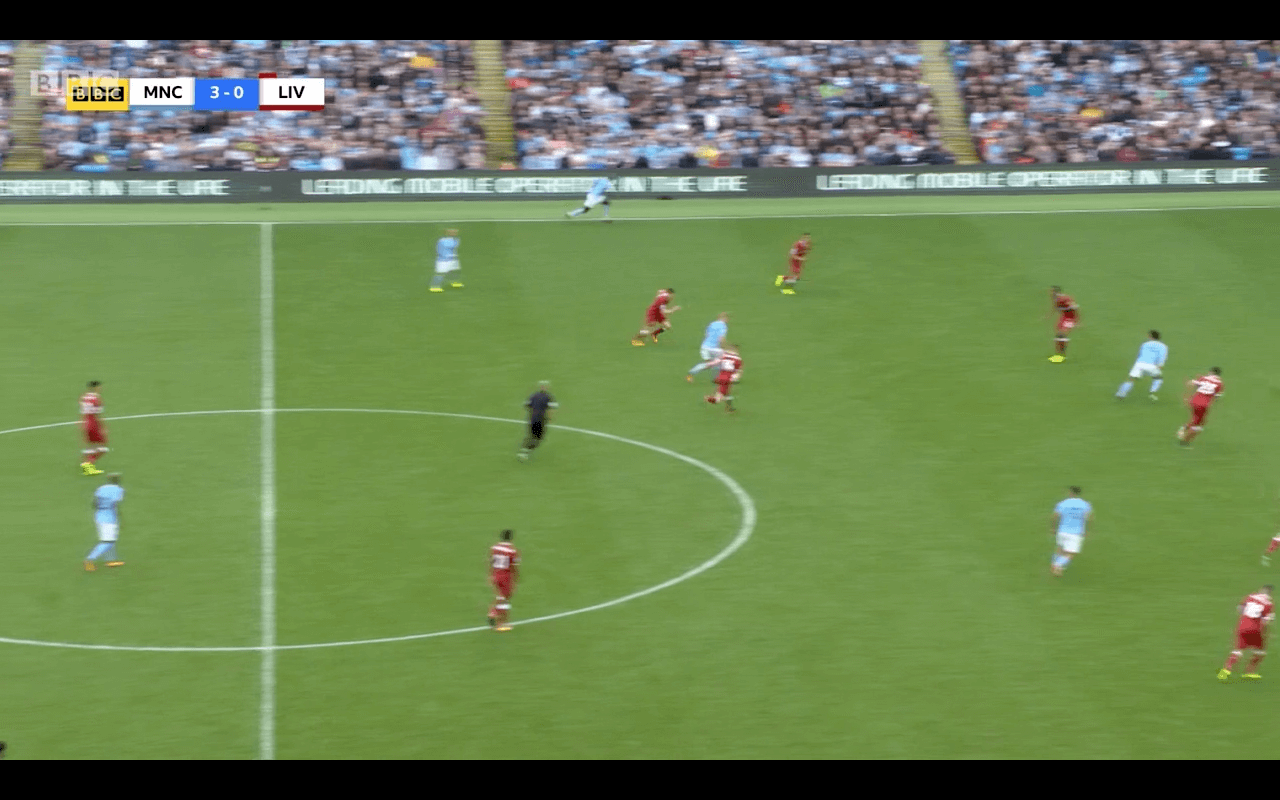 Henderson fails to pick him up initially, as he steals a run on him.
Alexander-Arnold, who looks completely shell-shocked, and (understandably) overwhelmed, can only job back, as Mendy marauds forwards.
Can, who was previously marking Sané, rightly, moves across to attempt to close down Mendy – passing on Mendy to Matip in the process.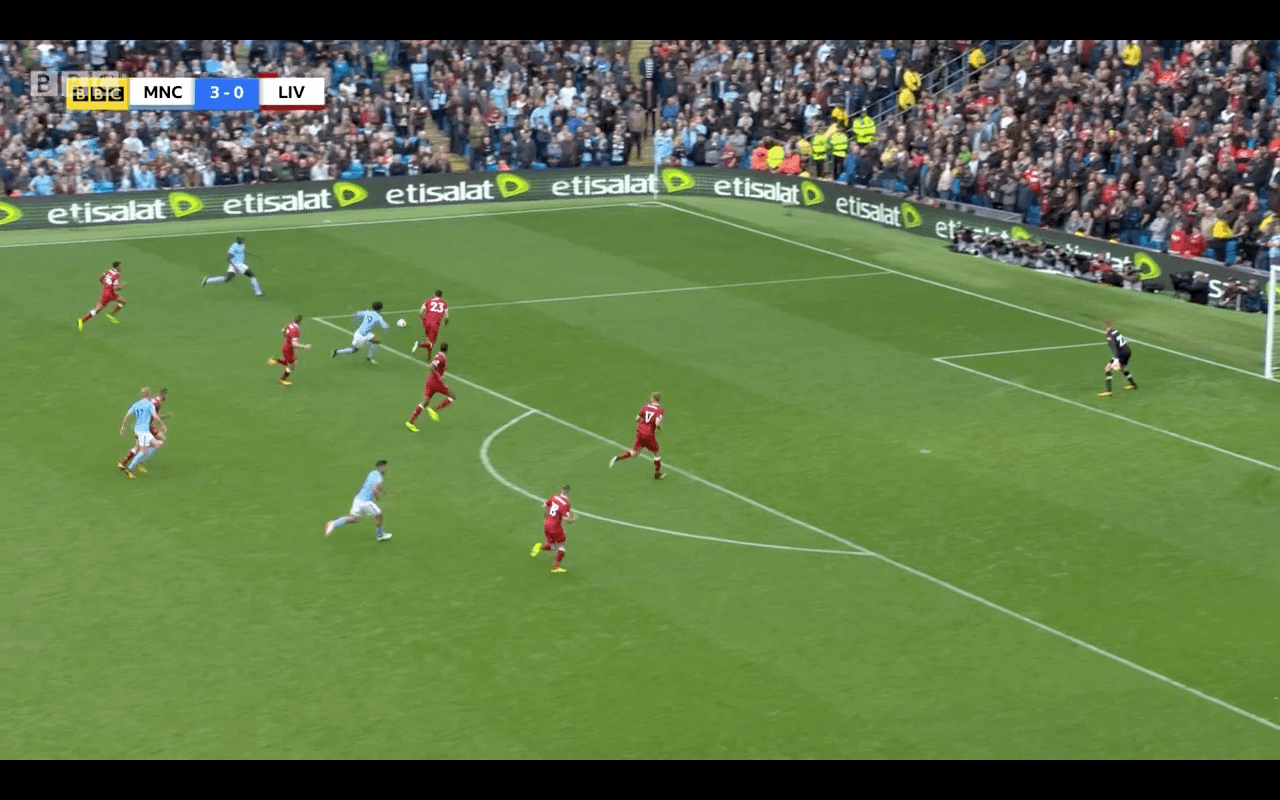 Thankfully, Henderson is now tight to De Bruyne, and both Moreno and Klavan are set to deal with Agüero.
Sané continues his run, and is ahead of Matip, and despite the ball coming at pace, and Sané meeting it at a challenging angle, his finish is sharp and powerful, leaving Mignolet with no chance.
5-0, City, Sané, 90'+1
Perhaps the most infuriating of the lot, for me, was City's fifth.
Surprise surprise, De Bruyne is in space, and allowed to turn again.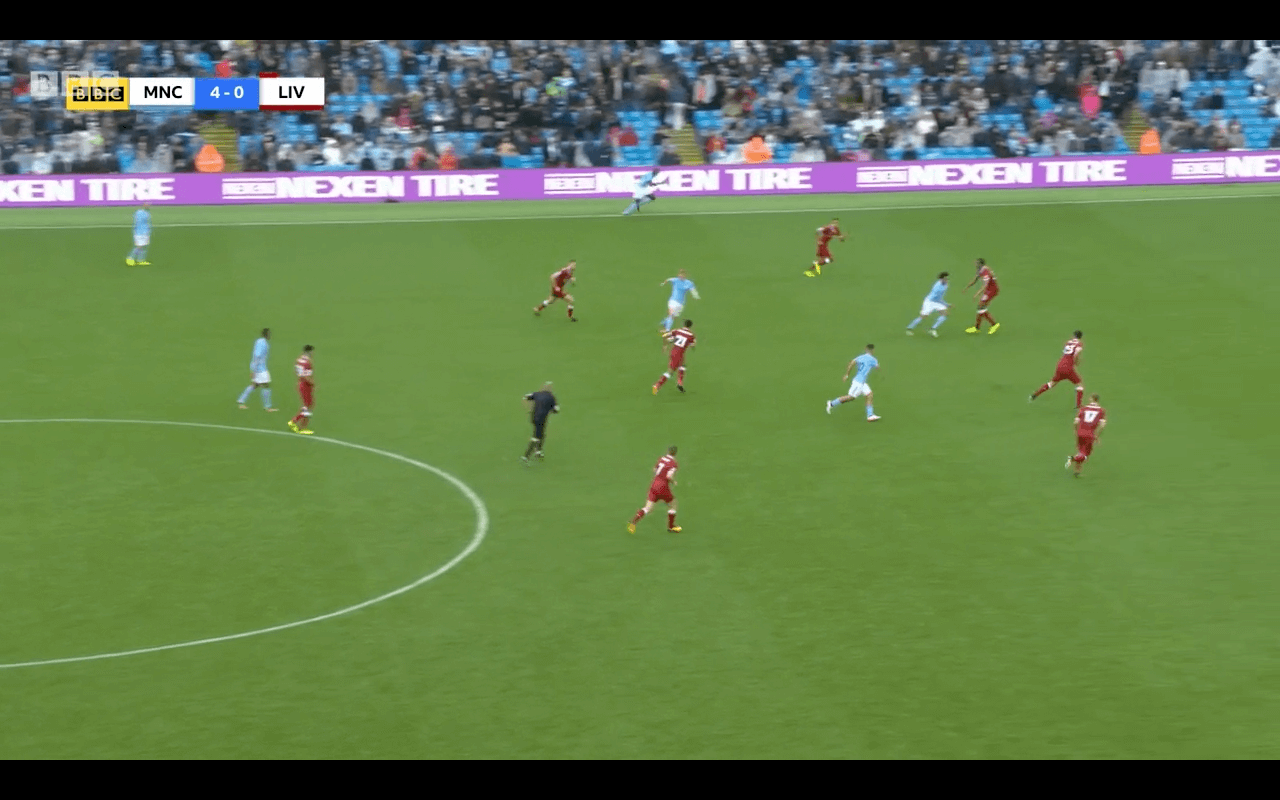 The ball finds its way to the right wing, and Liverpool have five players essentially available to cope with Agüero and Sané – as Moreno comes across to meet Walker.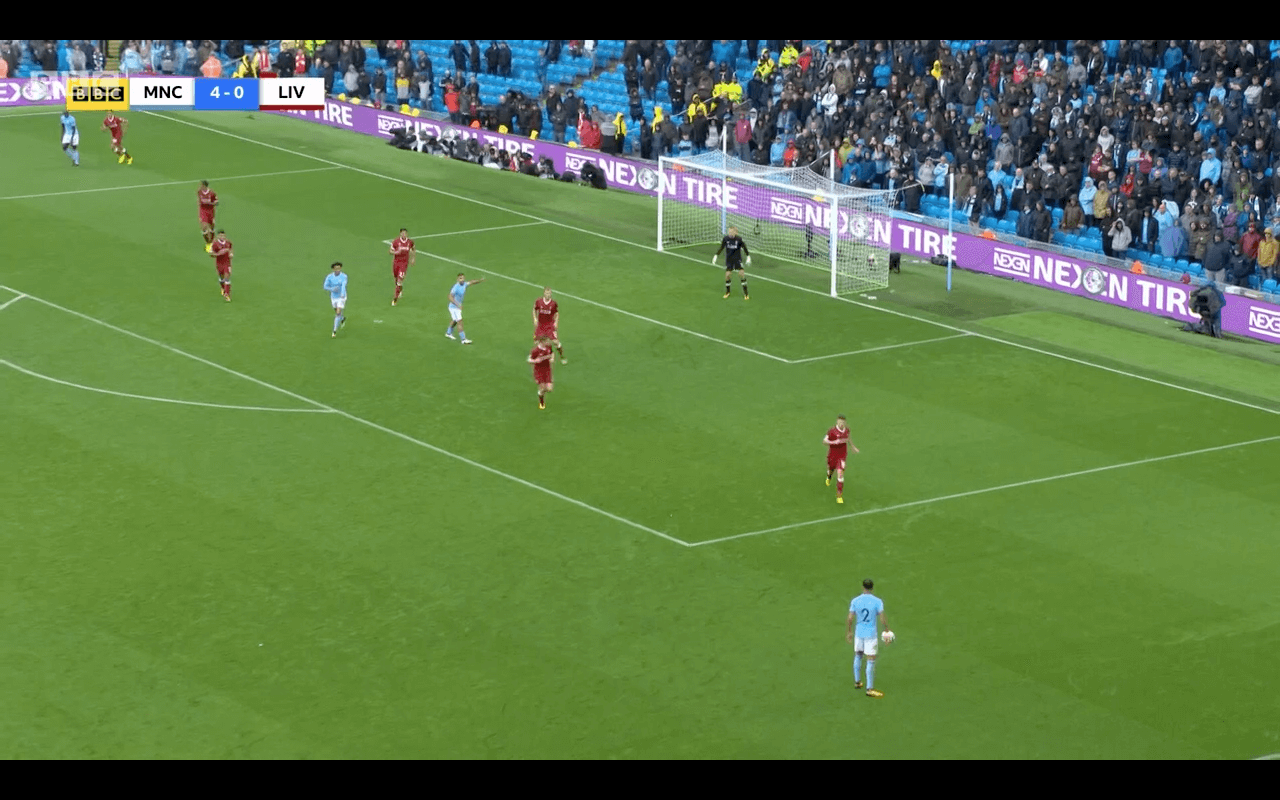 The amount of space that Sané finds himself in is simply astounding. This is unforgivable "defensive" football, as Sané finds himself with a perhaps four metre diameter circle of empty space around him.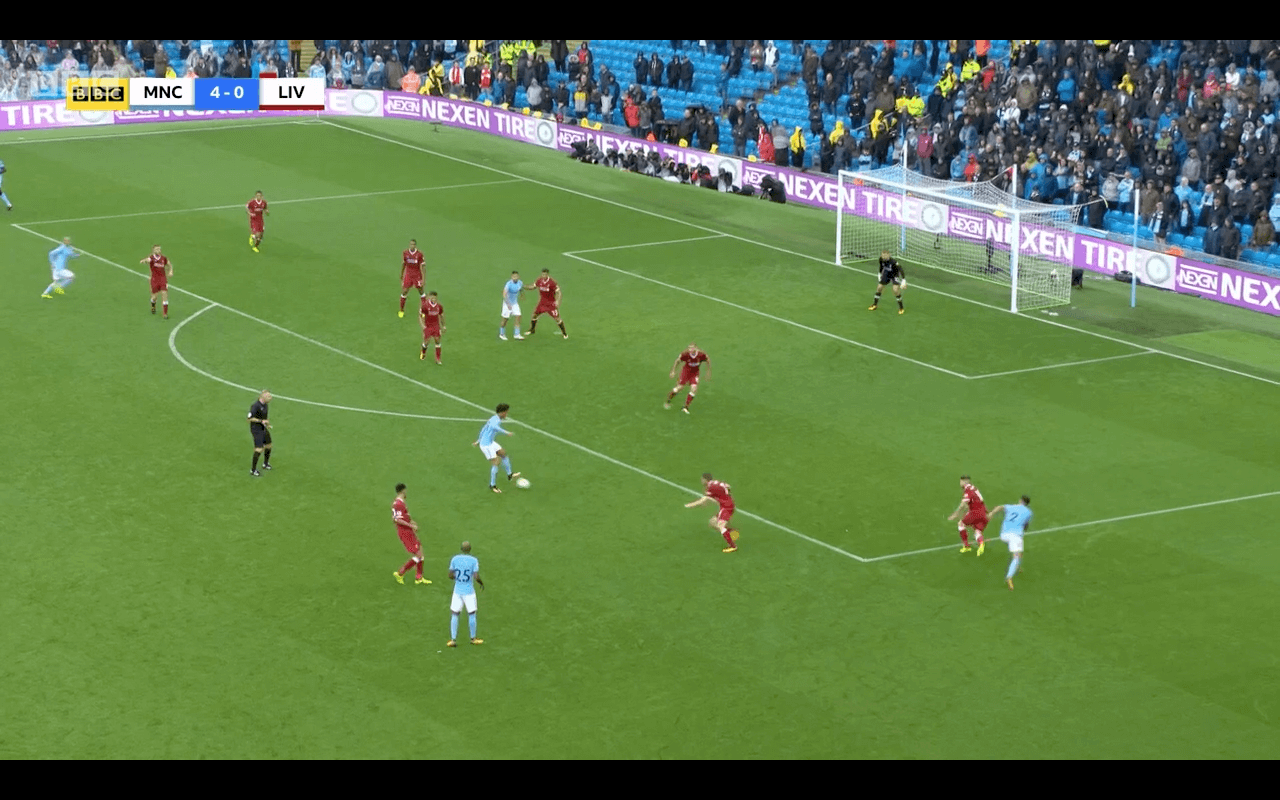 Oxlade-Chamberlain is doing nothing. As Sané takes his first touch he is completely static, only realising he needs to close Sané down after Sané has set the ball out for a shot.
Only Moreno and Mignolet are defensively switched on in the frame above, and for any footballing team from semi-professional to international level, that is simply disgraceful.
Had the team bothered to stay alert following Mané's red card, they may have kept the scoreline to two or three goals to nil, instead, they relinquished any fight or self-respect within them, and opened themselves up for a total humiliation.
Thoughts
Pep Guardiola is undoubtedly a tactical genius. Watching Manchester City in full flow is breathtaking at times, and seeing how City set up, with a 5-3-2 in defence, a 4-2-2-2 in defensive transition, and a 3-1-4-2 when attacking is mind bogglingly complex when considering the possibility for things to go wrong. The transitional play
It's a shame we could only see 37 minutes of the real tactical battle, as Liverpool broke forward, and perhaps should have scored, or at least done better with the opportunities that should have been made into genuine chances. The transitional play by City was interesting to watch, as City moved into a lopsided team at times, and when on the back foot, Danilo would move up, as a defensive midfielder, supporting Fernandinho. One can only wonder how this may suit Henderson, if he had some defensive cover alongside him.
The key for City was Kevin De Bruyne though, who found himself in space constantly, positioned between the two CMs and the CDM.
https://twitter.com/Squawka/status/906513223033278464?ref_src=twsrc%5Etfw&ref_url=http%3A%2F%2Fwww.squawka.com%2Fnews%2Fforget-the-hype-liverpool-need-coutinho-five-things-learned-from-man-city-5-0-liverpool-analysis%2F989157
Admittedly, Liverpool's defensive shape for the opening 37 minutes was hardly archetypal, but when playing against the best attacking side in the league at home, I'd be surprised to find anyone who thought Agüero, Jesus, Silva and De Bruyme were not going to cause Liverpool problems.
The Missing Midfield
For Liverpool though, this was the key issue. The midfield that was so passive against Watford and Palace returned when it mattered most.
Can, Henderson and Wijnaldum were able to boss Granit Xhaka and a clueless Aaron Ramsey around at Anfield, but when positioned against a structured and organised team, Henderson and Wijnaldum, in particular, looked out of their depth.
Gini Wijnaldum v Man City

76% passing
0 shots
0 chances created
0 take-ons
0/1 tackles
0/1 aerial duels

Ghost

— LFC Stats (@LFCData) September 9, 2017
Jordan Henderson completed only 75% of his passes, won 0 tackles, 0 aerial duels and completed 0 dribbles. #captain

— LFC Stats (@LFCData) September 9, 2017
This was something I highlighted and questioned in two of my previous tactical analyses this season:
Liverpool 4-2 Hoffenheim: A Tactical Breakdown
'For the past three games, I, amongst others, have been critical of the midfield, arguing that it is neither creative enough, or productive enough in terms of offensive contribution. The midfield seemed intent on proving the latter wrong, with Can scoring two and Henderson and Wijnaldum assisting. Yet in one sense, we must also ask why the midfield was so creative? To me, I feel that the midfield's ability to be creative was facilitated by two contributors: the Liverpool wingers, and the Hoffenheim system, which allowed Mané and Salah to position themselves between the wing-backs and centre-backs. Through Salah and Mané positioning themselves in those areas, it was a simple matter of playing the right pass. Is this really the creativity of the midfielders shining through, or is it the product of a tactical setup which creates space and chances?'
Liverpool 1-0 Crystal Palace: A Tactical Breakdown
'However, it's the Liverpool midfield which is now a major concern; not only are Lallana and Coutinho unavailable, but the midfield has failed to fully function in its offensive and defensive responsibilities, as both Wijnaldum and Henderson have put in poor performances, with both failing to mark their opposite number, in multiple instances over the first two league games. Wijnaldum, in particular, has appeared to go missing, registering minimal touches, and not creating spaces or chances with his positioning.'
Usually, Firmino helps out in midfield, but without Mané on the wing he could not stretch City, or support attacks effectively. Not only this, but the midfield failed to find him, and when they attempted to do so, he was always going to lose long-balls when confronted with Fernandinho or Stones.
Super Simon Mignolet
It speaks volumes that in a match which Liverpool conceded five, Simon Mignolet was by head and shoulders the best Liverpool player, the only one who played over 60 minutes and can hold his head high.
The most spectacular of his saves came with the game already lost, and Liverpool 4-0 down.
It starts with Liverpool positioned well enough to cope with what follows.
Milner goes to mark Silva, as he has been doing since he was brought on, but nobody moves to De Bruyne.
Milner actually had an option to hold his position in the frame below, which would have deterred a De Bruyne run, instead though, space opens up in behind, and Oxlade-Chamberlain is facing the opposite way to the ball.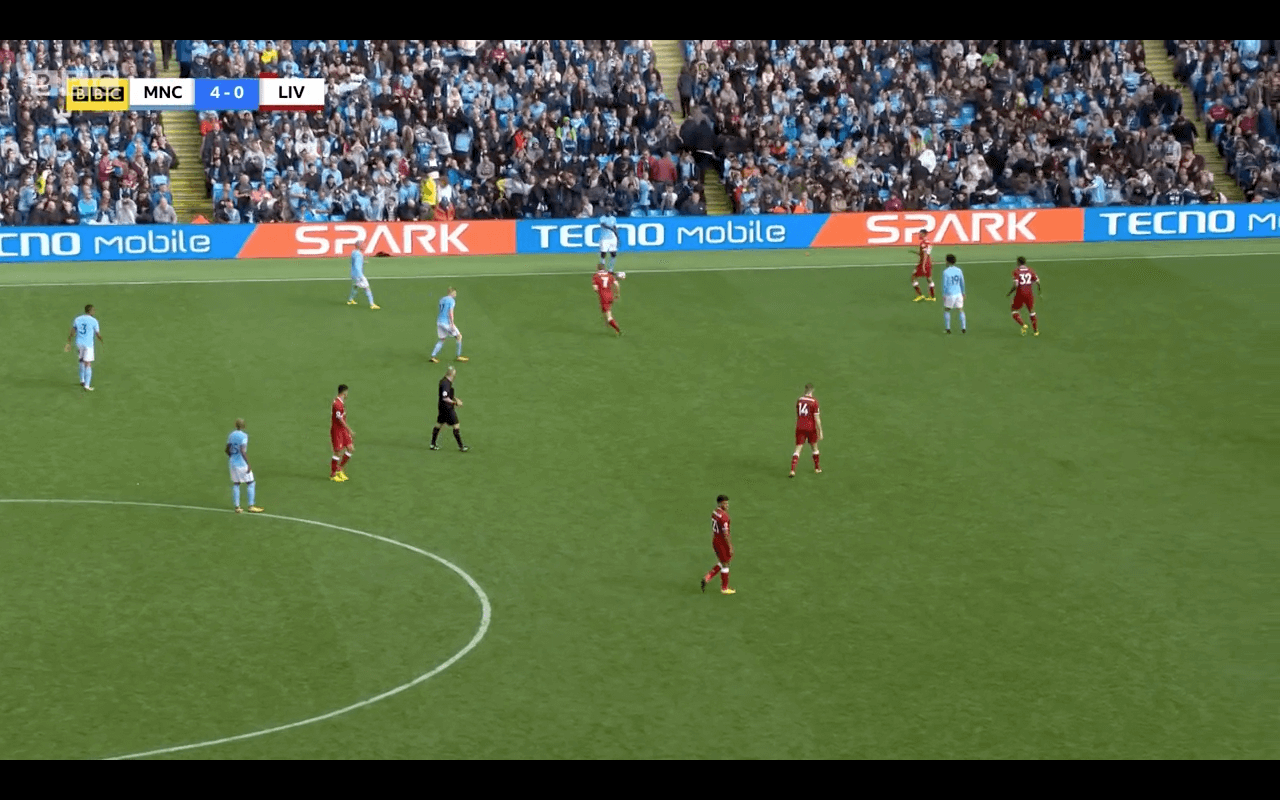 Sané, as Mané and Salah were intended to do, positions himself inside the WB, and outside the RCB, before losing his man and drifting in, before laying off a perfect cross for Agüero.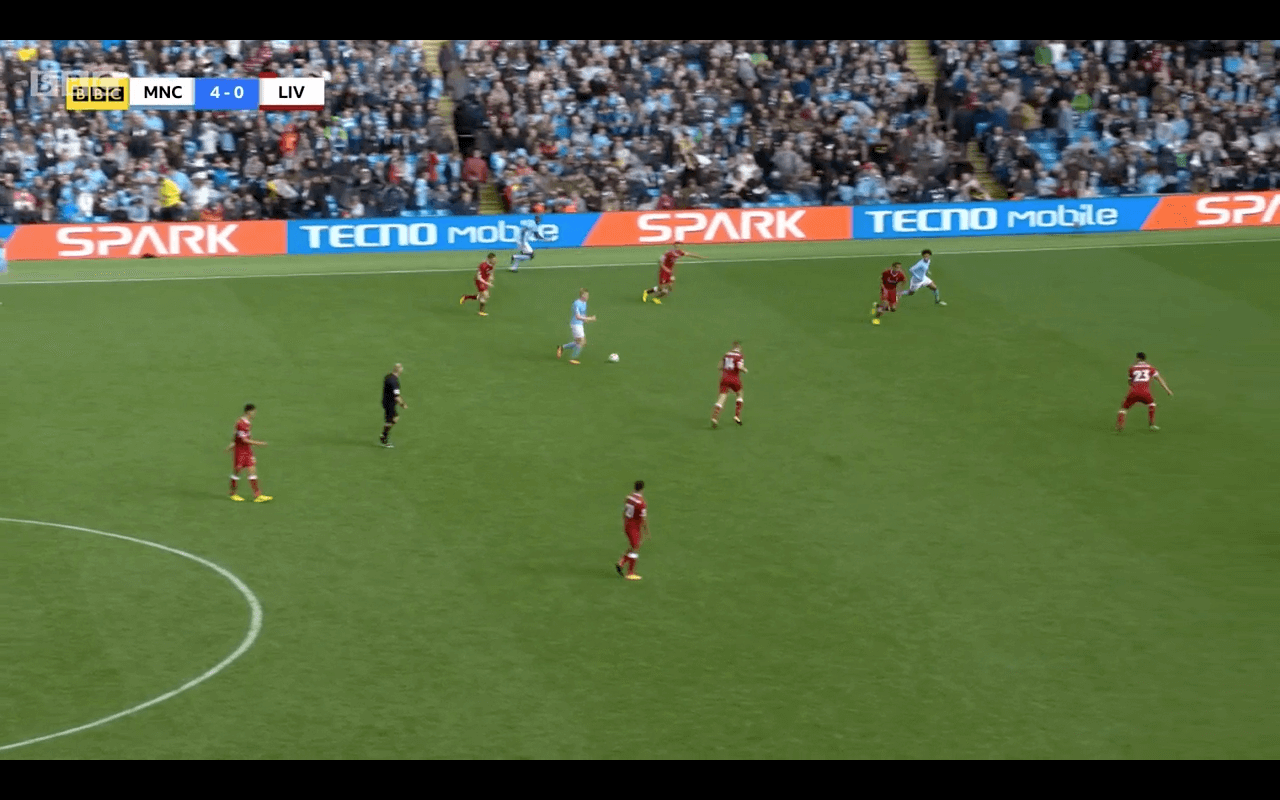 Mignolet pulls off a stunning save, but the lack of Liverpool midfielders in the frame is damning. The players simply lack respect for the shirt and themselves – forsaking the minimum requirement of effort.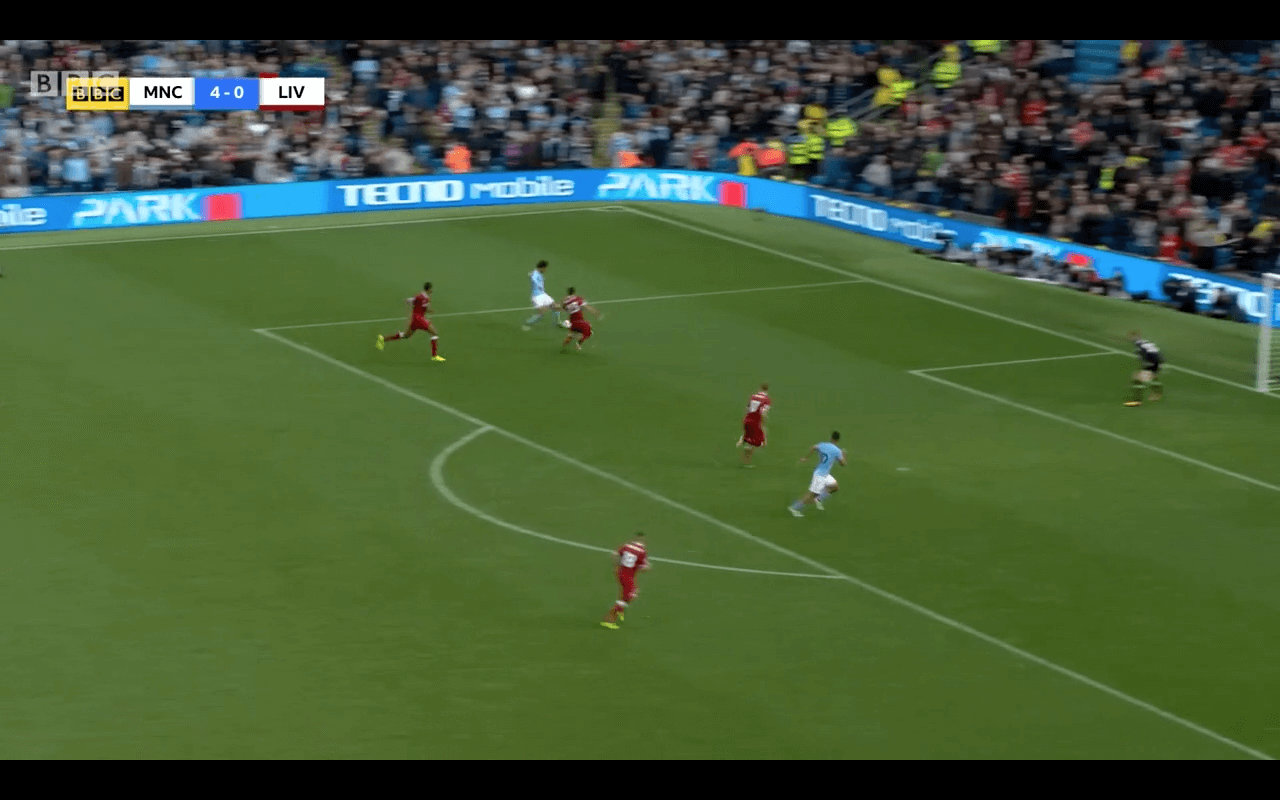 How much did the red card change the game?
On average conceding a red card after 40 minutes is worth about 0.9 goals to the opposition. https://t.co/IMnOFngIsW

— David Sumpter (@Soccermatics) September 9, 2017
Asserting that once Mané was sent off the game was lost is a fair view in my opinion.
Were it not for the red card, Salah may well have had a few more opportunities to run at Otamendi, who he had on toast, having got him booked already, and simply unable to cope with Salah's sheer pace. But Salah had Salah scored earlier it could very well have been a different game, this is one too many hypotheticals though, and the real issue is not how the forwards played – because they were promising before the red card, and Salah continued running behind, to no avail (thanks to the lack of vision from the midfield) before he was substituted at half time – instead it was how the team reacted to being a man and a goal down, away from home, and it brought back memories of that capitulation against Sevilla – Liverpool's next opponent – in the Europa League Final.
Liverpool did look competitive, and prepared enough to try and win the game, for the opening 30 minutes, and for that reason, I cannot really blame the manager, especially so as his pressing game plan relies upon pressing from the front, and not having any passengers within the pressing system. Once Mané was sent off, this offensive gameplan, which protects the defence, by manner of pressing, fell apart, and no man can accommodate for acts of neglect – as was the case with the midfielders in particular.
But having looked at the goals, and the manner in which Liverpool conceded them, I cannot say that once Mané was sent off the only outcome was a four or five goal drubbing. The scoreline should have been kept to two fewer, and the xG for the game reflects this too. City's attacking play was fantastic, but not to the value of five goals. The Liverpool midfield was awful, but even in an awful game where a player cannot get their passes or touches right, you expect them to at least stick with their opposite number.
I understand the team was tired. After internationals, and being run ragged away from home, I would forgive the players if they were simply out ran, But to be tactically switched off is unforgivable – both Milner and Oxlade-Chamberlain, who should have been fresh, were guilty of this. Whilst the less said about the starting midfielders the better.
This was a humiliating match, and one that did not reflect upon the manager's teachings at all. Whilst Klopp could have brought on Gomez or Lovren at half-time, that's no excuse for the team being total sumphs and neglecting years of basic training, supposedly drilled into them.
It still does not sit right, searching 'Man City 5-0 Liverpool', and for me never will. I was willing to accept Manchester City were simply far better than Liverpool on my first viewing of the game, but having reviewed the goals, I can only feel deep distaste with the team.
Liverpool need Coutinho back, and should seriously consider going back in for Lemar, for this midfield, as it stands is far too inconsistent, and shockingly bad when not on song.