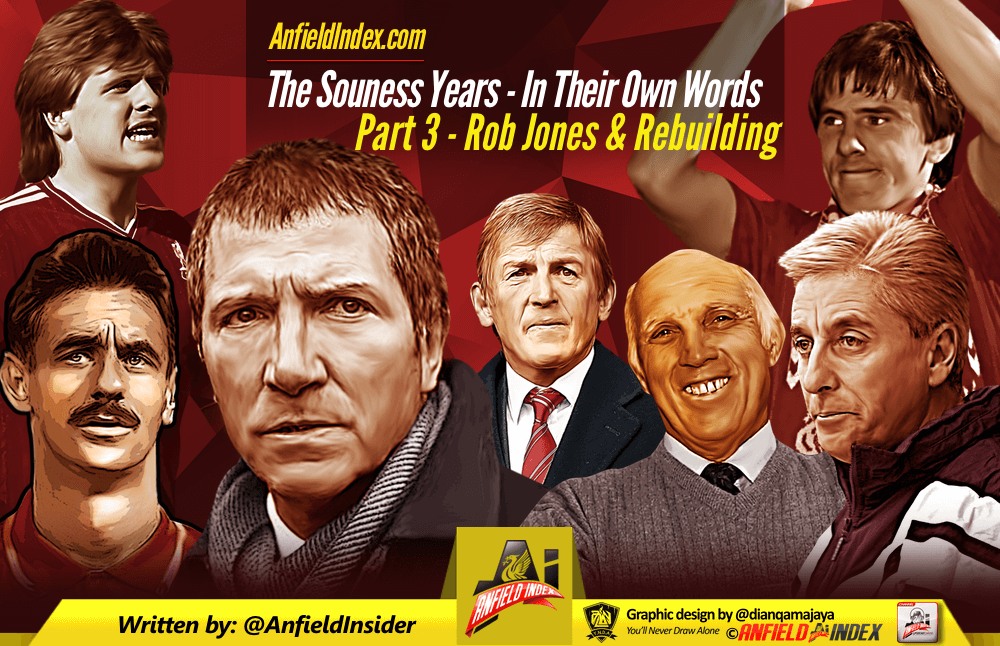 The Souness Years - Rebuilding & Rob Jones (Part 3)
In this third instalment of our Souness Years series, we delve deeper into the behind-the-scenes activities during the turbulent Souness era of the early 90s. You can find the first two parts here: Part 1 Part 2
RONNIE WHELAN: You had a team now that wasn't stable and united. There was a lot of individual play. Different players were doing different things. They weren't fitting into a system.
JOHN BARNES: When Kenny bought me and Peter Beardsley into the side, it was a relatively straightforward blending process. There were only two of us to assimilate into the team. Souness over-reached himself. It can take a season for one player to settle in, let alone five or six. The policy of progression was broken. Had Souness adopted a more sensible, cautious approach, the older players would have been phased out as others matured. In 33 months, Souness sold 18 players and bought 15. Liverpool were in a permanent state of flux.

RONNIE WHELAN: The clear out had been too radical. He had changed too much too soon.
JAN MOLBY: Especially the playing staff and style.
RONNIE WHELAN: There was no stability there.
IAN RUSH: Graeme called upon the services of almost thirty players. It seemed every time I entered the dressing room there was a new face.
ROBBIE FOWLER: Souness made some bad buys, and he admits that he came in too strong and alienated some of the players he inherited when he should have got them onside.
JOHN BARNES: He didn't get on with the older players. Maybe he believed the senior ones would undermine him, but Ray, Ronnie and Steve were never a threat to the manager.
GRAEME SOUNESS: I am the first to admit some of my buys did not come up to scratch. Carter, Speedie and Hysen were simply not good enough. McMahon, Beardsley and Houghton had their own priorities at the time because they were approaching the veteran stage and were looking for another move.
RONNIE WHELAN: McMahon still had plenty to contribute. Beardsley went to Everton and had two brilliant seasons there before moving to Newcastle where he put in another three or four great seasons.
GRAEME SOUNESS: With hindsight, I should have kept them at least another year while I shopped for replacements, but I was not prepared to wait because there was a massive rebuilding job to be done.  We did make a move for Tim Flowers before he joined Blackburn, an exchange that would have taken David James and Mark Walters to Southampton. In the end, he decided to join Blackburn.
KENNY DALGLISH: I knew Tim Flowers wanted to come to Rovers because of his friendship with Alan Shearer. When I heard Liverpool were in for him, I told him 'Tim, if you want to speak to Graeme Souness, you're only going to tell him you're not interested in going to Liverpool. I think you should treat Graeme with respect and get your manager to tell him you don't want to go there.'
GRAEME SOUNESS: We also came close to Peter Schmeichel. Ron Yeats showed me a letter once that read: 'I am a Danish goalkeeper who has been a Liverpool supporter all my life. I am willing to pay for my own travel expenses. Can I come to Melwood for a week's trial?' I was trying to edge Bruce Grobbelaar out, but it was proving difficult. I thought that if another goalkeeper turned up, we were going to have problems with Bruce. So it never happened.
JAMIE CARRAGHER: If I become a manager, I won't just want players scouted properly before I buy them, I'd want to know what they're like as individuals too. That's where Souness, Evans and Houllier went wrong. I had a chat with Clive Woodward once who told me he not only considered players' performances but their character profiles. He wanted to know the kind of person he was putting into his squad, whether they were disruptive, temperamental and moody or inspirational and intelligent. If Liverpool had taken this approach, they'd have saved a lot of money wasted on players who looked great when they arrived but failed miserably to cope with the pressure.
GRAEME SOUNESS: Whenever the subject of my buying is discussed, the names of Paul Stewart and Nigel Clough usually top the list. But there were others who certainly gave value for money. Rob Jones.
RONNIE WHELAN: Rob was a player. He was the real deal and a terrific signing.
GRAEME SOUNESS: He also should have won countless caps for his country. Whether he was up against Lee Dixon, Paul Parker or Gary Neville, I think Rob shaded them all when it came to the overall ability of a fullback.
STEVE McMANAMAN: As far as I'm concerned, Rob is the best right-back England never had. If it wasn't for Trigger's injury, I think he would have gone down in history as one of the greatest right-backs England has ever produced.
JAMIE CARRAGHER: I think Gary Neville would have had a real job on his hands to have kept hold of the England right-back jersey if Rob had been injury-free too. That's no disrespect to Gary because he's enjoyed great success in the game and was a great servant to England. But Rob was an all-round better full back.
STEVE McMANAMAN: He should have been his country's first choice for over a decade. There's no doubt Gary's achieved great things in the game. But at the time, Trigger was a better footballer, without a shadow of a doubt.
ROBBIE FOWLER: I'd say he was definitely up there as one of the best fullbacks around. Not just in England. I'm talking world football.
GRAEME SOUNESS: It was obviously a personal tragedy for him that his career was cut short by injury but I think it was also sad for Liverpool. He should have been a 15-year man for the club.
JAMIE CARRAGHER: If Rob had stayed fit he could well have been part of the treble-winning team and maybe even Istanbul. Then he'd have the medals to go with his outstanding performances and he'd be on par with the Phil Neal's of this world.
GRAEME SOUNESS: In terms of ability he was certainly as good as Phil Neal, a man regarded as the best right-back Liverpool have ever had. Don't forget, I played with Phil and I can tell you he was an excellent footballer. But I think Rob had more pace and matched Phil for the never-say-die spirit and desire not to be beaten by his man.
GRAEME SOUNESS: Without a doubt, he was one of the best, if not the best signing I made as Liverpool manager… Mark Wright, in my opinion, was the best central defender in the country when I signed him.
STEVE NICOL: Graeme clearly saw him as a ready-made replacement for Alan Hansen. He was brought in to be a leader so to give him the captaincy made sense to me. I've been asked a few times over the years if I felt snubbed by that decision – certainly not. I would probably have done the same thing if I'd been in Graeme's shoes.
GRAEME SOUNESS: We did have our rows as he occasionally thought I was demanding too much. When I left Liverpool he took the trouble to phone me and admit he had eventually realized the message I was trying to get across to him, and I appreciated that.
STEVE NICOL: Wrighty came to my house  – a visit that was both unexpected but also appreciated. There was a knock at the door just after seven o'clock, and he was just standing there. "Look, Stevie, as much as I'm happy to be the captain I just don't want you thinking that I don't respect you and I hope you don't hold any grudges." He didn't need to do that, and I thought him coming to the house was very respectful. It didn't hurt because Graeme was right.
GRAEME SOUNESS: I liked mark Wright but he would always drop off and defend, we couldn't get him to hold a high line.
RONNIE WHELAN: Wright wasn't a Hansen or a Thompson or a Lawrenson. But he was the England centre-back so in theory, at least he looked like a good choice. But we found ourselves having to adapt to a new style of play with the back four, rather than the back four adapting to the Liverpool style of play. He didn't push up and hold the line. I was the one sitting in front of the back four and I was used to the lads pressing high up and leaving no gaps between us. Now you'd turn around the defenders would have dropped fifteen yards back and there'd be a big gap for the centre-forward or runner from midfield to exploit.
To be continued…
References
John Aldridge – Alright Aldo (2011)
Arnie Baldursson – Ronnie Moran – Mr Liverpool (2017)
John Barnes – The Autobiography (1999)
Peter Beardsley – My Life Story (1995)
Kirk Blows – Terminator – The Authorised Julian Dicks Story (1996)
Jamie Carragher – Carra: My Autobiography (2009)
Jan Molby – Jan The Man (2004)
Kenny Dalglish – My Liverpool Home (2010)
Rob Jones & Paul Hassall – Robbed
Dominic Matteo – In My Defence (2011)
Steve McManaman – El Macca (2005)
Neil Ruddock – Hell Razor (1999)
Ian Rush – Rush: The Autobiography (2009)
Graeme Souness – The Management Years (1997)
Graeme Souness – Football: My Life, My Passion (2017)
Paul Stewart – Damaged (2017)
Phil Thompson – Stand Up Pinocchio (2005)
Ronnie Whelan – My Life In Red (2011)