 The end of Klopp's Liverpool 4-3-3?

Enough has been said and written about the shift in system that Liverpool employed at West Ham on Saturday evening. Whether you look at it as a 4-4-2, a 4-2-3-1 or a 4-2-2-2 depends on how you see it, and how the game changed.
But one definitive conclusion that can be drawn from the game at the London Stadium is that Liverpool did not play the 4-3-3 that we have come to be associated with.
There were two centre-backs in play, two rather static central midfielders, and cautious full-backs. That meant more protection for Simon Mignolet, who despite his best attempts to gift West Ham more goals, picked the ball out of his net only once?
But, from both a defensive and offensive perspective, is this a sustainable system?
One unmissable feature in the last two Premier League games – against Huddersfield and West Ham United – was that Joe Gomez played on the right side of the defense. He was a right-back off the ball, but on the ball, he seemed to be playing more like an auxiliary centre-back.
But the big change in the back four against West Ham came in the form of Alberto Moreno. If you look at the average positions throughout the game, Moreno was as deep, if not deeper than Gomez was on his flank.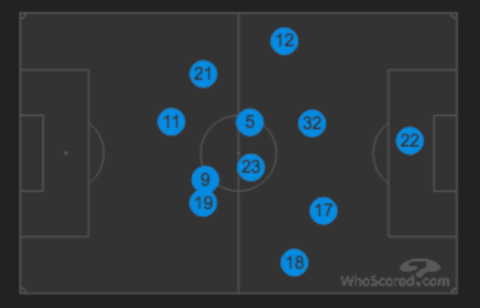 Clearly, the big loss to Tottenham at Wembley has woken Klopp up, and he decided that something had to change with the system for Liverpool to defend better, and not leave the centre-backs and goalkeeper horribly exposed.
The change has been made now, but is this change here to stay? It would be weird if it isn't, but understandable too. I say weird, because to make such a drastic shift for just one game against a struggling side doesn't quite make sense, but the system employed against West Ham suited the players on the pitch to a T.
So do we see more of this going forward? If we do, how do we fit the players that weren't available for that game into this system?
Let's not have any pretensions that Philippe Coutinho won't walk back into the starting XI as soon as he is fit? In the West Ham system, where does he fit? Certainly not in the role that either Emre Can or Gini Wijnaldum played. But if he does take up one of the front four positions, can he do what Klopp demanded out of the forwards in terms of pressing and intensity? Is that his game?
The one role I could see Coutinho play in that system is the role that Bobby Firmino played, largely operating in the hole between the two sitting midfielders and the striker. But we can't go into games without the pressing ability that Firmino offers. So that would mean maybe Mo Salah shifting to the right flank, and Firmino staying central.
But a big part of what Liverpool did against West Ham was through the runs the front players made. One could evidently see that Liverpool tried overloading one side of the pitch and play the quick release to the other side. So, while it seemed counter-intuitive for Salah and Alex Oxlade-Chamberlain to make the same kinds of runs to the same areas, the plan was clear – free up space for Firmino and Mane. The rotation of the front four also meant that it was easier for them to link up and get their runs in sync.
This system is still a work in progress, as the on-the-ball numbers point out. Liverpool had their lowest possession against a non-top 6 side for 16 months. There is a reasonable explanation for that, in that we didn't really have someone who could control possession and spray passes all over the pitch.
That is where Coutinho becomes central to such a system. The overriding theme of the system was efficiency, and with a man like Coutinho to pick out passes, Salah and Mane can make the direct runs knowing that more often than not, the ball would find them.
Another possible change will come with Jordan Henderson coming back into the side. For all his shortcomings, Henderson has shown a reasonable ability to hold the ball and play the simple passes effectively.
As long as he isn't trying those Hollywood passes or the infuriating long balls down the middle, Henderson will help the on-the-ball aspect of this system.
Also, history points out that Henderson and Emre Can have traditionally done well in a double pivot. In Klopp's first season at Liverpool, the pair seemed to develop a neat understanding of how to play in a double pivot. There was cohesion in how when one bombed forward, the other sat and offered protection to the defense.
That will change if Klopp decides this system is the way forward. On the evidence of West Ham, neither Can nor Wijnaldum really bombed forward with the intention of getting into the box. And as Hamzah points out here, even when one ventured forward, the other always dropped into what is the no. 6 role.
Adam Lallana coming back in only fills Klopp with more options.
But the biggest takeaway from the game was that Klopp finally showed flexibility with his tactics and the system. How long has it been since you could tangibly point out that the tactics won us a game of football? Far too long, is all I will say.
As Dan Kennett and Simon Brundish pointed out on the latest AI Under Pressure podcast, Klopp's 4-3-3 had almost become stale. Teams had gotten an idea of how Liverpool would set up, and when one system had so much exposure, with the analysis available, finding chinks in that armour was never going to take rocket science.
With these tweaks in the system, and how they have worked, albeit, in a limited sample space, Klopp gives himself options.
And these are options that are desperately needed. You cannot delude yourself into thinking that you will stick to one system, even if it doesn't necessarily suit the players you have. By showing the ability to change, Klopp has now sown a seed of doubt in oppositions that will face us.
He has shown that a 4-3-3 may not necessarily be the only way that his teams set up. On the evidence of the last week, where we have scored ten goals and conceded one, albeit against opposition that we should be beating, Liverpool have shown that there might be a surprise or two in store for teams when they play us.
Now, Klopp can go back to a  4-3-3 for certain games, as he deems fit, but at least, he's now giving opposition scouting teams a little more work to do before facing Liverpool. And that can only be a good sign?
Is this the end of the 4-3-3 for Klopp at Liverpool? Probably not, but it is the beginning of something that most fans wanted to see the manager do.
Tactical flexibility may not win us every game we play, but it certainly gives us a better chance. It was about time that aspect was addressed, and on the evidence of the last one week, it has been.