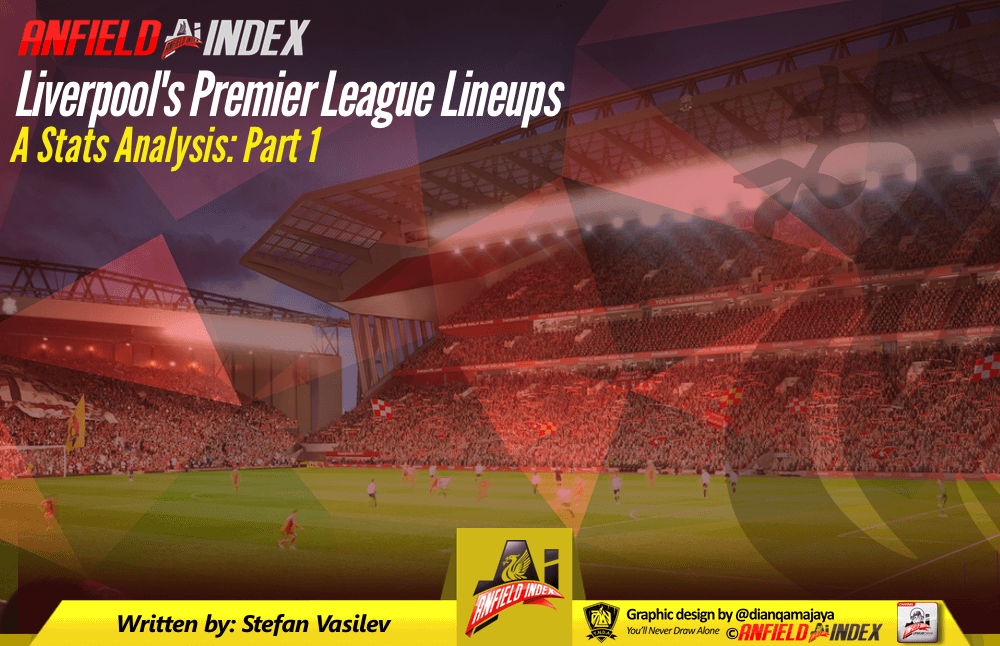 Liverpool's Premier League Lineups - A Stats Analysis: Part 1

The Premier League season is over. Man City dominated the season like no club has done in recent (and not so recent) times. For Liverpool, the campaign was relatively successful with the team managing to qualify for the Champions League for the second straight time – something that hasn't happened since a certain Spaniard was at the helm of the club. The Reds conceded fewer than 40 goals for the first since 2010. And Mo Salah won every possible award while breaking the scoring record with only one penalty goal (not that he had a whole lot of opportunities to score from the spot). One can say the domestic season was average for the Reds, getting top 4 and being knocked out of both cups early. We didn't set the world alight but I can only hope such a season will be considered an average one when Jurgen Klopp decides to leave and people look back at his legacy.
The German's rotations had a huge impact on the season. A few weeks ago I wrote about our centre back rotation through the year. The methodology is described in that article. The only slight tweak I decided to make is to normalize the opponent strength. In this article, the maximum opponent strength is 1 (Man City away) while the minimum is 0 (West Brom at Anfield). Part one of the article will only look at the defensive rotations and combinations. In part two I will analyze midfield and attack.
Klopp's rotations
The graph below shows Klopp's rotation through the year (A big thanks to experimental361 for providing it. You can also find his original article here):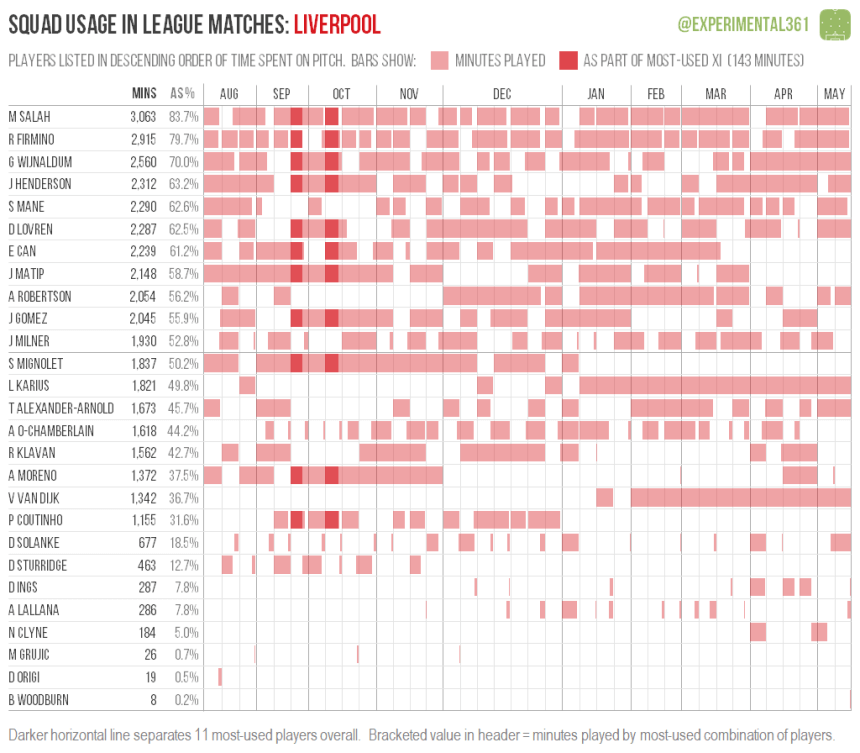 The German used 37 different starting lineups in the 38 league matches. There are no consecutive games in which he fielded the same eleven players. Some of the reasons for that are trivial – our starting keeper changed in the middle of the season, Coutinho left, Van Dijk came in, the fullback rotation and injuries.
But even with all the changes, Klopp made the performance level of the team was mostly constant through the season. Even during the bad spell up until Spurs away we created chances and didn't allow too many of them, with two notable exceptions. The German's system is so embedded in the squad now that no matter who the players executing it are, the performance level is rarely below par. The outcome still varies because some players lack quality compared to their teammates.
The Goalkeepers
Liverpool's defence conceded 4 goals less than last season. We added Virgil van Dijk and Klopp finally decided to give Karius the starting spot for good. Lovren and Matip were shaky and injured again. The full-back positions seem sorted for years to come. Overall 2017/2018 was a good stepping stone season for LFC defensively.
The team performed much better defensively (and overall) with Karius in goal:

The German has a 41% better defensive rating than Simon Mignolet. The Belgian played against better opposition and can probably call himself a bit unlucky as he didn't play a single second with van Dijk. But even taking that into consideration such a difference is not excusable. LFC's number one defensive rating translates to 28 goals conceded for 3600 minutes, while Mignolet's is the equivalent of 47. That is the difference between challenging for the league and scrapping (and most likely not making) for a top-four spot. I initially wrote the article before the Champions League final. Unfortunately, we all saw what happened on that unfortunate night in Kiev.  That changes the perception of Karius but the numbers stays the same, he had a good season that is also the worst season he will ever had because of the final.
The Full-backs
Nathaniel Clyne's injury and Alberto Moreno regaining his starting spot lead to a lot of uncertainty regarding the full-back positions in the begging of the season. Has Albie improved? Will that boy from Hull be good enough? Are Gomez and Alexander-Arnold ready? In hindsight the answers to all those questions are positive. Before his injury, bar a few bad moments, Moreno was better than expected (even if the expectations were low). The two young English boys were solid even though they still have a lot learn, especially when it comes to dealing with diagonal balls and playing attackers offside. And Robertson… The only word to describe him is brilliant.

Since full backs are very involved in our attacking play I also included the offensive ratings in the table. The Scottish Roberto Carlos has the highest net rating in the whole team – yes, higher than Mo Salah. The Reds outscored their opponents by 1.72 goals per 100 minutes with Robertson on the pitch. As I said above brilliant. Moreno's numbers are clearly inferior to everyone else on the list. The main reason for that is his terrible defensive rating, which can be attributed to him playing all minutes in our worst matches defensively – Man City and Spurs away. The Spaniard didn't do much wrong in those games. Trent and Joe have similar ratings to each other against opposition of equal strength. With Clyne coming back from injury and having a full preseason the right back starting place is up for the taking next season.
The Centre-backs
Most great teams have a set center back partnership that doesn't rotate a lot. John Terry played all minutes in Chelsea's last league-winning campaign. Arsenal last won the league with Soll Campbell and prime Kolo Toure playing at least 35 games. Manchester United have struggled to replace Vidic and Ferdinand. Jurgen Klopp had a healthy Neven Subotic and Matts Hummels, playing at least 75% of matches over two seasons in his back to back Bundesliga winning Dortmund side. There are countless examples. Stability comes from the back and Liverpool has been missing that for quite a while. Acquiring Virgil van Dijk was a huge step in solving that issue.

The difference in defensive rating between the big Dutchman and his teammates is incredible. One can argue that he has played inferior opposition but we all watched him in the Champions League, so such concerns should be dismissed. The numbers suggest that Klavan is an excellent 4th choice defender – solid against weaker opposition. Lovren and Matip are a very strange case. They can boss a game and just throw one away in a matter of minutes. I did a similar analysis last season. Matip's numbers have fallen drastically, while Lovren's have slightly improved, most likely because of him playing a lot of his minutes next to van Dijk. My personal opinion is that both are good players and can look great in the right circumstances. However, consistency is one of the most important attributes of a center back and we have seen enough of them to conclude that they are lacking in that regard (both in terms of performance and availability). I wouldn't say an upgrade is not an absolute necessity and I'm not a fan of full defensive overhauls but I wouldn't mind seeing a center back pair start 30 games together, which is unlikely with the current squad:

Five pairs of center backs have played 500 or more minutes together (technically four). It will be very hard to compete for the league if this remains the picture next season. The regression of the Lovren/Matip partnership from last season is mind-boggling. The defensive rating for that pair in 2016/2017 was 0.83 over 1679 minutes, it would be the best of any pair. If no new additions come in the summer van Dijk and Lovren seems the way to go. The Croatian, however, is going to the world cup and will not have a full preseason. Matip is not going to Russia, so depending on how Joel's recovery goes and how much full training time he gets in preseason we might seem him starting in the begging of next season.
Back Four/Five
With all the rotations and changes that happened during the season the sample size for our defensive line, this season are shockingly small. A lot of credit needs to go to Jurgen Klopp for managing to improve our defensive record in such circumstances.


The only real conclusion that can be made out of this data is the Jurgen Klopp likes to play his best defensive lineups for big games. The German will likely settle for a pair of fullbacks to play in the Champions league and cups during autumn and another pair to play in the Premier League. Barring injuries, the goalkeeper situations seems settled. At worst Karius is our number one, at best we add a new goalie and Karius goes back to playing in cups and in Europe. After Kiev, the goalkeeper situation is yet again a mess. Karius had a good season and a week ago I wouldn't have been absolutely OK with remaining our number one for next season. There are so many question marks now. Can he recover from this mentally? His initial response is certainly encouraging. How much can we spend on a replacement? If one comes, he needs to be an upgrade on a keeper who was on course to concede just 27 goals over a whole season. A lot of food for thought for both Klopp and Edwards. I would love to finally see settled center back pair but with Lovren's and Matip's injury record that is unlikely unless a new center back is brought in.
The Reds have gone from conceding 50 goals in Klopp's first season to 42 last year to 38 this season. A 12 goal improvement over 2 full seasons. Given what we have seen with Karius in goal and Virgil van Dijk leading the defense we can expect an even better defensive production next season if the squad is relatively healthy. The improvement in goals conceded has gone a bit under the radar. After years of terrible defending the foundations have been set for the Reds to yet again have league-winning calibre numbers in the GA column.
*The number of minutes is different in the graph from experimental361 and the tables because the methodology of gathering the numbers is different. 
Defensive rating – goals conceded per 100 minutes when a player or combination of players were on the field
Offensive rating – goals scored per 100 minutes when a player or combination of players were on the field
Net rating – team goal difference per 100 minutes when a player or combination of players were on the field
xOff rating – team xG per 100 minutes when a player or combinations of players were on the field
xDef rating – team xGA per 100 minutes when a player or combination of players were on the field
xNet rating – difference between xG and XGA per 100 minutes when a player or combination of players were on the field
Opposition strength – normalized opponent form index (0.5*point per game + 0.25 * venue form + 0.15* point per game in last 5 + 0.1*point per game in last 3 at the venue)