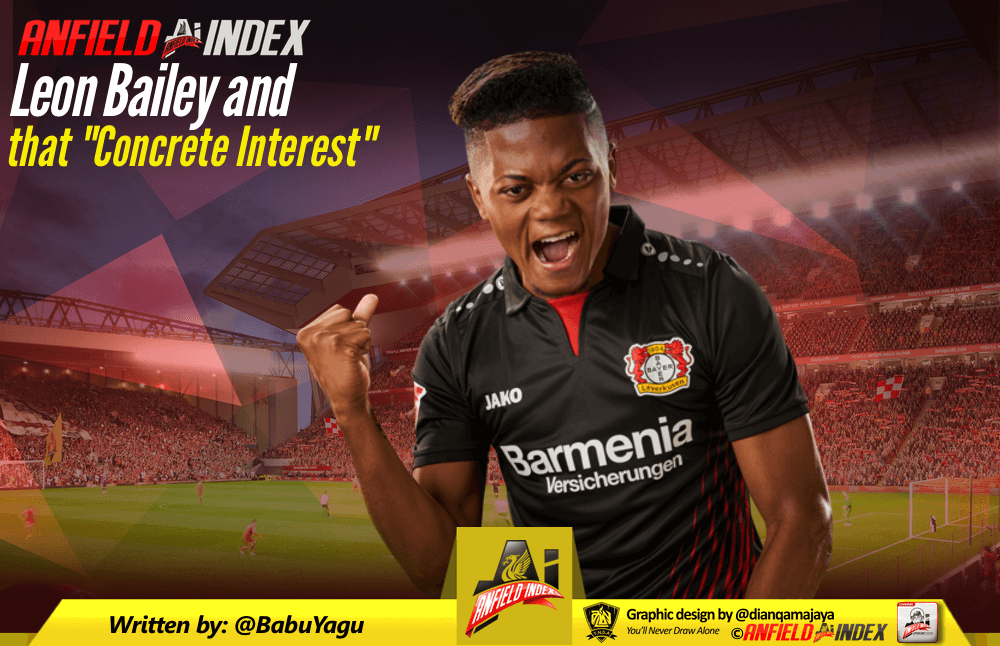 Leon Bailey and that "Concrete Interest"
With the breaking news this morning that Bailey himself confirmed Liverpool have a "concrete interest" in him, I decided to follow on from my pieces on Fekir & Pulisic with a look at the Leverkusen star, Leon Bailey.
Above: Reliable Bundesliga journalist, Old Gregg, hinting at a move to Liverpool.

My mind wandered this morning to that exact moment I fell in love with him, as a player. I had seen him a few times, mostly in cameos or a fleeting moment in a weekly Bundesliga highlights show. However, it was his performance against Cologne (below) when I really sat up and took notice.
He ran the game from start to finish. His pace was a constant threat and he stretched the Leverkusen defence both vertically and horizontally creating a lot of space for Leverkusen's other attacking talents like Brandt, Havertz and Volland to exploit. Quickly, they ended up needing to double up on his side of the pitch in an attempt to box him in when he got the ball on the flank (similar to how Rafa did to Ronaldo in that 1-4 beating of United). It seemed to do little to stop him running riot on the Cologne defence, however.
I started looking out for the little things I want to see in young attacking players to know they have been well coached and won't have any limitations that put a glass ceiling on his potential. Things like being comfortable in controlling, moving and passing the ball with either foot. Situational awareness before receiving the ball. Can he beat a man, pass, cross & shoot with his first touch? Strength on the ball (often underpinned by good balance)? Vision? Hard work? Desire?
He seemed to have it all but especially that most valuable of commodities in football, pace. He has weaknesses to his game too, of course, all young players do.  The raw ingredients are there though for a player who can go right to the top. It is easy to find a young player having a good game; to make a compilation of that game which portrays them as a world beater. The real question is what Bailey looks like over a full season in comparison to the other attacking talents in Europe. Specifically for Liverpool's sake, the man who was originally targeted to be our big attacking signing this summer, Nabil Fekir.
There is a lot of similarity in their involvement in the game, albeit some differences in how they go about it: Fekir seems to carry the ball more and is generally more precise with everything he does. However, this is largely due to the positions they are taking up on the pitch. Bailey, as an extremely quick attacker, is being used to get in behind and stretch the opponent whereas Fekir is operating more between the lines. Bailey's numbers for blocking passes and recovering the ball are extremely high for a forward, largely down to Leverkusen's extremely high and aggressive press where only a few teams around Europe allow their opponents fewer passes per defensive action (PPDA) in their own half.
Which means stylistically, Bailey would likely be a very good fit already for us which would ease the time it would take for him to get ready to Klopp's system.  However, let's look specifically at the key areas we identified in the Finding Faux-kir piece to see how he stacks up in our search for a highly penetrative versatile attacking player who has a big impact on all phases of the game.
Penetration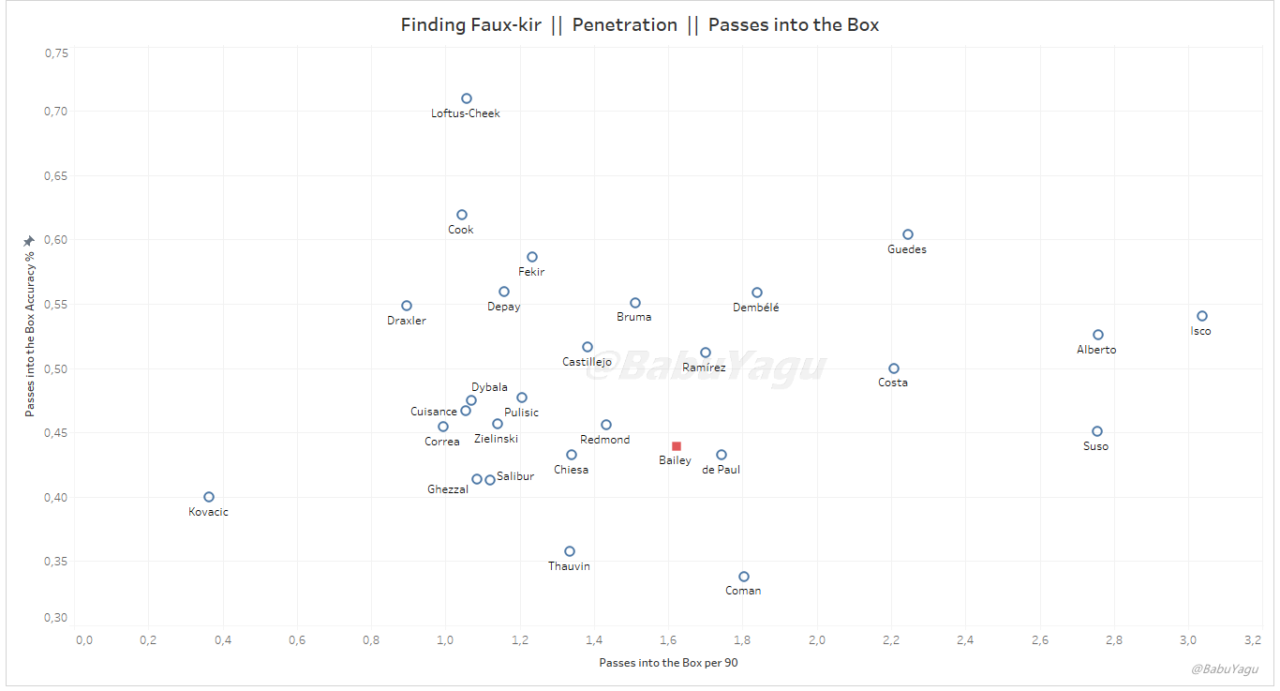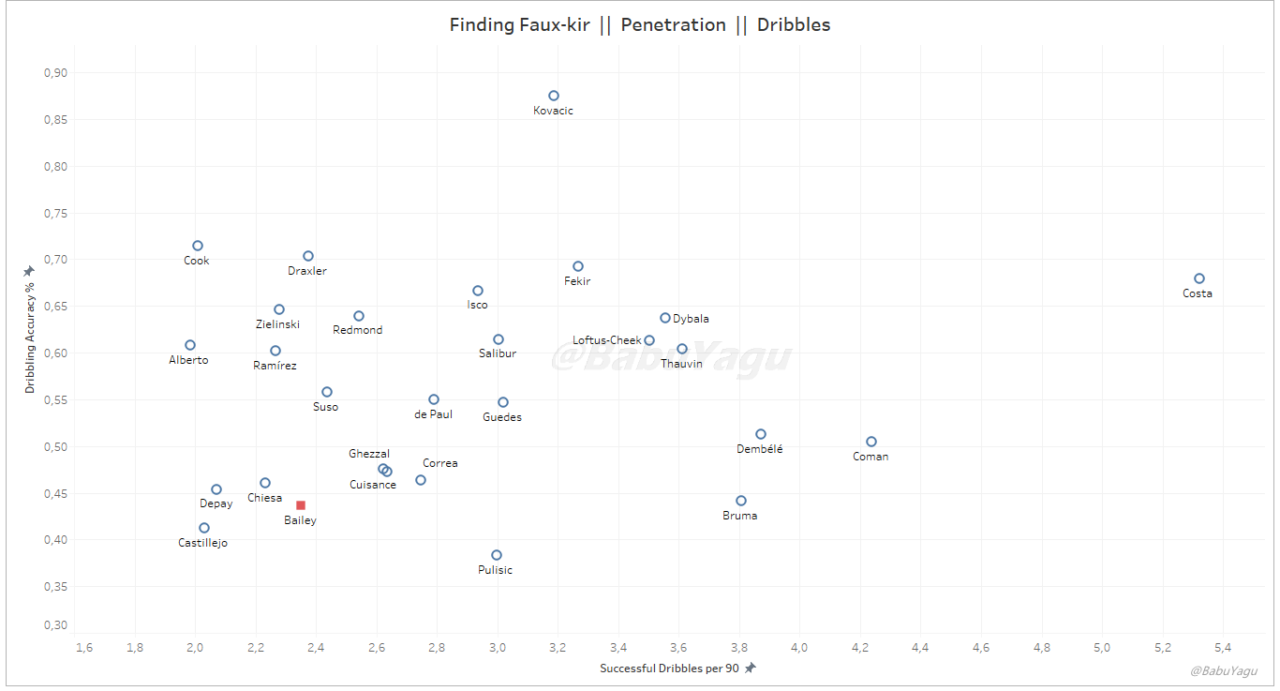 As you can see here, Bailey is one of the poorest dribblers left in the group – although it should be noted that the players represented here are the cream of the crop with regards to these metrics so his numbers are pretty good to start with. He is, however, top ten in the group in terms of volume of passes into the box (PiB's). From the earlier clip, you can see how he achieves this against Koln. At times he plays that wide attacker role like Salah, on the shoulder of the defender stretching play vertically and looking to break the offside trap – indeed this is how his goal comes about. He plays the role as a more traditional winger at times, stretching the pitch horizontally and looking to make a quick bit of space, or an angle, to get a cross into the box with either foot. He also likes cutting inside, similar to Robben, onto his stronger left foot to let fly from long range. As you will see later though, he is rarely effective in doing so. Similar to Coutinho, this may be something he becomes effective through coaching or it may be something he largely eliminates from his game as he looks to be more efficient in the final 3rd.
Protecting Possession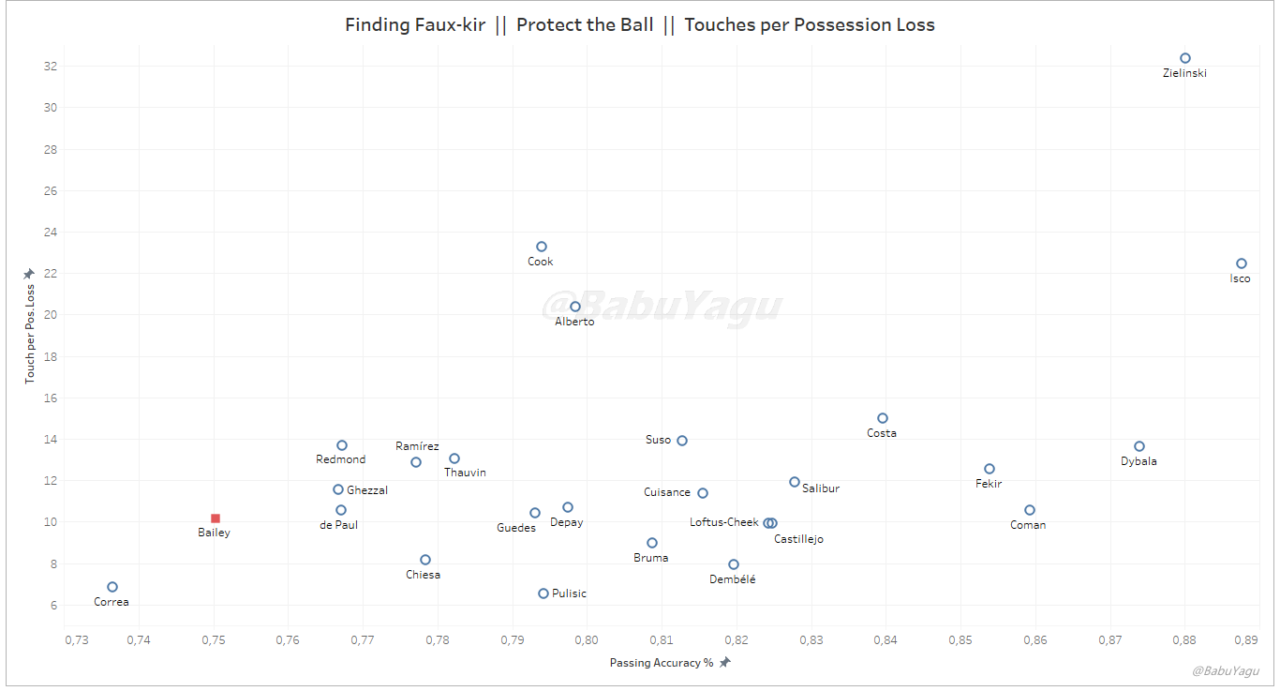 Similar to the dribbling chart above, Bailey shows as one of the weakest in the group in terms of passing accuracy. However, this can often be the symptom of being the leading attacker in a quick counter-attacking side. In fact, Salah's passing accuracy of 76,7% for Liverpool last season shows there is only 1,7% difference between Salah's numbers and his.
Vision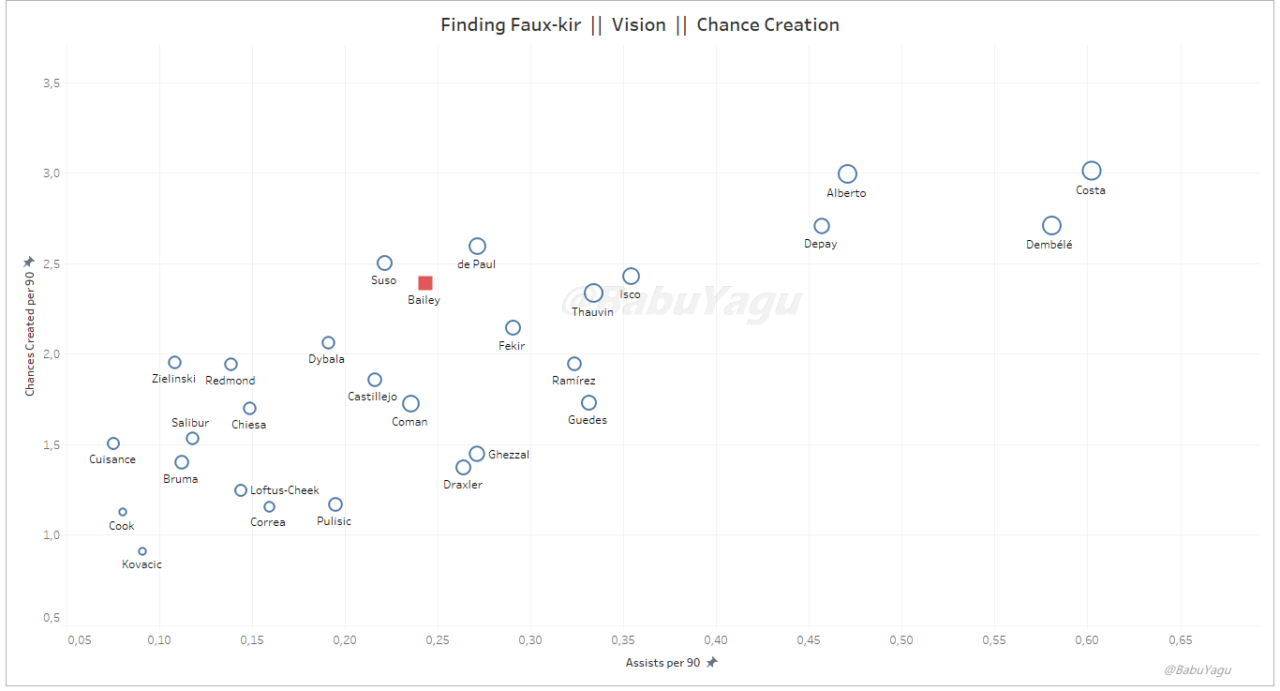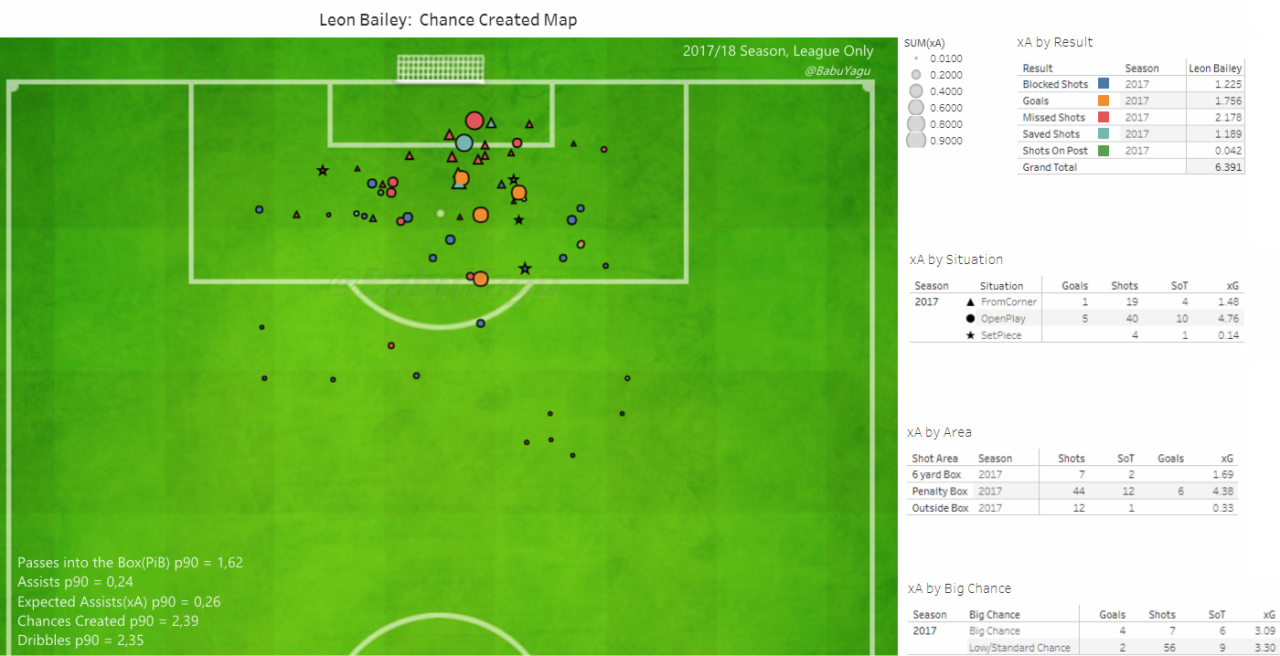 Here he shows as quite similar to Fekir (click here to see Fekir's chance map). He is creating more chances per 90 for his team. However, fewer of them are turning into assists. Looking at the chance map, you can see why. He has created seven chances in the six-yard box, all of which his side managed to shoot too close to the keeper or miss the goal entirely from point blank. In fact, just 14 of the 51 chances he created in the penalty area were actually on target which is a pretty woeful SoT ratio for shot takers at Leverkusen. Perhaps with more effective players in the box around him at a club like Liverpool, a lot of these chances being created in dangerous areas would result in more goals.
Finishing

This suggests that Bailey is one of the few on the list who could be reasonably expected to offer a good goal output. Considering his age and the fact that most young attacking players goal output tends to ramp up around 22/23, his numbers in the future could get really interesting.
Looking at the shot map, he takes an obscene amount of shots from outside the box for little to no return. More than 2/5ths of his shots are from outside the box (33 total) and yet he only has 1 goal to show for it. The number of big chances (9) he is involved in is very encouraging for a winger and shows his excellent movement and timing in the box attacking the posts well. A skillset Mané showed at Southampton. In fact, his actions on the pitch very much remind me of a young, raw, left-footed Sadio.
Conclusion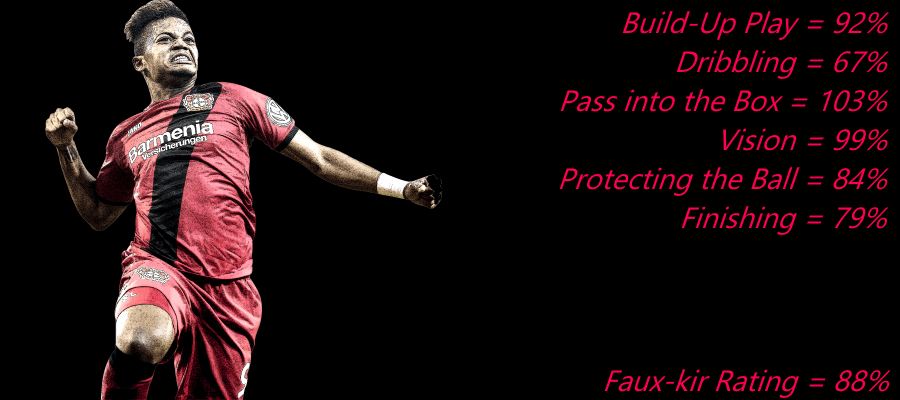 While Bailey looks nothing like Fekir on the pitch, and poses different problems to defences, in terms of breaking down his actions by numbers, the effect looks very much the same. He penetrates, creates, scores and protects the ball at a very high level despite being just a kid playing in a top European league for the first time.
The real concern with Bailey likely wouldn't be around his ability but instead his personality. Comparisons have been made to Sterling, and not just in a footballing sense. He seems to have a lot to say, as does his family, and his motivations don't seem to be the same as those that Klopp tends to look for in players. The concern would be, like Draxler, while he has the talent, he may fail the sitting down and looking Klopp in the eyes part of the transfer process.
That said, I don't particularly like the way such judgements are made of players, particularly young ones. Similar concerns were raised in some quarters of Firmino, Sturridge, Shaqiri and even VvD. So if he were to leap that hurdle and become a Liverpool player, I have little doubt he has the raw quality and searing pace to take the Premier League by storm.
For questions regarding this radar and the metrics used, click here and scroll down to the section titled "Radar Terminology". Or tweet me. I am always happy to answer questions.