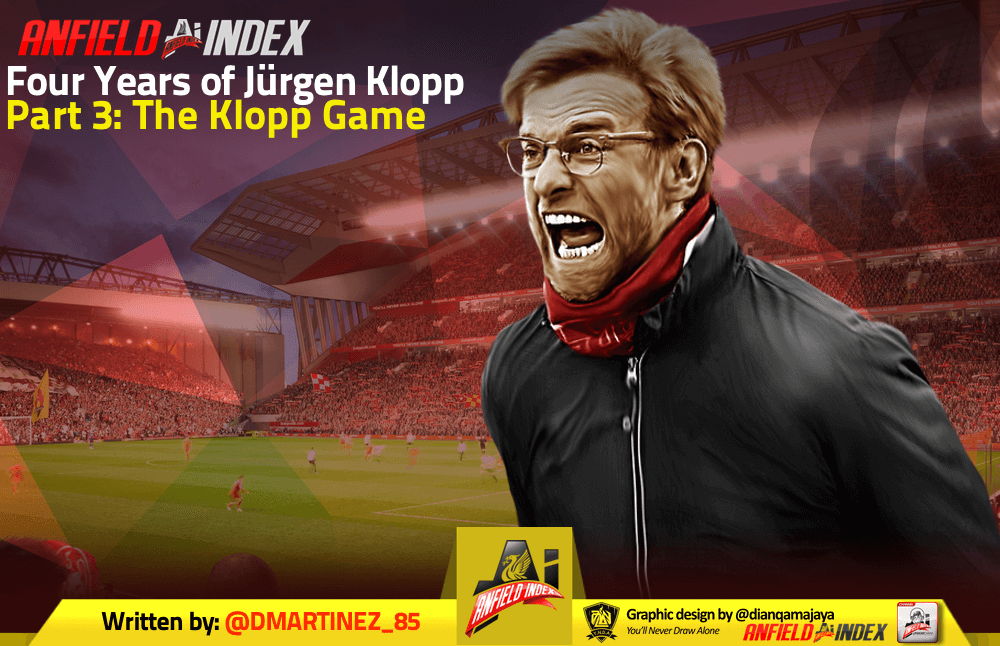 Four Years of Jürgen Klopp - Part 3: The Klopp Game
As we celebrate the four-year anniversary of Jürgen Klopp's arrival at Anfield this month, I'll be reminiscing about some of the crucial games and moments that have stood out over that period. You can read the first two parts of this series here and here Now it's time for Part 3:
Liverpool 4-3 Borussia Dortmund – 14 April 2016

Liverpool XI: Mignolet, Clyne, Lovren, Sakho, Moreno, Milner, Can, Lallana, Firmino, Coutinho, Origi 
Subs: Sturridge, Leiva, Allen, Skrtel, Smith, Ward, Ojo
Goalscorers: Origi (48), Coutinho (66), Sakho (77), Lovren (90+1)
This was it. The most Jürgen Klopp game of football you will ever see.

Not because it was a contest between Liverpool and Borussia Dortmund, his current and former clubs. No, it was the most Jürgen Klopp game you will ever see because of the break-neck pace, the quality, the spirit and the sheer emotion on show.
There had been many hints of what Liverpool could become under the German during his first six months at the club. Several impressive wins against top-tier opponents had been achieved, the team was slowly reconnecting with its fans and the emergence of a front foot style of play was evident to all. The green shoots of recovery could be seen clearly, but they were still partially buried in amongst poor defensive performances and inconsistent results that saw the Reds lying in a lowly 8th position in the Premier League table at this time.
This was the night that every positive thing Liverpool had hitherto shown under Klopp came to the fore. Every good thing the new manager had brought to the club was on full display in front of a rabid Anfield crowd. So too, were some of the lingering weaknesses that pre-dated his arrival.
It made for one hell of an evening.
After a creditable 1-1 result and an impressive performance in the first leg, Liverpool looked well positioned to qualify for their second semi-final of the season. Dortmund were unquestionably the better team on paper, but this was Liverpool at home on a European night. Anfield is never more sure of itself than when it's hosting illustrious continental opponents under the lights.
It took less than nine minutes for that feeling of confidence to be utterly shattered by a rampant Dortmund.
From the first whistle, the yellow and black shirts attacked the Kop goal relentlessly, like a swarm of wasps zeroing in on a lidless bottle of Coke on a hot summer's day. Time and again they came flying forward in their numbers. After just four minutes they had the prize of an away goal. A Simon Mignolet save from a Pierre-Emerick Aubameyang volley only delayed the inevitable as the ball fell to the feet of Henrikh Mkhitaryan who converted to give the visitors a more than deserved early lead.
Liverpool's away goal advantage had been wiped out, and they would now require at least two goals on the night to guarantee qualification.
Soon they would need three.
Marco Reus – one of the superstars of Klopp's thrilling Dortmund side which won two league titles – breezed through Liverpool's midfield with all the hardship of a Sunday morning dog walk before playing a sumptuously weighted pass through to Aubameyang. The striker's touch took him away from Mamadou Sakho's despairing, last-ditch lunge, before he hammered home into the top corner of Mignolet's goal. 2-0.
'Game well and truly over' Andy Gray gleefully muttered to himself somewhere. (Probably)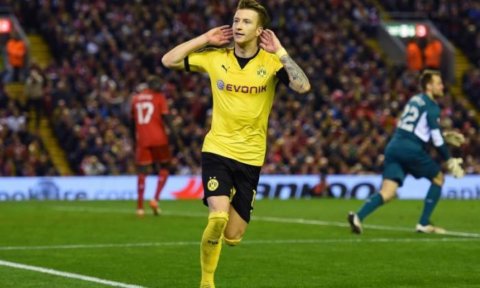 At 3-1 down on aggregate after just nine minutes and needing three unanswered goals, Liverpool were well and truly on the ropes. A counter punch from the Reds never really threatened to land during that first half. It was the German side who looked far more likely to strike the knock-out blow of a third goal.
Anfield was reeling when the half time whistle mercifully arrived, scarcely believing what the visitors had produced. Perhaps a few of the more philosophical Liverpool supporters in attendance managed to take some solace from the fact that the team dismantling their beloved Reds had been largely constructed by their new manager.
Perhaps not.
The crowd needed a lift in the second half and one was duly provided less than three minutes after the restart.
Emre Can charged through midfield and exchanged passes with Roberto Firmino. As he strode forward, the German then played a first-time pass to set Divock Origi free beyond the Dortmund defence. The young Belgian had scored in the first leg and never looked like missing here. After a composed first touch, he had the presence of mind to poke the ball under the advancing Roman Weidenfeller to get Liverpool back in the tie.
Klopp roared and gesticulated wildly to the home crowd. The noise went up a level or six. Belief was restored.
For about eight minutes.
Any flicker of hope that Dortmund would immediately crumble as a result of Origi's goal was quickly extinguished. An incredible pass down the inside left channel from centre back Mats Hummels found Marco Reus. The fleet-footed winger had nipped in behind Liverpool's right back Nathaniel Clyne, and he expertly arrowed a finish across Mignolet and into the bottom left-hand corner of the Anfield Road End. Dortmund's two goal lead on the night was re-established.
Once again, Liverpool needed three unanswered goals and now they had only 34 minutes to conjure them.
Some individual Philippe Coutinho brilliance provided one of them with 25 minutes remaining. The diminutive Brazilian cut in off the left flank, played a one-two with his captain James Milner and unleashed a whipped drive into the far corner of Weidenfeller's net.
Anfield stirred again.
Mamadou Sakho nodded home from close range after Dortmund failed to deal with a corner on 77 and suddenly Liverpool needed but a single goal to grasp a monumental comeback victory that seemed completely out of reach just a few minutes earlier.
With the score now locked at 3-3 and the tie balanced on a knife edge, the German team looked rushed and vulnerable. A Liverpool winner felt inevitable, but it would take until the dying moments of the game to arrive.
As stoppage time ticked away, Klopp's side were awarded a free kick near the half-way line on their right-hand side. Players from both sides, naturally anticipating a deep, cross field lump into the box, lined up 20 yards from the Dortmund goal on the far left side of the area.
While everyone huddled on the left of the pitch, one man in red decided to go right.

Daniel Sturridge escaped the throng and sprinted to the uninhabited right-hand corner of the Dortmund area. He received the ball but miscontrolled. Fortunately, his captain offered a way out. James Milner had burst into the area in support of his striker and Sturridge found him. Milner's touch took him to the byline, and he stood a cross up to the far post.
Dejan Lovren's forehead met it. The Kop net rippled. Pandemonium ensued. Anfield was riotous. It had witnessed yet another footballing miracle.
Liverpool 4-3 Borussia Dortmund.
Europa League or not, this match will rightly go down in history as one of the great Anfield European nights. It could have easily represented a high point of Jürgen Klopp's time at Anfield. It would have been a high point for most managers. These days it gets overshadowed a tad, thanks to the more weighty European triumphs that have been achieved in the Champions League against the likes of Manchester City, Roma and Barcelona.
That's understandable. Those games directly led to Liverpool reclaiming their spot amongst the best teams in Europe after all. But, with that said, Dortmund still deserves to be remembered and cherished for evermore.
Because this was the most Jürgen Klopp game of football you will ever see.
And why would anyone want to forget that?