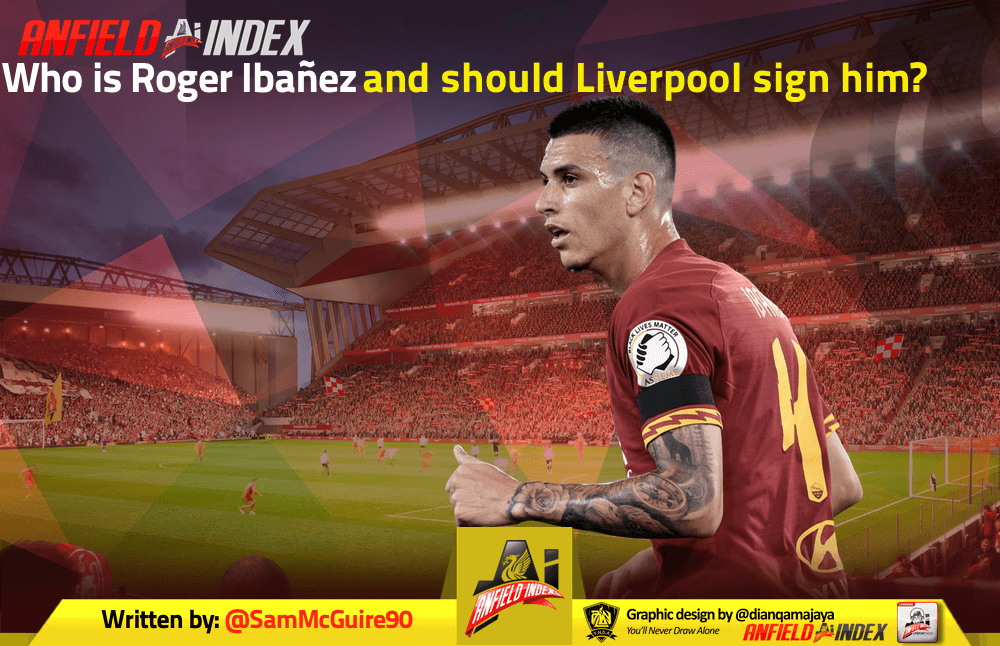 Who is Roger Ibañez and should Liverpool sign him?
Roger Ibañez is the latest centre-back to be linked with a move to Liverpool. According to reports in Italy, the 22-year-old is available for around the £35million mark and Roma are open to cashing in on him, despite him not yet officially being a Giallorossi player. 
The Brazilian signed for the capital club in January 2020 on loan from Atalanta and there's an agreement in place to make it a permanent move for roughly £7million when the current campaign ends. 
Spurs and Leicester City, somehow, tried to sign him last summer, but both clubs allegedly refused to pay more than £27million. Paris Saint-Germain, along with the Premier League champions, are the latest team to show an interest in the former Fluminense youngster. 

I didn't expect to spend the final months of 2020 profiling defenders, but here we are. I've looked at potential Virgil van Dijk replacements and cast an eye over Bremer and Sven Botman, so I might as well add Ibañez to the list. 
As per, I'm going to look at his aerial ability, his dominance in duels and his use of the ball. I could be completely wrong, but all of the Liverpool centre-backs share a number of traits so it makes sense to build profiles based on those metrics. 
For aerial duels, centre-backs in Liverpool's defence need to be winning around 70%. For ground duels, we ideally want around 60%, 65 passes attempted per 90 and 85% pass accuracy. There is some wiggle room, but the closer to those numbers, the better. You also want a large data set to examine in order to flag whether a player is just in a good patch of form. Bremer, for example, only showed up well this season due to the fact he's attempting fewer defensive actions. 
So, onto Ibañez. The 6ft2 Brazil under-23 international doesn't really put his size to good use in the grand scheme of things, winning 63% of his aerial duels. That average is similar to Joe Gomez's last season and it was obvious that he was the weakest centre-back in the air. The Roma man also only wins 52% of his ground duels. Not the greatest of starts but enough there to suggest that maybe, with the right coaching, he could improve. 
On the ball, he's decent. He's attempted 50 passes per 90 and finds a team-mate 89% of the time. What was impressive was his use of the ball. He's composed, confident and progressive, as you'll see in the stills below courtesy of the KeyFrame tools.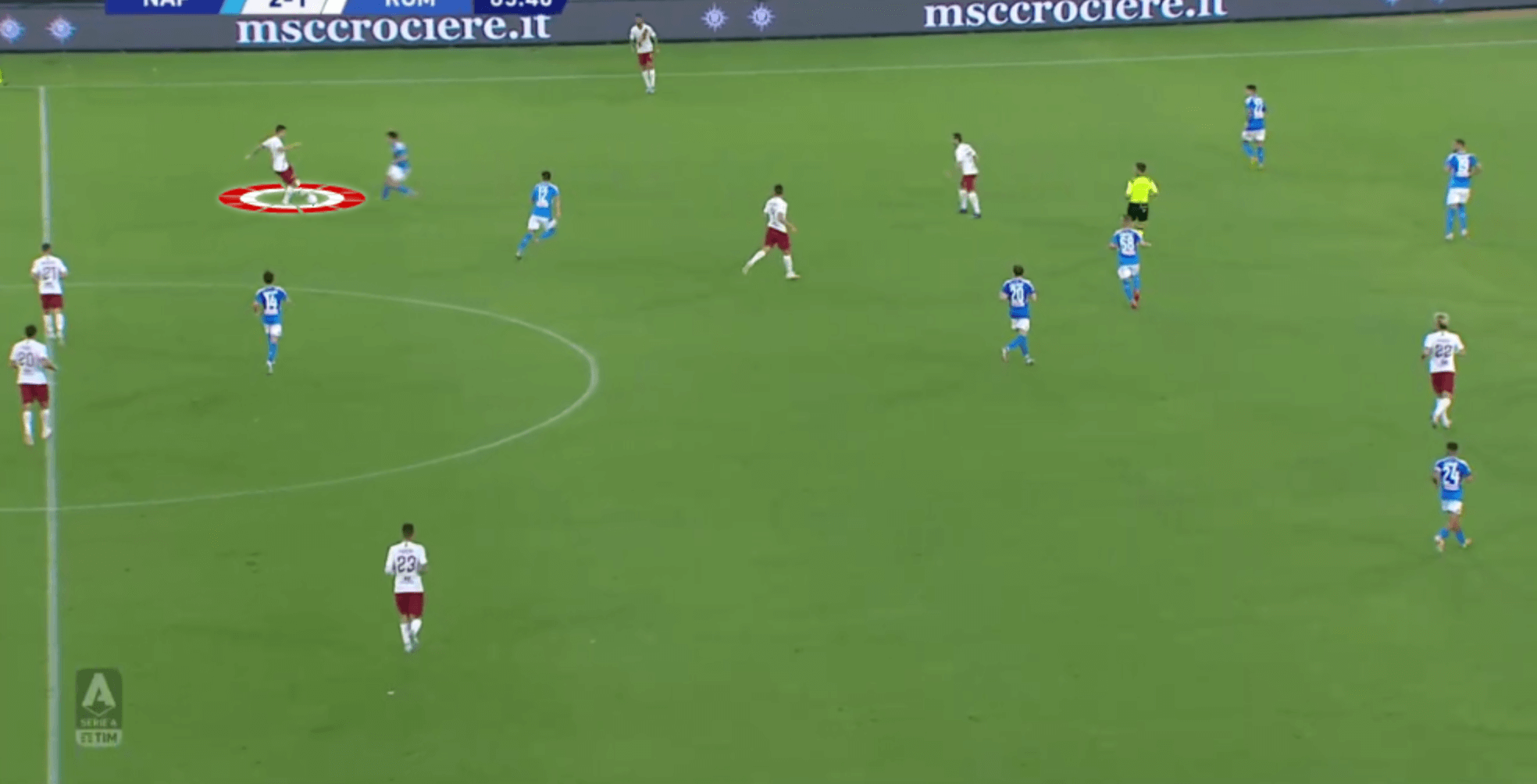 The pass to him isn't the best and he's immediately under pressure. However, he's not flustered and shows supreme confidence to skip past the attacker before settling himself. Ibañez then takes his time to weigh up the passing options.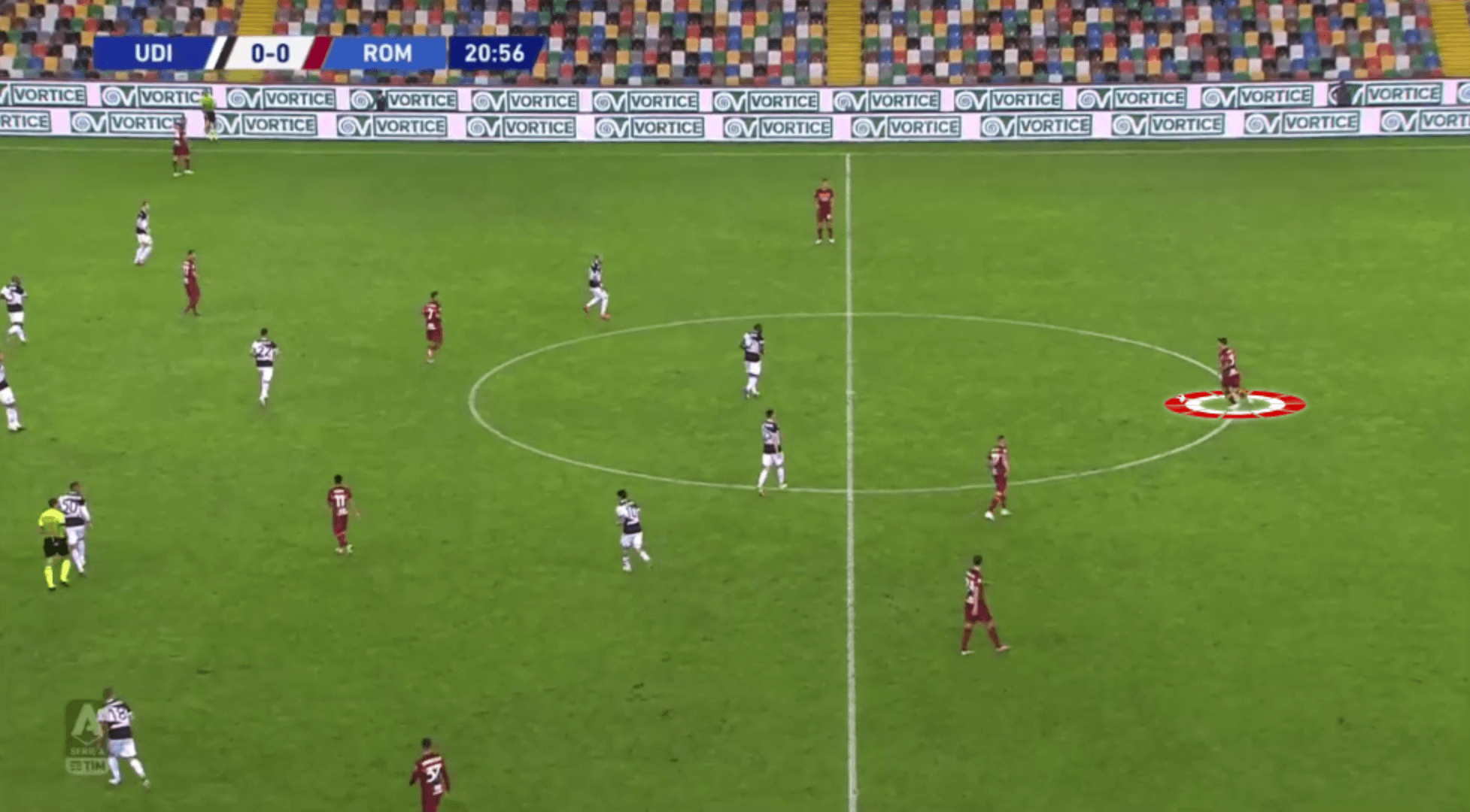 Undeterred, he cuts back inside, probably where Napoli want him to be, before spraying a pass out to the wide right. It's inch perfect and forces the home side to scurry to that side of the pitch in an attempt to close down the man in possession.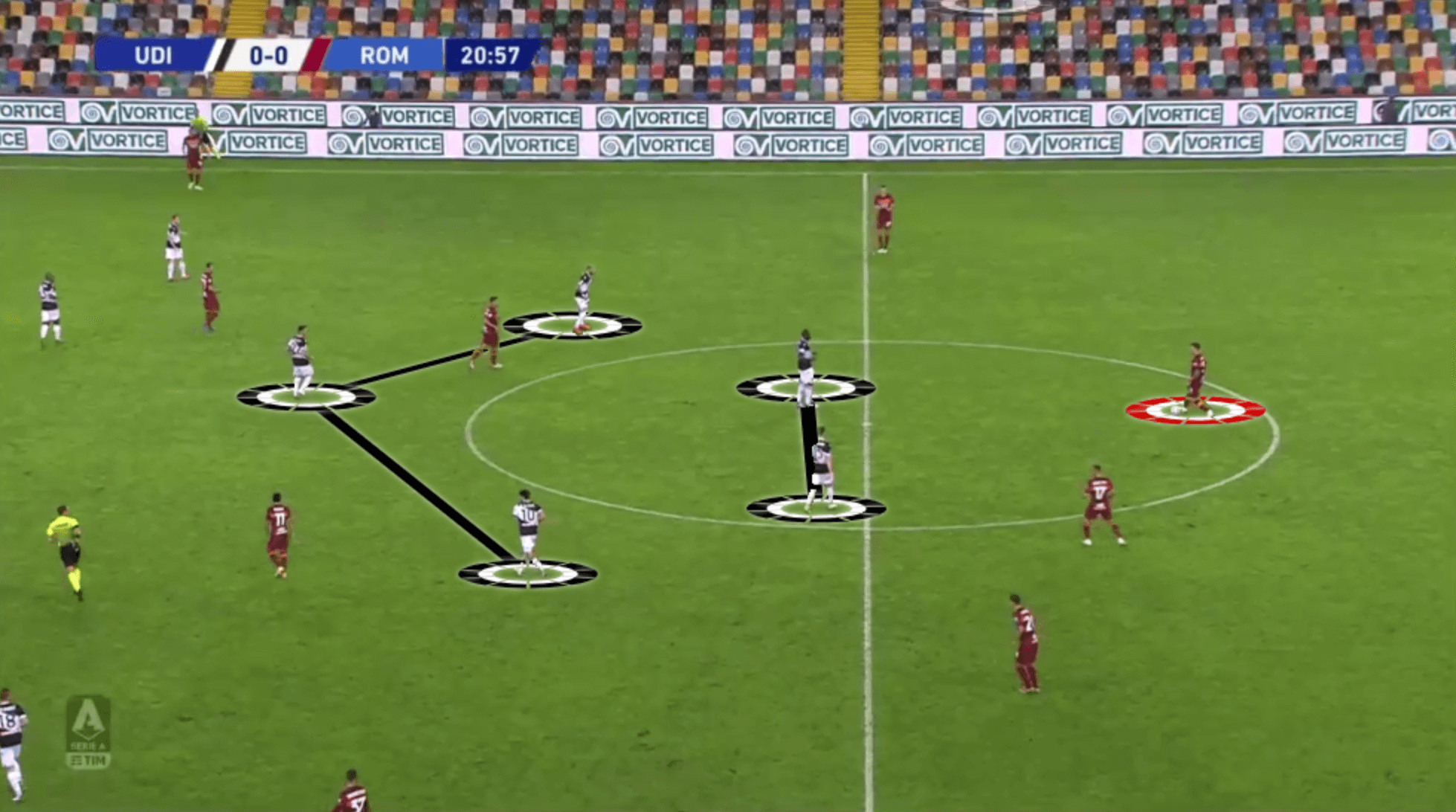 In the still above, you see the Roma man in possession. Udinese have a fairly nice shape and are evidently trying to force the visitors into wide areas. There's a clear pass on for Ibañez to his right and that is about it, really.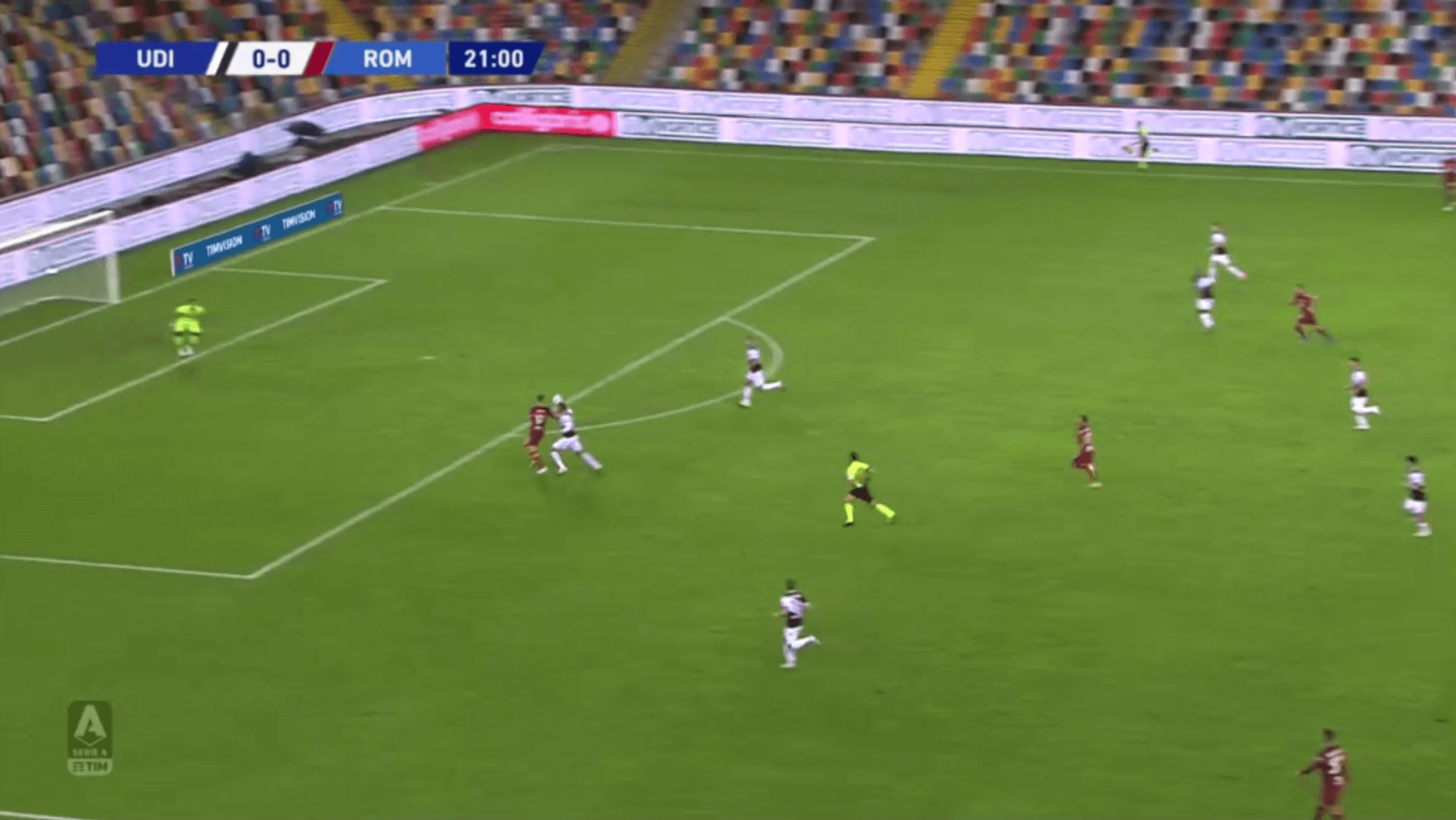 But the 22-year-old bides his time before clipping a pass over the top for Edin Dzeko to latch onto. The former Manchester City forward doesn't make the most of the opportunity, but that shouldn't take anything away from the pass. The vision is encouraging and the execution is perfect. That aspect of his game would fit in well at Liverpool. 
The conundrum with him, however, is that the sample size isn't the largest (1,400 minutes) and his numbers don't paint him as a centre-back who would seamlessly slot in at Anfield without a period of transition. 
Having said that though, he'd only cost £35million. I use the term only pretty loosely in this instance, but other players are going for double that. Ben White is supposedly available for £50million and his numbers aren't too dissimilar to Ibañez's. The Brazilian isn't the best option, but he isn't the worst.