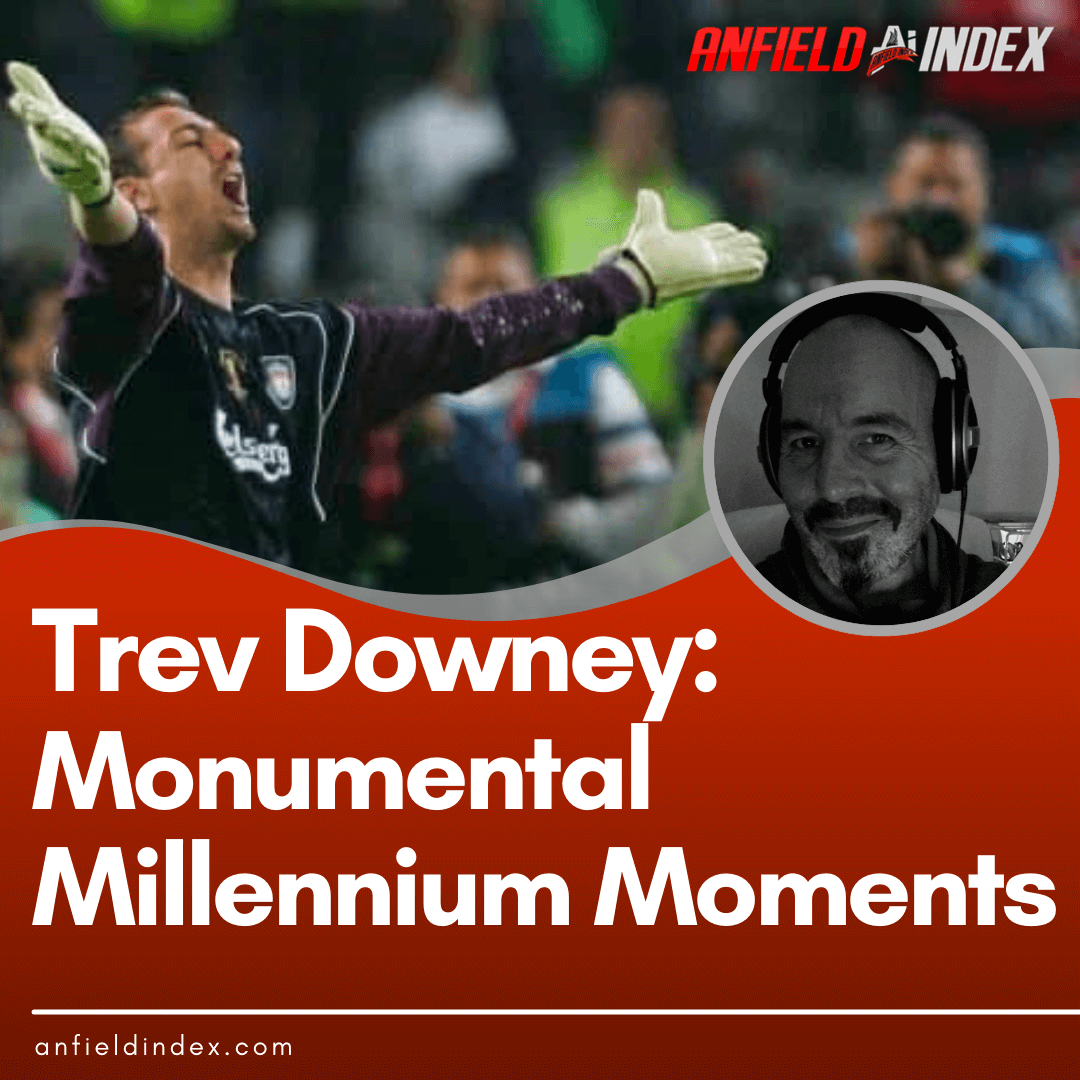 Liverpool's Highs and Lows Of The 21st Century
It's safe to say that being a Liverpool supporter for the better part of half a century has been a predominantly wonderful experience. Yet for all the visceral thrills and moments of unfiltered joy, there have also been some deep troughs of despair, some journeys to very bottom of the Slough of Despond.
Often these polar extremes of emotion can come in quick succession. On the 26th of May 2018 Jürgen Klopp's Reds took to the field in Kyiv to face Real Madrid in the Champions League Final. The German ball cap enthusiast had made us dream again, had converted the doubters into believers and Liverpool Football Club was back in the biggest game of them all.
I was brimming with pride, excitement and confidence as the famous anthem rang out around the NSC Olympiysiy Stadium. I simply knew we would win Number Six. No team could live with our high octane attacking football, not even the famous Spaniards.

In the 25th minute, Mo Salah was assaulted by the execrable Sergio Ramos. As our 44-goal talisman left the field disconsolately and Adam Lallana took his place, the confidence and belief drained from me. A couple of disastrous concessions later and the pain of losing this monumental match was as sharp as any I've felt following my team.
Dave and I have decided to do another two-part piece for you all this week. If you enjoyed our look at the best arrivals and worst departures in the club's transfer history, then I believe you'll be interested in this new joint study of the greatest and worst moments of this fledgling millennium from a Liverpool perspective.
Please bear in mind that neither of us are here to drive the traffic. You know what websites to go to for that type of fluff. We are both aware that our pieces are entirely subjective and will, perhaps, divide opinion. That, to my mind, is the unique joy of writing a column; one need not be concerned with consensus opinion.
To be fair, Hendrick loves that aspect of it as he is only really happy when someone is shouting at him and he's shouting back, whereas I, gentle reader, am of an altogether more conflict-free inclination.
Needless to say my Navan homie called dibs on the gloomiest moments. The celebration of happiness is not Dave's bag, you see. I wonder if the heartbreak of 2018 will feature in his selection? I'll be utterly amazed if there aren't some grim recollections of both the Hodgson and late Rodgers eras and I am certain that Dejan Lovren will make an appearance.
To the business in hand, then. Accompany me , if you will, on a journey through my five greatest LFC moments of the 21st century.
5. Charlton Athletic 0 Liverpool 4, May 19th 2001
Bear with me, here, reader. I know what you're thinking but this time you're wrong. This pick is not some desperate attempt at gaining hipster points. Quite the contrary, this was the moment when the best LFC season in a decade was topped off with a beautiful bow. With this result, the club had dragged itself out of 11 years of painful decline and underachievement. Goals from Danny Murphy, Michael Owen and a brace from Robbie Fowler (including this cheeky overhead) clinched Champions League football and announced Liverpool as a force to be reckoned with again.
With the League Cup already won on the 25th of February against Birmingham, the season ended in the most glorious of fashions. On the 12th of May, the Reds picked Arsenal's pockets and rode their luck to secure a domestic cup double. Then, on the 16th, Alaves fell in the UEFA Cup Final and Gérard Houllier's men had a cup treble. Just three days later third place in the Premier League was gained by a single point ahead of Leeds United and a place in the best competition of them all awaited. Liverpool were back and it felt very good.
4. The Return Of the King, January 8th, 2011
When Kenny Dalglish walked out at Old Trafford to lead Liverpool against Manchester United in the 3rd round of the FA Cup, clad in an oversized match coat and beaming proudly, it was genuinely one of the happiest moments of my supporting life. This wasn't simply about the return of a personal hero. It wasn't about the sentimentality of the occasion. The joy was greatly enhanced by the sheer relief of being rid of the utterly odious Roy Hodgson. To upgrade from that hope-killing, owl-featured mealy-mouthed journeyman to the legendary Scot was like going from shame-munching on Cheetos in your mam's boxroom to quaffing a 1959 Dom Perignon in a 5 star restaurant.
Kenny and his wife Marina had been on holiday when the distress call came in. The great man didn't hesitate (despite recent slights – see Alan Hansen here) and the fact that he was clearly as thrilled as we were was apparent from the start. Now is not the time for sour reflections on fortunes wasted on the likes of Andy Carroll and Charlie Adam. This is not the platform to discuss the season that followed his comeback, which seemed to show the game had moved on from the King. Here, I just want to revel in the heady mixture of joy, pride, relief and excitement that I felt when it was announced that Liverpool would once again be led by Kenny Dalglish. Those few months as the 2010/2011 campaign played out its second half are amongst the most blissed out I can remember as a Red. Dignity had been restored.
3. Mo Salah Makes It 2-0 vs Manchester United, Jan 19th, 2020
When the whistle blew for full time in this memorable victory, Liverpool were 16 points ahead of second-placed Manchester City, with a game in hand, and 34 points ahead of their vanquished foes. It had been a 13th consecutive victory and Klopp's Reds were one of the greatest sides I've ever seen in the top flight of English football. They would go on to remain unbeaten until the 28th match of the league season, with 26 of the 27, to that point, being wins. This scribbler is not given to wild statements of optimistic abandon but this was the win that made many of us believe that 30 years of hurt were about to end.
Virgil van Dijk had put Liverpool ahead after 14 minutes and was a full 80 more until the moment I have chosen to include in this list. In the interim, Firmino and Wijnaldum had goals chalked off but 3 minutes into injury time, on the break, the Egyptian maestro ran on to an Alisson pass, held off the defender and finished left footed into the right corner. His Brazilian amigo ran the length of the pitch to knee-slide towards the scorer in celebration. The Anfield crowd roared in a way that has seldom been matched and, as the game concluded, "We're gonna win the league" was reverberating around the grand old stadium. Klopp had asked us to believe. That was the moment I knew Liverpool would be champions again. It was unforgettable.
2. Liverpool Feel The Joy Of Six, June 1st, 2019
After the heartbreak of Kyiv, Jürgen Klopp promised the fans that Liverpool would be back. Soon after, Fabinho was signed and joined Alisson, Naby Keita and Shaqiri in the new boy section, significantly enhancing the squad. Thee league campaign was incredible but heartbreakingly unsuccessful. One defeat and 97 (NINETY SEVEN!) points was not enough to clinch the title. 30 league wins and a second consecutive unbeaten home season and still we had to watch the financially 'enhanced' Mancunians take it by a solitary point.
Suffice it to say, many of us were starting to wonder about becoming perpetual bridesmaids under Klopp, joyful and all as the football had been impressive and all as the standard had become. Then, on the 7th of May, Anfield simply ate Barcelona whole, as the Reds overturned a 3-0 aggregate lead and achieved the second greatest win I've ever seen. I was tempted to make that my moment but Liverpool exists to win trophies and this trophy needed winning. This marvellous team got I done. There is a wonderful video of Jürgen going around his players and staff in the wake of the 2-0 win over Tottenham which sums up everything. The giddy celebrations afterwards lasted many days and the parade in the city was magnificent. This was what we wanted, what we had craved for 14 years. The Reds were Kings of Europe again and all was right in the world.
1.  Jerzy Dudek Saves And The Reds Win Big Ears, The Ataturk Stadium, 25th May, 2005
There has never been a feat to rival the dramatic victory over AC Milan to secure a 5th European Cup for Liverpool Football Club. Never. To say the Reds were unfancied as they lined up against the star-studded Italian side would be an understatement akin to saying that Pep Guardiola sometimes has a slight air of condescending smugness about him. They had Kaká, Shevchenko, Maldini, Pirlo, Cafu, Crespo, Seedorf, Nesta and Stam. We had Traore, Baroš, Šmicer, Bišcán, Josemi, Kewell and Riise.
We'd played a tremendous campaign, the highlight of which was the Luis Garcia 'ghost goal' that eliminated Chelsea and Jose Mourinho. To this day I hope that it can be definitively proven that the ball did NOT cross the line and that I get to be the one to show the Portuguese cockatoo. I'd love that.
The evening began disastrously and by half time the Reds had been swept imperiously aside. Maldini had scored in the first minute and Crespo added a brace on 39′ and 44.' Rafa Benitez withdrew Steve Finnan at half time and brought on Dietmar Hamann. Liverpool, with Gerrard running the game from up and down the right flank as well as through the middle, found a groove in a glorious 7-minute spell. The captain headed one home on 54.' Vladi Šmicer scored with a speculative strike 2 minutes later and then Gattuso took out Gerrard and Xabi Alonso scored the rebound of his saved penalty on 61.' Miracles ensued and the game ended at 3-3. What sorcery was afoot? Could it be??
The stress of the penalty shoot-out was hard to bear. Serginho missed, Hamann scored. Pirlo missed, Cisse scored. Could this really happen? Tomasson scored, Riise missed. Of course. Bastards. Kaká scored, Smicer scored. Shevchenko had to score to keep them in it. Was it possible? Jerzy Dudek advanced half way to the penalty spot and saved the Ukrainian's weak penalty.
Ecstasy.
I watched the celebrations in a daze. I got in my car and drove to my family home to watch it again with my brother; to drink and talk and reminisce and be sure this miracle had occurred. It had. European Champions again. This was what I was brought up on. When I was a kid, we were European royalty. Then, all those painful years in the wilderness.
CHAMPIONS OF EUROPE!
It was the most incredible victory I've ever experienced. The stakes, the drama, the joy, the relief and the heady out-of-body ecstasy of winning that beautiful trophy again.
Perfection.