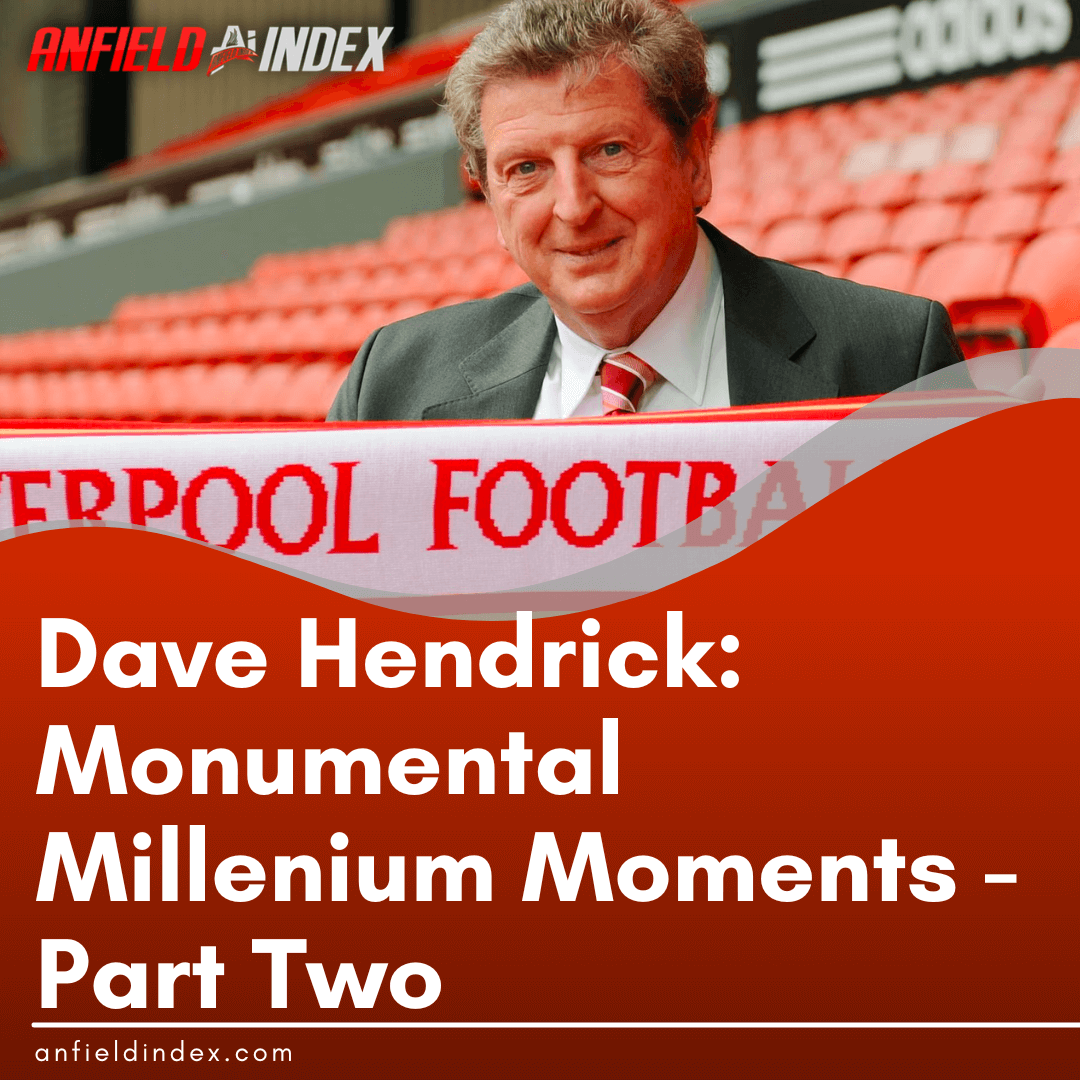 Liverpool's Highs and Lows Of The 21st Century - Part Two
Remember the fuss about the Millennium? Remember how all the electronics were either going to stop working or suddenly come alive and rise up against us because of flaws in software? Remember governments spending fortunes on utter nonsense to commemorate the fact that we were about to enter the 2000s? That's a long time ago now isn't it? For some reading it will be longer than your entire lives. For some of the 2000s have made up more of our lives than we lived before.
It's 2023 and 2000 seems like a distant memory but at the time it was the end of the world if you cared to listen to the, mostly American, conspiracy theories that went around in 1999.
Think of all that's happened since 2000 in your life, and think of what's happened in that time to your football club. There's probably a couple of moments you'd like to relive, and a few you'd like to forget isn't there? If you, like me, took on life in rather spirited fashion in your 20s there may even be parts of it that you don't remember! But never fear, myself and the good brother Trev Downey are here to once again walk down memory lane with you.

Last week Trev took a look at his favourite Liverpool signings while I had a look at my least favourite Liverpool sales in a two part piece cleverly titled Good Buys and Goodbyes. Clever name wasn't it? All Downey that, it's why he gets paid the big bucks.
Today we are back with another two-parter, once again Trev has come up with the name and once again it's a best and worst type of deal. Trev has put together his five favourite Liverpool moments since the Millennium, and because misery is my brand I'm here to once again piss on the parade with the five worst moments since the Millennium. I bet you can't wait! I will warn you know, in advance, that there's some colourful language in this piece. If that's not your bag, then away to fuck and read something else. Let's jump in!
There wasn't a whole lot of memorably bad things through the early part of the 2000's. We won a cup treble, finished second in the league, changed managers and won the Champions League and then the FA Cup. All things considered, the 2000s were much better than the 90s on the pitch, but there was one moment that still haunts me.
Athens 2007
Two years removed from Istanbul, a night which is arguably the greatest moment in club history, we got back to the Champions League final. But this one felt different in the build up. Milan weren't as good as they had been, they weren't as formidable a side. They shouldn't even have been in the Champions League after having been found guilty of cheating and initially being kicked out after the Calciopolli scandal that destroyed Italian football as we knew it.
Milan were still a strong side, but they had aged. We were a much better team that we'd been in 2005. Mascherano had made a massive difference to the midfield, and his partnership with Xabi Alonso was as good as anything in Europe, especially when Steven Gerrard was added to the mix. Those three were still in the early days of playing together, but they had great chemistry. Add to that the presence of Momo Sissoko and Liverpool fans were singing about the best midfield in the world.
Sissoko would miss the final, and because Liverpool are Liverpool and always a player or two short, there was no midfielders on the bench.
The defense was rock solid though, with Finnan and Riise at fullback, and Carragher partnering Agger in the middle. Alvaro Arbeloa and Sami Hyypia offered reinforcements from the bench.
The issue with that Liverpool team was there wasn't an obvious goalscorer in the starting 11 outside of Gerrard. Pennant and Zenden were never Liverpool quality, and Dirk Kuyt was more about industry and teamwork, than being a true line leading number 9. But there was good attacking options on the bench in Kewell, Gonzalez, Crouch and Bellamy.
Liverpool were the better team on the night but that spawny bastard Pippo Inzaghi, a fella who loved scoring so much that he practically reached the point of orgasm every time he bundled one home from a yard out, managed to nick two goals that were shockers to concede. We were the better, more threatening team in the first half but right on the stroke of half time we gave away a free-kick just outside the box. Pirlo's attempt on goal was well struck but would have been easy work for Pepe Reina, until that spawny bastard ran across the path of the ball and it hit him. He knew less than nothing about it as it deflected into the net but celebrated like he'd recreated Maradona's goal against England in 1986!
It came off his arm as well, which made it worse. It should never have stood.
We dominated the second half but our legs went and on 82 minutes Inzaghi, for the first time all game, managed to time his run properly, got on the end of Kaka's pass and made it 2-0. Dirk got one back for us but it was too little, too late. We'd lost a European Cup final that we should have won. And all because of two spawny goals by the spawniest striker that's ever lived.
Let's move on though, because there's more to cover and the next one is probably the defining "moment" of the 2000s, until the arrival of Jurgen.
Hicks and Gillett
What a pair of cunts these lads were. Tom Hicks and George Gillett bought the club in 2007 and promised the Sun, the Moon and all the fucking stars to go with them. I could do five thousand words on this pair and why I continue to wish endless misery on them. If we had the same sort of access to information in 2006 as we do now, we would have been horrified that these two were buying the club.
Everything these two have ever turned their hands to has ended in bankruptcy, or close to it. In the business world for Gillett, and the sporting world for Hicks. Two absolute clowns with no clue about the game of football, talking to people about draft picks and trades and all manner of stuff that people were too polite to correct them on.
Liverpool had to go to the brink of administration to rid themselves of these two cancerous beings who had leached millions off the club in the the 44 months they had control of the club. They villainized fans, with their minions Christian Purslow and Paul Tyrell, comparing football fans to the Khmer Rouge who slaughtered millions in Cambodia during the tyrannical reign of Pol Pot. Hicks' son, Thomas, is a particularly odious dickhead who had to live his position, for which he was definitely qualified and not just there because he was a useless prick who's dad gave him the job, after emailing a fan and saying "Blow me fuck face. Go to hell. I'm sick of you.". In an unsurprising and unrelated turn of events, he went on to work for Donald Trump during Trump's time as President. Lovely family.
The day they left the club remains one of the greatest days in the history of the club. They fact that they were kicking and screaming because the club was sold from under them made it all the sweeter.
I hope they both get chronic rectal itches.
But let's move on to a related matter.
The Appointment of Hodgson
This was some craic, wasn't it? Roy Hodgson, manager of midtable Fulham, rocking up at Liverpool to replace European Cup winning manager Rafa Benitez. We all knew we were fucked at that moment.
Now look, Roy Hodgson isn't a bad manager. He's quite a good manager. If your aim is to finish 12th to 14th in the Premier League, with 43-47 points, then Roy Hodgson is absolutely the man to hire. If you're a smaller club, looking to exist in mediocrity and have absolutely no fun throughout a season then give Roy a call and he'll sort you right out. But if you want more than that, if you'd like to perhaps score more goals than you concede and possibly enjoy a European adventure, that's not Roy's bag at all.
Roy couldn't have been a worse fit at Liverpool. Henry Winter once described Hodgson as a "broadsheet manager operating in a tabloid game". I'm not sure what Henry meant by that, but I just took it to mean that Roy is a massive Tory. That was never going to mesh with the people of Liverpool, the city of Liverpool, or Liverpool Football Club.
Hodgson had taken Fulham to a Europa League Final the season before joining Liverpool, beating Juventus among others along the way, but he clearly didn't arrive at Liverpool with the ambition of actually winning anything. It became clear with his signings that we were in for a long miserable season, but not even the most pessimistic amongst us could have imagined how bad it would be, or how deluded he would.
Fourteen games into the season, with Liverpool sitting 9th having won 5, lost 5 and drawn 4, he announced he was pretty happy with how the season was going. It's worth noting that the Reds had also been dumped out of the league cup by a Northampton team he referred to as "formidable" but who in truth were a League Two team who came to Anfield and beat us on penalties. This was what Roy viewed as a good season.
He only last another six games, with Liverpool losing four of them. He was sacked after a 3-1 defeat away to Blackburn in which Gerrard missed a penalty, almost certainly on purpose. I hold no ill will against Roy, but I can understand why many people do. He said things about the fanbase that were completely out of line, but the truth is he should never have been in the job. I place all the blame on the gaggle of pricks who appointed him.
Speaking of Gerrard,
The Gerrard slip
April 27th, 2014. Liverpool took on Chelsea at Anfield, in the third last game of the season, with the title within touching distance. Liverpool controlled their own faith. Seven points from the final three games would be enough to clinch a first title since 1990. With Crystal Palace and Newcastle to come afterwards, it seemed like a done deal. A draw with Chelsea, a win at Selhurst Park and then victory over Newcastle on the final day in what would be the biggest party seen on Merseyside since 2005.
Jose Mourinho even let us know he'd be happy with the draw, announcing days before the game that Chelsea would be playing a heavily rotated team because they had a Champions League semi-final with one leg five days before the trip to Anfield, and the return leg just three days after it. Mourinho was gift-wrapping the point that Liverpool needed and setting them on their way to claiming the title.
And then Gerrard slipped.
Just on the brink of half-time, Gerrard received a simple ball just instead his own half, slipped and gifted the ball to Demba Ba. The rest is history.
It's a game I've rewatched more times than any other than we've lost. It still haunts me. Why was Gerrard the deepest man receiving that ball on the halfway line? Why weren't their two defenders at least behind him. With Mourinho telegraphing his plans to play a weakened team and park the bus, and Liverpool only needing seven points to secure the title and infinitely easier games coming afterwards, why were Liverpool not playing smarter?
Luis Suarez had loaded the team up on his back, a team that had no business competing for the title considering how shocking the defense was, and produced the single greatest season any Premier League player has ever put together. He'd carried us to the brink of the title, and all that was undone because somebody couldn't just settle for the draw and decided to go all guns blazing against the ultimate spoil sport, who reveled in seeing his team expose the naivety of Liverpool and ruin their season.
They saw you should never look a gift horse in the mouth, meaning that if someone offers you a present don't ask questions about it's value, just take it. Well Brendan Rodgers and his ego just couldn't accept Mourinho's gift that day, decided he couldn't just take the draw that was gift wrapped and ended up with egg on his face.
Take the point, go to Selhurst Park and not have to try and score nine goals to make up the difference in goal difference, beat Newcastle at home and win the title. Seven points was needed. Liverpool got four and lost the title by two points and a truckload of goals that wouldn't, and shouldn't, have mattered.
It'll always be known as the Gerrard slip, but I'll die on the hill that Stevie was just the fall guy for someone else's arrogance.
Less that 18 months after that event good things started to happen to the club again. Brendan was sacked, and Klopp arrived. There's been ups and downs in the time since, downs like losing the Europa League final to Sevilla and the Champions League final to Real in 2018, though nobody expected us to beat them. Losing the title to City by one point in 2019 was another down, but it was soon erased from memory as we won the European Cup a week later. Obviously that European Cup in 2019, then winning the Premier League title in 2020, the cup double in 2022 and all the joys of watching this incredible team under this incredible manager have outweighed the lows, but the end of the 2021/22 has to be seen as a massive low which put a massive dampener on what had been an incredible season.
22nd May 2022 to 28th May 2022
May 22nd, Liverpool take on Wolves at Anfield. A win for Liverpool, coupled with City dropping points at home to Aston Villa and the title will return to Merseyside. Villa are not a particularly good team, but they are managed by Steven Gerrard and Phil Coutinho is in their team. Those two former Reds might just have something up their sleeve for us.
The games kick off at the same time.
Pedro Neto scores to put Wolves 1-0 up on 3 minutes. The title is gone.
Sadio Mane equalizes on 24 and it's back to square one. We still need to win, we're confident we can win, but we need Villa to get a result and that seems unlikely.
Villa go 1-0 up on 37 minutes through Matty Cash. Everybody be calm. There's a long way to go. City have an hour left, and we need another goal ourselves.
Half-time. Nerves aplenty. It couldn't happen, could it? Could City bottle it now. We've clawed back the massive advantage they had at the turn of the year and now all the pressure is on them.
Second half. Games kick off at the same time.
Nothing happens. The tension is incredible. And then.
COOUUTTINNNHHHOOOOOO!!! It's 2-0 to Villa. City are shellshocked, a shambles. Standing looking at each other. Villa have them beaten. Liverpool just need a goal.
For seven minutes, we're a goal away from the title. A goal away from completing stage three of the potential quadruple. Seven tense but glorious minutes.
And then it's gone. In the space of five minutes City score three goals. Now it doesn't matter what we do. City are back in control.
Salah scores on 84, a goal that could have been a title clincher. He doesn't know that City have come back from 0-2 to lead 3-2. He celebrates what he thinks is a title clinching goal, but it wasn't to be.
Andy Robertson scored on 89 minutes to give us a 3-1 lead and we're hoping and praying that Villa have one last punch in them. One last bit of fight to grab an equaliser. We've done our part. But Villa couldn't do theirs. City win the title.
Six days later we lose a European Cup final to Real Madrid. A team we were better than. A team we outplayed without ever getting close to our own best level. A team we should have beaten, a team we would have beaten if we'd been at our very best, not carrying passengers. As with 2007, a spawny goal beats us.
Had we won the title, and completed the domestic treble, the defeat to Real wouldn't have stung as much. Likewise had we beaten Real, it would more than have made up for losing out on the title. In the end we won neither. We ended the season with both domestic cups, a great season because we'd won two trophies, but ultimately a disappointment because we got so close to the biggest prizes and fell short. What could have been.
Now that you're suitably miserable, go and read Trev's piece and cheer yourself up.