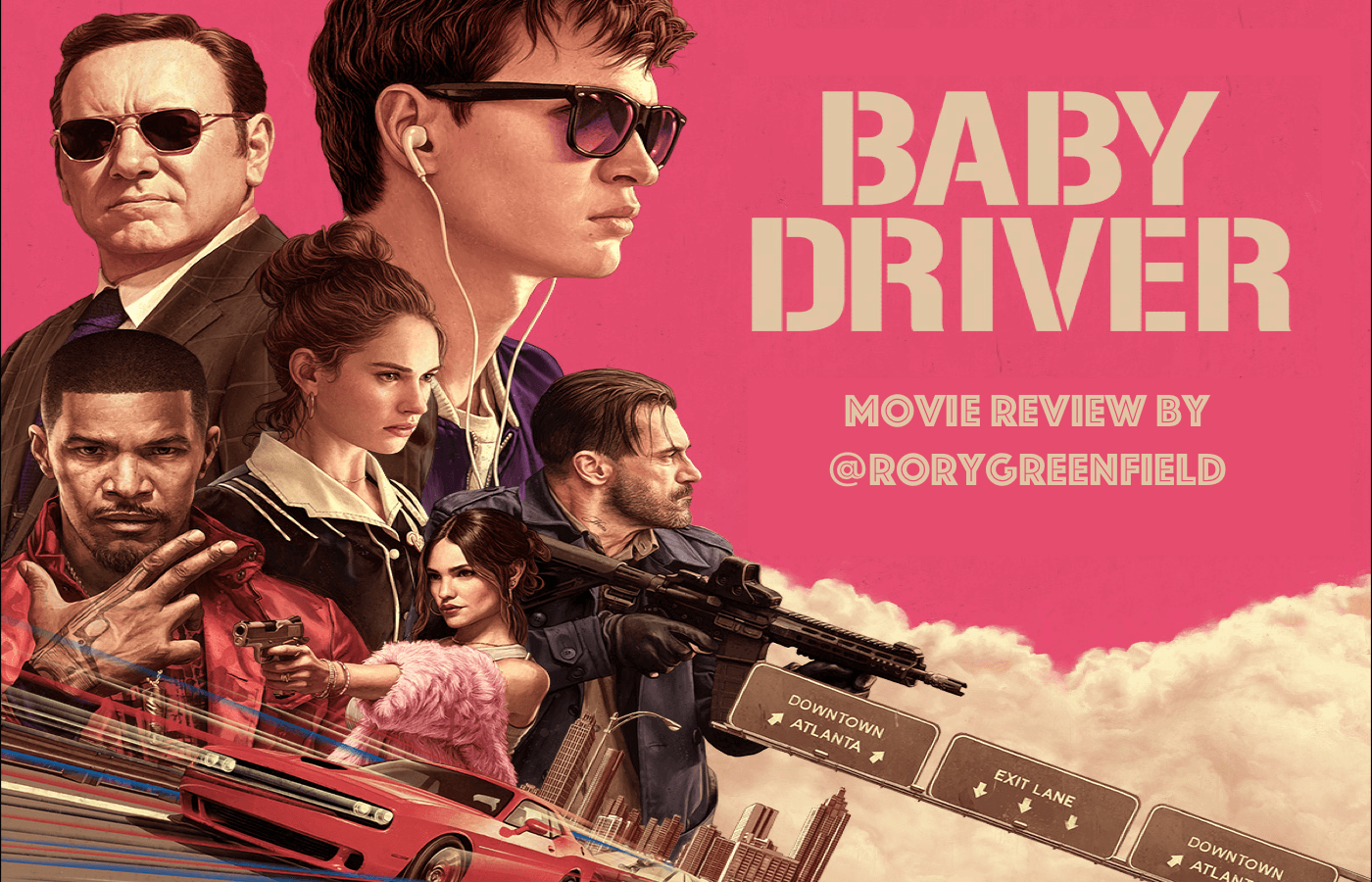 Baby Driver - Movie Review
Baby Driver – Edgar Wright's heist thriller drives to a unique beat of its own precise making.
As I sat down to watch Baby Driver, I had a moment of fear. What if this film disappoints me, if it doesn't meet my unnecessarily high expectations. I only have myself to blame, I've followed the entire progress of this film, since it was announced. I clamoured for every poster, every trailer, because everything about it excited me! I need not have feared, because from the opening scene I was absolutely hooked and completely engrossed for two hours, until the credits rolled. I knew instantly this isn't an ordinary action film.
If Edgar Wright was asked to produce the perfect film for me, on paper it would be Baby Driver. Being completely honest, I would have been delighted with just the first ten minutes as a short. High octane, high stakes action pushing the limits of recognised cinematography , with a beating heart that makes you care about the fate of its stars, all synchronised to one of the best soundtracks ever produced. Thank you very much Edgar, you've nailed the brief. In truth however, this film is far more than I could have dreamt it would ever be, my imagination simply doesn't have those limits.

From the moment Baby (Ansel Elgort) puts his foot the floor for the first time, you know you're in for a thrill ride of epic proportions. The action here is real, no unnecessary explosions or added effects. It's entirely shot without any green screen or added CGI, no 3D or IMAX cameras in sight, which is rare in modern action films and truth be told very much welcome. As you're thrown straight into the action you truly feel the palpable rush of adrenaline that's coursing through the actors veins in each frantic and frenetic heist scene. These steadily build in increasing danger as the stakes are raised, ultimately culminating in one of the finest foot chases in cinema history.
I was expecting full blooded action with a Wright twist, but what I wasn't expecting was just how smooth and slick the production would be. You'd be forgiven if you thought you'd walked into a screening of La La Land, when Baby sways and slides through the streets of Atlanta, to the beat of the Harlem Shuffle. It's a sequence choreographed to a tee, by a story teller with an incredible attention to detail. The music was always likely to feature heavily, as it has throughout Edgar's career. But the way it's integrated into each scene is pioneering and unlike anything I've seen before. From Soul to Rock, Hip-Hop to Funk and back again, it's got a song for every moment. A question of what came first, the song or the scene comes to mind, because it's so difficult to envisage one without the other.
The premise of the film is simple. Boy meets girl (Debora, played by Lily James with a beautifully understated performance), boy wants to ride off with the girl into the sunset and leave his troubles behind. The complication comes in the form of a formidable Doc (Kevin Spacey) and his heist crew, most notably Bats (Jamie Foxx) and Buddy (Jon Hamm), but with added spice in the form of Darling (Eiza González). Baby is desperate to escape the life of crime he's fallen into and ultimately takes matters into his own hands, to fight his way to Debora, but it was never going to be that simple. Caught between a rock and a hard place, Baby has to act quickly and that sets up a dramatic style change from action to tense thriller.
Ansel excels as Baby and seems entirely comfortable alongside some of Hollywood's finest. It's a key performance, given he's in almost every scene. There is a clear chemistry between the leads, which gives it the emotional punch it requires. The enigmatic Spacey adds gravitas, as you'd expect, but the real star here is Foxx. He's on the brink of turning on anyone that looks at him funny, but his charisma and sharp tongue always keeps your focus. Hamm too is excellent and arguably his character goes through the biggest arc throughout the film, which he plays to perfection. The casting is on point throughout, with minor roles for Jon Berthnal, Flea and the quite brilliant CJ Jones, leaving you wanting more. Edgar really does squeeze every last drop from each performance.
Edgar Wright is a rare bread of director. I've followed his career closely, since the pioneering Spaced aired almost two decades ago. At that time I was too young to understand the art of direction, or the overriding influence it has on an actors performance. What I did know, is that I wanted to watch more work of whoever produced it. Since then Edgar Wright has gone from strength to strength, albeit at a methodical, considered pace. He's a director that's known for drawing on his childhood favourite genres, particularly Horror, or more specifically Zombie Apocalypse (see Shaun Of The Dead), Action (Hot Fuzz) and Sci-Fi (The World's End). What sets these successful films apart is the quintessentially British undertone, a humour unlikely to appeal to the mass Hollywood market. So what changed? Well firstly, Scott Pilgrim Vs The World happened.
Anyone that knows me, hell anyone in a 10 mile radius has probably heard me wax lyrical about Scott Pilgrim ever since it's release. If Baby Driver was the perfect film produced for me now, Scott Pilgrim was the perfect film produced for my adolescent former self. Full of quirks, gaming and pop culture references, with a pulsing soundtrack, it's a feast for the senses and the soul. To date it's one of my favourite films, and was clearly a big step in Edgar's career. Based and shot in Toronto, Canada it's a film with no British actors or their sensibilities. It's a film unlike his others and whilst it remains a critical and cult classic, it didn't deliver the box office success it deserved.
If Scott Pilgrim was a step away from Edgar Wright's comfort zone then Baby Driver sees the director leaving it for dust and not looking back in the rear view mirror. This bold, bright, vibrant thriller is one of the years finest films and is rightfully drawing the audiences and critical claim it deserves. No, the story isn't new nor revolutionary, but the style in which it's told most certainly is.
In a summer full of blockbusters all vying for attention of the masses this stands apart as film daring to be different. Daring to dream that little bigger and cinema is all the more fortunate for it.