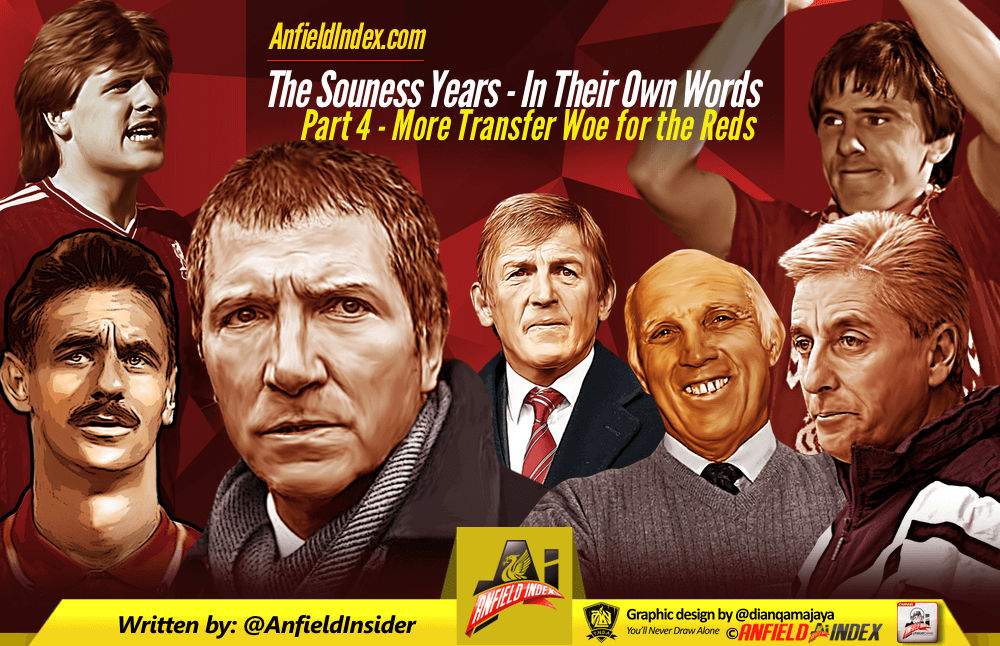 The Souness Years - In Their Own Words (Part 4) - More Transfer Woe for the Reds

This is the fourth instalment of our Souness Years series, looking behind-the-scenes of what went on at Liverpool during the Souness era of the early 90s. You can find the first three parts here: Part 1 Part 2 Part 3
GRAEME SOUNESS: I bought Paul Stewart to provide the muscle in midfield. He moved to Spurs and they converted him into a midfield player.
JAMIE CARRAGHER: He welcomed me into the reserve side with a 'What the fuck are you doing here?'
'What the fuck are you doing at Liverpool' should've been my reply.
PAUL STEWART: I know that I did appear arrogant at times. I just cannot recall saying that, but there is every chance I will have done because I was so unhappy. It was the lowest point of my football career. The only release I had was going out, drinking and taking more drugs. I came off the coke and I was more depressed than ever.
ROBBIE FOWLER: I didn't know how much he was suffering and I feel bad that he had to carry that alone.
GRAEME SOUNESS: I feel very sorry now for Paul Stewart, given the knowledge about the abuse he suffered as a child. Now I can see he had been through things that must have taken a terrible toll on him.
PAUL STEWART: I really believe people saw me as unapproachable, arrogant even ignorant at that time. It is a bitter regret. I would often walk straight past supporters who had waited outside the changing rooms for autographs. I often think what a horrible person I was. If I could turn the clock back, I would. There were some brilliant young players coming through. Fowler, Hutchison, McManaman, Redknapp. The coaches knew they had a big future and so they would be talking to them and working on their game all the time. With me, they just used to throw me a shirt.
GRAEME SOUNESS: Goodness knows he had the desire to succeed but sometimes moves do fail and this one certainly did. It is difficult to pinpoint any one reason why and I know it certainly was not for lack of effort.
PAUL STEWART:  I simply did not look after myself in the way I should have done to make the move a success. Even the weekend I agreed to the deal, the temptation of another bender proved too much. It all went fine until they asked for a urine sample. In a sudden panic about the cocaine in my system, I had to say to the club doctor "I'm really sorry but I cannot seem to pee." To my astonishment and relief, he said 'no trouble at all' and just asked me to come back at a later date. They checked for diabetes and kidney function, and nothing else.
GRAEME SOUNESS: He was desperate to establish himself at Liverpool, but the bottom line is he did not and we had to recognize he was not going to be the man for the task.
PAUL STEWART: I'm not a fan of Souness because of the way he was with me, and many other senior stars, some of them legends at the club. I found him arrogant, ignorant even, and I didn't think he was a very good man-manager. But there is no one to blame but myself for my lack of success at Liverpool.
GRAEME SOUNESS: I recruited Dean Saunders to play alongside Ian Rush. They were partners in the Welsh national team and knew each other well so I was confident they would forge a potent combination. He hit 23 in his first season but Rushie came to see me and said their partnership was not working. I foolishly agreed when I should have stuck to my principles and told them to get on with it. Since then I have signed him twice, taking him to Galatasaray and Benfica.
ROB JONES: I didn't quite understand why he sold Saunders in the first place. I thought he had done a good job for us and scored his fair share of goals.
RONNIE WHELAN: To be fair to everyone, I think we'll just draw a discreet veil over the signing of poor old Istvan Kozma. It's probably best for all.
GRAEME SOUNESS: Nigel Clough was an intelligent lad, the general consensus was that he would fit in easily because he had the passing skills and vision to complement our style.
JAN MOLBY: Nigel was definitely my sort of player. If anyone was going to suit the Liverpool style of play, surely it would be him.
GRAEME SOUNESS: He was lined up to be Rushie's new partner, but Rushie was soon complaining again that this was another combination that was not going to work. After the Auxerre game, Platini knocked at my door and said he had the player for me. It was Eric Cantona. I said 'Listen, I'm fighting lots of fires here at the moment, I don't need any more trouble.' It was another situation where I should have been more open-minded.
ROBBIE FOWLER: Of all the good fortune I've had in my life, I was probably luckiest to have come under Rushie's wing when I first arrived at Anfield.
GRAEME SOUNESS: Rushie was instrumental in the development of Robbie Fowler. For the 1993-94 season, I had appointed Rushie as captain. It was a move designed to heal the breach between us. At his peak he was untouchable but when I returned as manager we fell out. Whatever my differences with Rushie during my time as manager I would be the first to give him credit for helping Robbie's rapid rise.
ROBBIE FOWLER: He was so good to me, and I'll always be grateful for that. He didn't need to be. If it wasn't for the help and advice in those early years at Anfield, I could never have dreamt of having that sort of career. He helped me with the little things, about bending the run to stay onside, about hitting across the keeper from the angle, so even if he gets a hand to the ball he'll push it back out.
GRAEME SOUNESS: He would take time to talk him through was required from a frontline striker and Robbie was always prepared to listen.
ROBBIE FOWLER: He talked about timing the runs, about saving energy and working for the team. The strikers had to work hard to close down, and he was the master of that. He told me some of the defenders' tricks and how to handle them, and he talked to me occasionally about the responsibilities I had as a Liverpool player.
IAN RUSH: As a young player, what was written about me as a teenager was nothing compared to what had been written about Robbie. When I broke into the Liverpool team and started scoring goals on a regular basis it was a year to eighteen months before newspapers started affording me superlatives – not that I ever believed such things anyway. Now the era was one scintillating performance was enough for the media to hail a promising young player as a star. I told Robbie that, rather than have his head filled with newspaper talk, he had to concentrate on working hard at his own game to ensure he was worthy of a regular place. Whether my few words had an effect, I can't say, but Robbie became a real role model for football-mad youngers.
GRAEME SOUNESS: I took Molby and Barnes out to dinner in Knutsford to outline my plans for the future. Jan always had a weight problem and I emphasized the need for him to keep in good physical shape. It never worked out. As for John, I failed to get through to him.
JOHN BARNES: He never saw the best of me. Because of the Achilles injury, I was never able to give him what he wanted. I delivered enough to justify selection but not what he had seen from previous years. That frustrated him. I felt he didn't rate me.
ROBBIE FOWLER: I know when Souey arrived at Anfield as manager he felt Barnesie was past his peak, but I don't think so. I don't think I've ever seen a more talented player in training.
JAMIE CARRAGHER: Barnes was majestic in training.
ROBBIE FOWLER: There were things he could do that would make you stand and applaud. Sometimes his presence alone would win matches for Liverpool because he could dominate the opposition. He never gave the ball away, and in training, he could do absolutely anything.
JOHN BARNES: He and I didn't agree on many issues, particularly in terms of the way Liverpool played, but I'm not a confrontational person. He did criticise me in front of the players – 'you can do so much more', he would say to me. But I never got into an argument with him. I never questioned him.
GRAEME SOUNESS: You know, I liked committed players. Neil Ruddock, if managed properly, I thought, was a real asset, because there were few left-footed centrebacks as powerful as him. I liked Julian Dicks, too. He was aggressive and rugged but wanted to play and had a will to win.
JAN MOLBY: I thought Neil was a good buy.
GRAEME SOUNESS: Ruddock needed strong management, but I liked him, you knew when he went out he wanted to win and was prepared to noise up the opposition and his teammates.
To be continued…
References
John Aldridge – Alright Aldo (2011)
Arnie Baldursson – Ronnie Moran – Mr Liverpool (2017)
John Barnes – The Autobiography (1999)
Peter Beardsley – My Life Story (1995)
Kirk Blows – Terminator – The Authorised Julian Dicks Story (1996)
Jamie Carragher – Carra: My Autobiography (2009)
Jan Molby – Jan The Man (2004)
Kenny Dalglish – My Liverpool Home (2010)
Rob Jones & Paul Hassall – Robbed
Dominic Matteo – In My Defence (2011)
Steve McManaman – El Macca (2005)
Neil Ruddock – Hell Razor (1999)
Ian Rush – Rush: The Autobiography (2009)
Graeme Souness – The Management Years (1997)
Graeme Souness – Football: My Life, My Passion (2017)
Paul Stewart – Damaged (2017)
Phil Thompson – Stand Up Pinocchio (2005)
Ronnie Whelan – My Life In Red (2011)