 In-Depth Naby Keïta Analysis - Welcome to Liverpool FC
He's finally here! Liverpool's new number 8, Naby Keïta, is simply a phenomenon. In two seasons, he not only established himself as one of the best midfielders in the Bundesliga but in all of world football. In buying Keïta, Liverpool are not just improving their side in the present, they are investing in the future, with the young Guinean with many footballing years ahead of him, and Jürgen Klopp's squad still improving, which will certainly bring even more out of the midfield dynamo. Indeed, Leipzig teammate Timo Werner recently mentioned how,
"Naby Keita has not become world-class with us either, maybe now he'll be at Liverpool".
Kind words, but I'm sure many of you whilst extremely excited having heard about Keïta are not quite sure about his style of play, his position(s) and what he brings in tangible terms to the team. So, in this article, we'll be discussing Keïta comprehensively, through looking at his stats from across his career.
First, though is a description of Keïta, from AI's Alex Barilaro's article on Keïta, from July 2017:

"He's a phenomenal carrier of the ball, has a sensational eye for a pass, and has a bustling, energetic drive to retain the ball when an opponent is countering. Leipzig's fast-paced, action-packed style isn't coordinated enough to be called a proper press, but the fact Keita doesn't stop moving about is good evidence to suggest he'd fit into Jürgen Klopp's pressing philosophy. He's got the pace to burn other midfielders, especially when charging down a defender, and though the physical nature of the Premier League is overstated at times, there is a distinct lack of space in the middle of the park, compared to other leagues. That's where he fits best: in the tightest little spaces, with one or two touches on his belt, to work the ball quickly past a group of players.

He's best suited to playing as a box-to-box midfielder, but he has operated as the deepest lying defensive midfielder, and as the furthest up attacking midfielder too."¹
This is perhaps one of the biggest misconceptions about Keïta, amongst Liverpool fans, but also one of his greatest strengths: he can play as a six but is at his devastating best in a 'free eight' role, which we've seen Kevin De Bruyne, David Silva, and Philippe Coutinho thrive in; a role in which they have the freedom to roam, and to position themselves in pockets of space which can advance attacks rapidly, and isolate/take opposition players out of the game through either their positioning and/or passing. What I'm referring to in the last part of that sentence is the "packing" metric, which quantifies the number of opposition players between the ball carrier and the goal taken out of play between the carrier receiving it and eventually releasing it – remarkably, Naby Keïta is one of the best players in Europe for this and Michael Caley hailed this, when writing for SB Nation:
"Keita averages just under two progressive passes or runs through the central zone per match [passes that take the attacking move at least 10-15 yards toward goal compared to where the ball had been over the last three actions, and runs on the ball that beat an opponent and progress the ball a similar distance], the most in the Bundesliga by a good margin. Next in line with 1.2 to 1.5 central progressions per match are Dortmund's Ousmane Dembele, Schalke's Nabil Bentaleb, Bayern's Franck Ribery and Xabi Alonso, and Keita's teammate Emil Forsberg."²
'These aggressive, incisive passes through the heart of the midfield, into the forwards are riskier, direct and exactly what you want from a box-to-box midfielder." – Naby Keïta: A Statistical Analysis
Below is an infographic, retrieved from the depths of a Liverpool Reddit sub-thread, which serves as a substitute for actual Packing statistics, which are rather hard to get hold of.³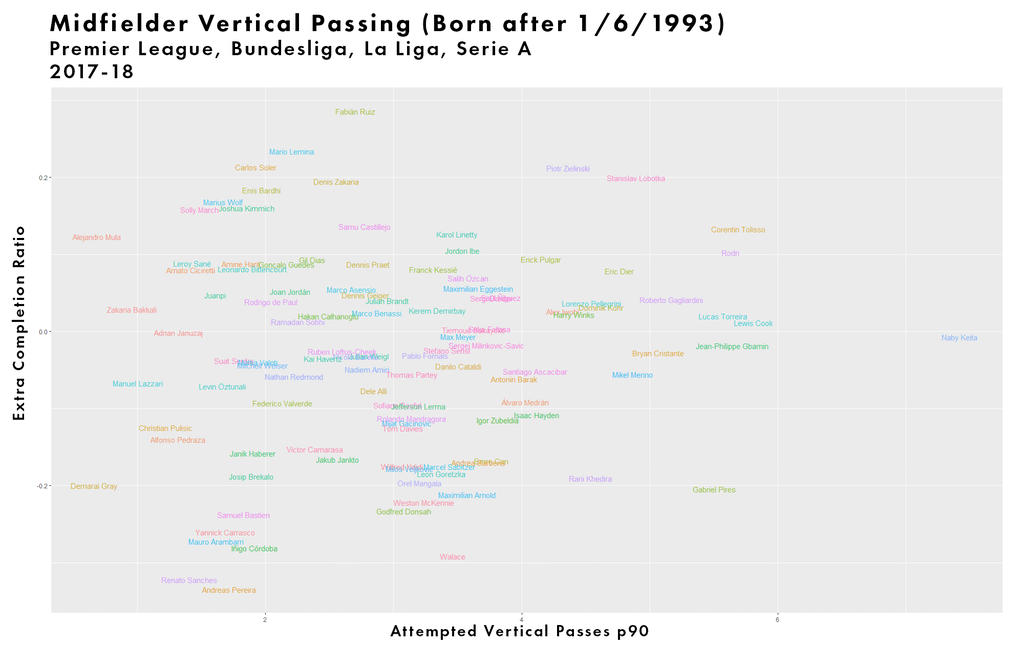 Back in the summer, AI's The Gags Tandon Show, discussed the Anfield-bound man and his early progression and performances in the Austrian Bundesliga, for Salzburg, in a Naby Keïta Scouting Special edition podcast, with a number of experts.
It detailed Keïta's numbers: he scored 12 goals and provided 8 assists, from 2179 minutes, averaging a goal involvement every 108 minutes. It also detailed how Keïta was used in different positions within the midfield, his experience within a counter-pressing system, and how his consistency improved, following the first few months, aged only 19.
Keïta was described as perfect for Liverpool by the scouting experts on the pod, who concluded that the style of play he has developed would not only be perfect in terms of him bedding into the side but also for getting the best out of Liverpool's pacy wide-players, and the midfielders alongside him. These very same sentiments were echoed by AI's Dave Hendrick during his Old Skool podcast on Anfield Index Pro with AI supremo Gags Tandon, where he waxed lyrically and raved about the young Anfield-bound star.
StatsBomb's Ted Knutson was gushing in his endorsement of young Naby Keïta, and their infographics below display his unbelievable figures whilst at Salzburg:⁴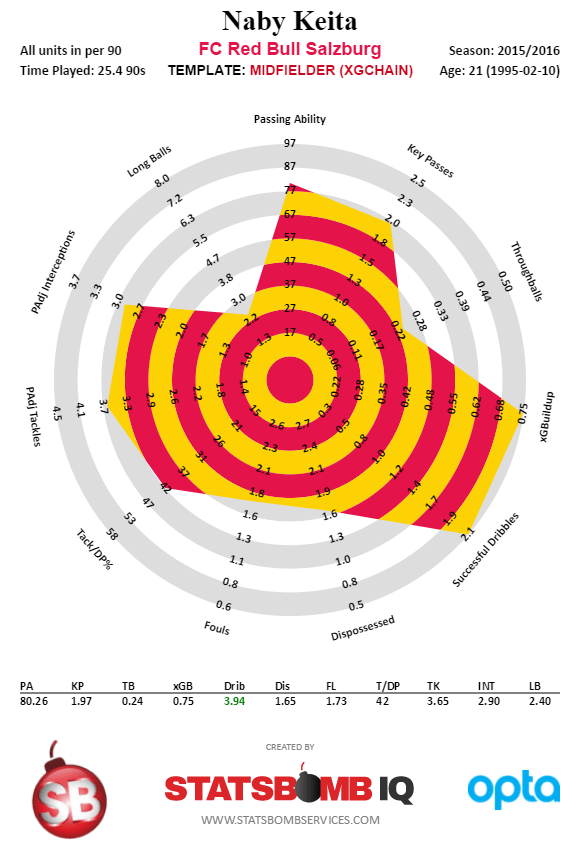 The last 3 seasons of Naby Keita. Unique skillset for a central midfielder. Capable of doing EVERYTHING at an elite level. pic.twitter.com/c8cA6kYg0O

— Ted Knutson (@mixedknuts) August 28, 2017
The Tactical Side
Before we go on to look at his more recent statistics, a word on where Keïta may fit in. Liverpool have used both a 4-3-3 and 4-2-3-1 this season. One of the strengths of the 4-3-3 though, was Coutinho's free role, as a bridge between the midfield and attack, and in games where Liverpool could not quite break down resolute, solid defences, concentrated centrally, Coutinho would pop up with a rip-roaring strike to outwit the opposition's low-block. Now though, Liverpool lack that alternative option when it comes to breaking down the troublesome low-block, as Manchester United did so well, at Anfield, earlier this season. What Keïta will do though, is similar to Coutinho in one sense, yet also very different.
Often in games in which the opposition employed a low-block tactic, Coutinho would drop deep, and then pass forwards in an aggressive manner, i.e. taking opposition players out of the game, or driving with the ball: his first goal against Bournemouth, in Liverpool's 4-0 mauling in December, is perhaps the best example of this. Coutinho would usually opt for a pass when deep, Keïta though, is far more aggressive with the ball at his feet, and drives from deep, onto and through opposition midfield and defensive lines, drawing opposition players in, and thus creating spaces for teammates to exploit. The master of space, Roberto Firmino, and Mo Salah, with his incessant and intelligent runs in behind, will no doubt feast upon the chances and spaces Keïta will make for them. The beauty of this is that Keïta can fulfil this role when playing as a six in a 4-3-3, but he will have a far greater opportunity to do so if used as an eight in the 4-3-3, or if given a free role in a 4-2-2-2, with a player, such as Fabinho, sitting, allowing Keïta to run forward, and wreak havoc. As we'll see below though, Keïta's game is far greater than just a link between the midfield and forwards, with his defensive contributions, through tackling, intercepting and pressing making him a huge asset to the defensive side of the team, and offensively too, as a springboard and catalyst for counter-attacks, and exploiting transition play, as gegenpressing is intended to do.
Alex Barilaro in his most recent piece on Keïta mentioned how he may fit in either a 4-3-3 or a 4-2-3-1:
"In Klopp's current setup; a 4-3-3 with two holding midfielders behind one more attacking one, Naby could easily act as the third man, able to isolate his opposite number, get on the ball and dribble past, forcing the opposition back line onto their heels and creating space for the three dastardly villains attacking hapless defenders ahead of him.

At the same time, Naby would be able to press and roam as he saw fit, replicating the role of the manic pressing machine that Klopp turned Adam Lallana into, albeit with a much, much greater effectiveness in both scoring goals and creating chances. He'd be able to engage in defensive work an appropriate amount, which is good because Keita's box-to-box role at Leipzig saw him make 2.5 tackles per game across both seasons at the club.

[With Fabinho] there is certainly scope for Naby to become the second midfielder in a two, allowing him to get more time on the ball, drive the team forwards from deeper, and perhaps most enticingly of all, combine with another dribble-hungry player ahead of him.

Liverpool's lack of a creative spark from midfield can be solved in two ways: an intricate passer of the ball who's able to dictate the game before him, or Naby's style of creativity – brute force and assertion, done with incisive passing between the lines. Stick those two assets together, however, and you'd have not only enough pressing power in the centre of the park, but a devastating recipe for the counter-attack.

It would rely on Liverpool replacing Emre Can with a playmaker, but Keita could easily drop slightly deeper as a secondary member of the midfield three and push his team higher up as he carries the ball; still getting in and around the box to do things that other players aren't capable of."⁵
The following figures are sourced from Understat:⁶
Key:
G: Goals
NPG: Non-penalty goals 
A: Assists
KP90: Key passes per 90 minutes
NPxG: Non-penalty expected goals (a superscript number indicates under/overperformance relative to either actual G/A)
xA: Expected assists
xGChain: Total xG of every possession the player is involved in
xGBuildup: Total xG of every possession the player is involved in without key passes and shots

For a player who was not meant to replace Coutinho, and who plays an entirely different role, Keïta is doing superbly well to even compare to the £140 million man. After attempting to force through his move to Liverpool as early as possible, apathy crept into Keïta's performances this season. Nonetheless, even with a drop off in performance very recently – evident in the xG90 and xA90 figures – the figures overall are still utterly remarkable, with his xG Chain figures outstanding, although, during his 31 league games in 2016/17, Philippe Coutinho had an xG Chain of 18.21 – slightly more than Keïta's 15.84, but indicative nonetheless of the company Keïta is keeping.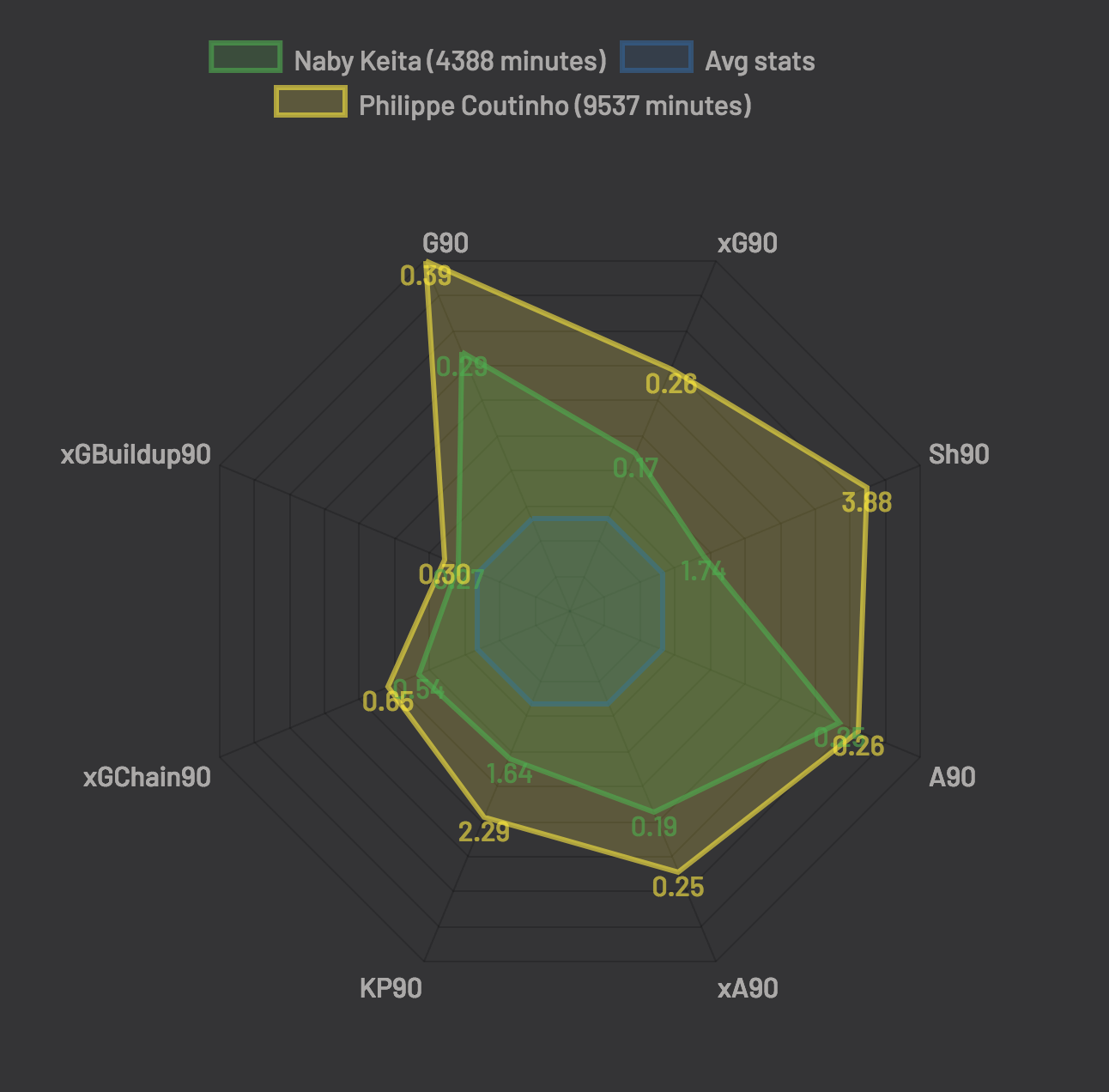 Positionally, in terms of xG and xA, playing as a central midfielder seems the most productive position for Keïta, although the sample size is limited to make a full judgement from that. That being said, Keïta retains a strong level of goal involvement, even when deeper, but his own tactical adaptability and flexibility, makes him ideal, indeed, whether it be a 4-2-2-2, 4-3-3 or a 4-2-3-1, Keïta will be a threat and influential to the team, irrespective of his starting position.

For a player who played a majority of his games in a deep position, Keïta has a remarkable number of shots inside the area, illustrating the efficiency of his runs from deep, and his timing of them, as he makes his way into and around the box to exploit spaces in attacks he starts or engineers. His passing frequency around the penalty area is key, and will certainly help Liverpool, who often found themselves, last season, and in seasons previous to that, struggling when positioned near the edge of an opposition box with a number of compact defenders in their way. Keïta specialises in breaking into the "danger zone", with his average "entry pass" length, into the danger zone 19.7 yards: one of the best in the Bundesliga.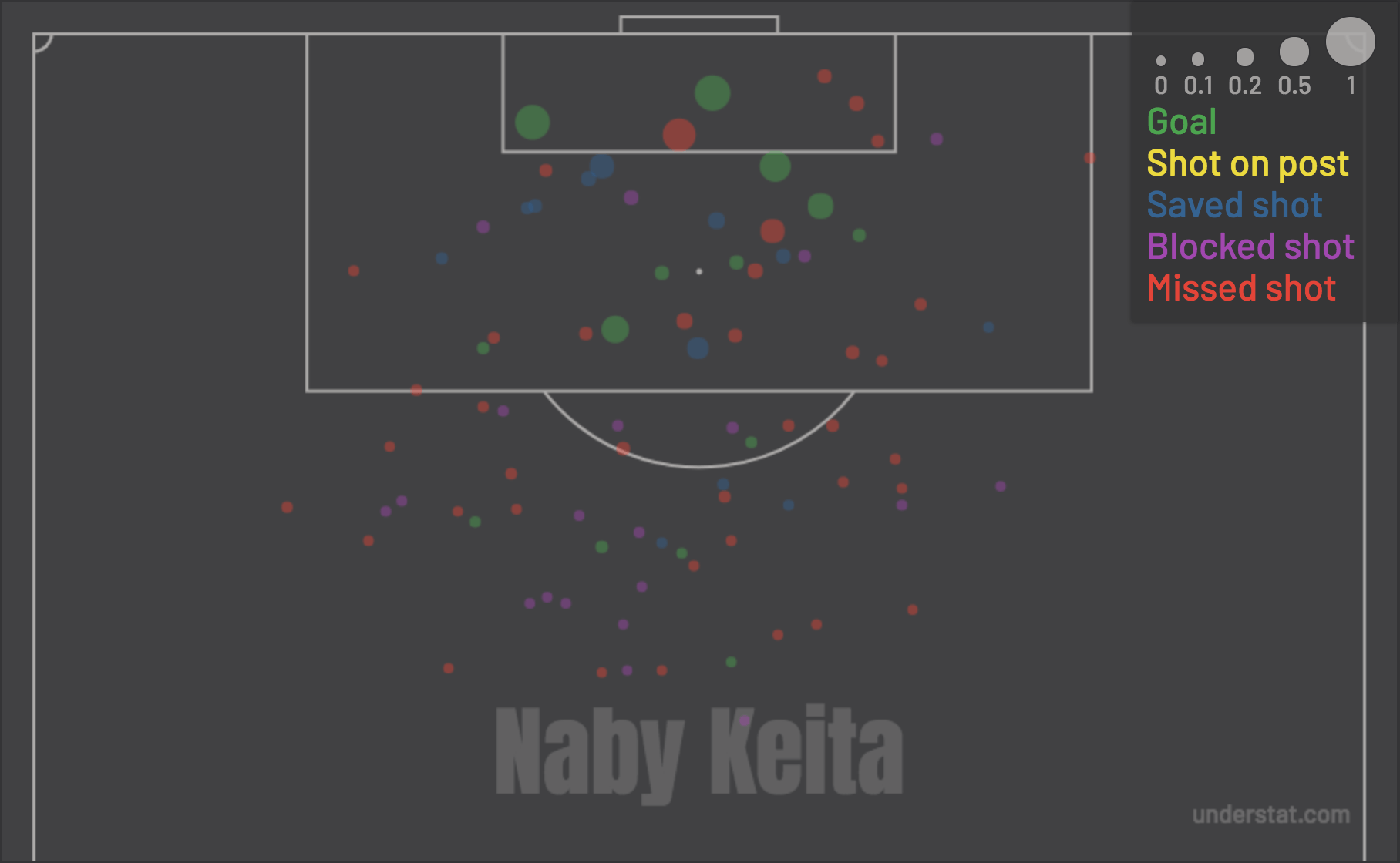 The figures below put some context to Keïta's figures in 2016/17 and 2017/18, as I compare him to other Liverpool midfielders (sourced from WhoScored):⁷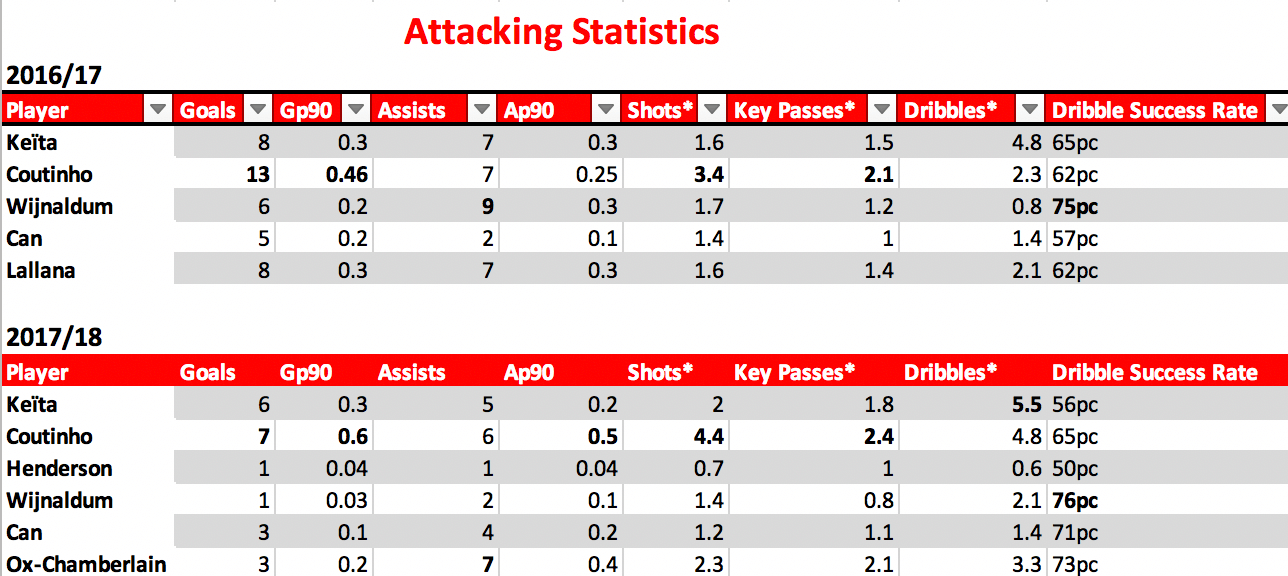 *per90
Hence, in terms of offensive output, Keïta is clearly a rounded and varied player, with the ability to contribute in a variety of ways. He is not a goal machine, or an assist machine, but what the xGChain and xGBuildup figures illustrate is that he is a contributor to both, and it's the rate at which he dribbles which is key to breaking opposition defensive lines or turning a slow possession phase into a quick, aggressive and penetrative one.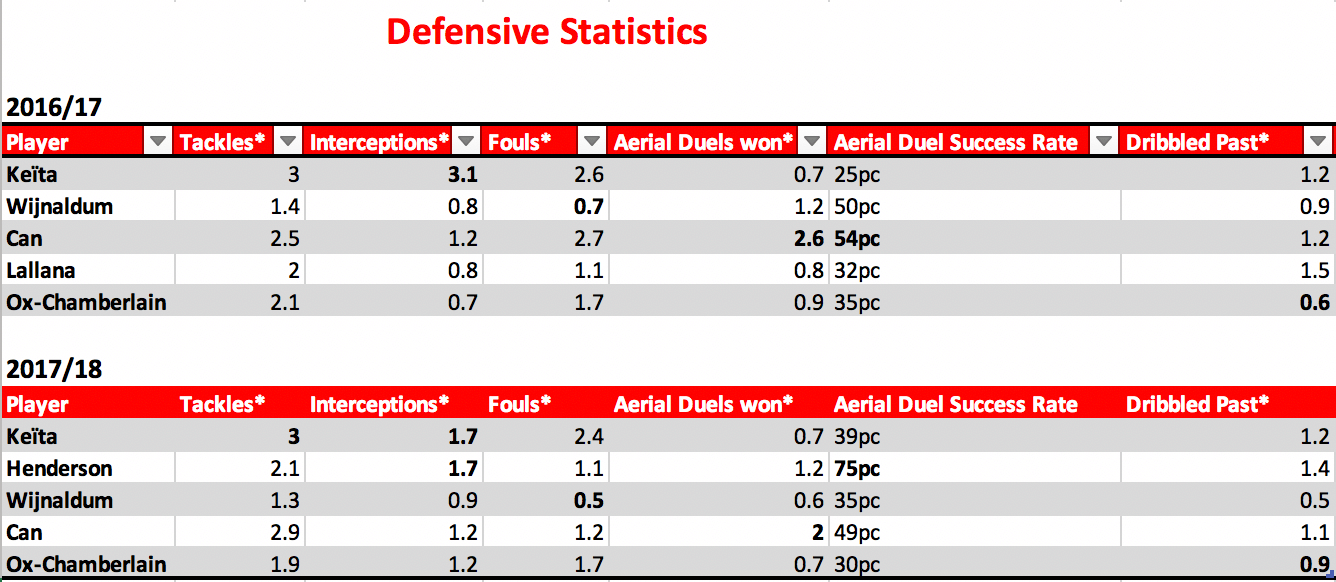 In terms of overall defensive figures, Keïta does not seem so impressive initially. However, what Jürgen Klopp and the coaching staff will find most exciting are Keïta's figures in the first two columns: Tackles and Interceptions per 90. Indeed, Keita's impressive 3 Tackles per 90 rate is similarly sustained through 2017/18 too.
For Klopp, the key to an effective pressing system is turning over the ball in transition phases and in crucial areas. With a midfield including Naby Keïta, Liverpool's ball recovery game and ability to create chances in dangerous areas, high up the pitch, through tackling and interceptions will increase sizeably. Through Keita's high-intensity work, Liverpool will be better equipped to counter-attack, and counter-press, thus exploiting the all-important half-spaces, that will naturally lead to creating chances and goals.
Keïta's own playing style fits perfectly within this system too; as a player unafraid to drive forward, and directly at defenders, Liverpool's front three – likely to be Salah, Firmino and Mané – will find more space to exploit, and more chances to run in behind or take on a defender one-on-one.
Furthermore, some of the defensive issues that Liverpool suffered during the 2016/17 season stemmed from a lack of midfield protection: with both Keïta and Fabinho able to mop up and retain the ball, the propensity for opposition teams to pass through the midfield will be reduced, whilst his direct approach may help alleviate Liverpool's stagnated quandary against teams which employ the low-block.
Through Keïta, Liverpool will be able to play as it did over the first half of the 2016/17, and second half of the 2017/17 season: attacking directly down the middle, and through the flanks – Keïta's rounded game provides variety and depth to the team, and Keïta is unafraid to throw his weight around – evidenced in his 2.4 Fouls per 90 average – but his physical stature may be a concern, but with Van Dijk behind him, and a defensive midfielder alongside him, this should not be too much of an issue.

Keïta's passing statistics do not immediately stand out, but when we consider he would likely replace Wijnaldum within the starting XI, there are small improvements, that when coupled with his other qualities would make a notable difference to the midfield's fluidity and efficiency. What these figures fail to highlight though are the types of passes made. For instance, Henderson's high pass success rates stem from the demands of his position and function not requiring or providing the opportunity for riskier, offensive passes.
Keïta may not provide variety when it comes to long-passing, but with a ball-playing centre-back, such as Virgil van Dijk, Liverpool will have a range of assets to pressure the opposition and to create chances, as Salah and Mané stretch them, and Keïta and Firmino exploit the spaces created from expanding the pitch.
Naby Keïta may well be the closest thing Liverpool have come to replacing the dynamic Steven Gerrard of the 2000s. His direct, aggressive approach fits perfectly within Jürgen Klopp's playing style and will complement the teammates alongside him.
In @DistanceCovered's article, Van Dijk and Keita | Posing a New Threat From Deep, he explains:
"These [Van Dijk and Keïta] two players would drastically change the previously effective approach of stopping Liverpool by merely sitting deep, as they're much more capable and forceful on the ball. Virgil van Dijk is an incredibly composed footballer and has the confidence to bring the ball forward as well as the ability to execute diagonals effectively, without taking three or four controlling touches like the rest of his defensive teammates.

In addition to this, Naby Keita is an exceptionally unique midfielder with a complete skill set, and he'll bring numerous traits that are currently lacking in Liverpool's midfield. Keita will be Liverpool's most dynamic midfielder since Steven Gerrard, as he regular drives forward with the ball at his feet to join attacks, as well as breaking through blocks with dribbling and passing."⁸
With all the evidence above, it's obvious why Klopp wanted Keïta and why he is almost certain to be a hit. Indeed, Ted Knutson, noted earlier, stated:
"… if I am buying one central midfielder in Europe right now, it's Naby Keita.

Need a DM? Naby Keita.

Need an 8? Naby Keita.

A 10 that scores, creates, and destroys?

Na-bee Kay-tuh.

Just 21 years old, he played as an elite defensive midfielder in a pressing system last season. This season he moved forward into an 8/10 role and has put up outrageous scoring stats while losing very little defensive output.

No one does that.

Only 1.72m tall, Naby is both fast and strong and has excellent balance. He's an outstanding dribbler. He's honestly one of the most athletic young central midfielders I have ever scouted… this guy is wildly talented."⁹
And so, inevitably, comes the comparison with Philippe Coutinho, and when we look at his record, especially as a goalscorer, but also as a creator, it's clear Liverpool lost an exceptional talent.¹⁰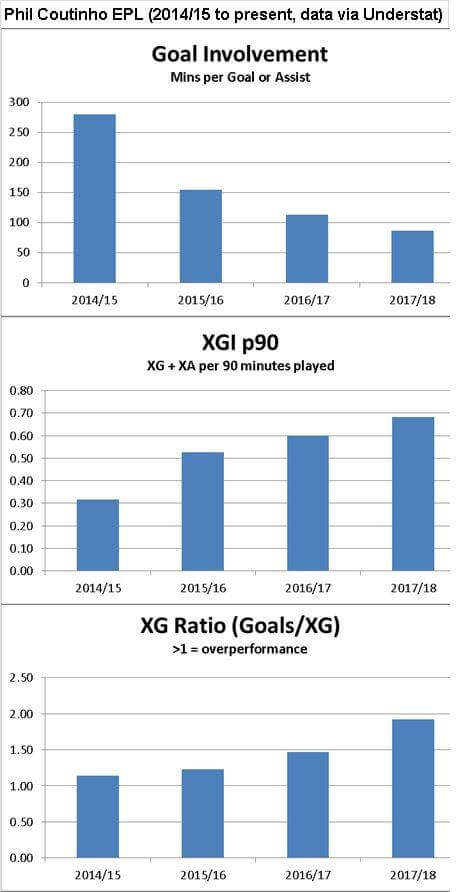 Fortunately for Liverpool though, they are replacing him with a talent just as exceptional, but with a broadly different set of qualities and skills, which complement Klopp's vision for the team, and should really get the very best out of players already surpassing expectations.
Losing Coutinho was a blow, but Keïta can make up for that offensive deficit in some way, but also fix one of Liverpool's long-standing issues, within the midfield; besides, with Firmino, Salah and Mané, the team seems to be creating and scoring enough to cope without Coutinho.
Things are looking up for Liverpool, and Keïta promises to be at the heart of that for a long time to come.
If Klopp could build a midfielder from scratch to be perfect for his system . . . well, he wouldn't have to because he's bought Naby Keïta

— Ryan Baldi (@RyanBaldiFW) January 12, 2018
For more on Naby Keïta, check out my pieces on him from the summer/autumn of 2017 (below), or any of the articles referenced within this piece too.
https://anfieldindex.com/28088/naby-keita-microscope.html
https://anfieldindex.com/28697/naby-keita-statistical-analysis.html
https://anfieldindex.com/28731/naby-keita-risk-worth-taking.html
https://anfieldindex.com/28856/lfc-need-naby-keita-van-dijk.html
https://anfieldindex.com/30843/naby-keita-the-hottest-prospect-europe.html
¹ https://anfieldindex.com/28611/scouting-naby-keita-unrivalled-midfielder.html
² http://www.sbnation.com/soccer/2016/12/15/13924976/rb-leipzig-bundesliga-title-naby-keita
³ https://www.reddit.com/r/LiverpoolFC/comments/7phftw/this_is_why_we_signed_naby_keita_such_an_outlier/
⁴ https://twitter.com/mixedknuts?lang=en-gb
⁵ https://anfieldindex.com/34645/what-to-expect-when-expecting-a-naby.html
⁶ https://understat.com/player/5247
⁷ https://www.whoscored.com/Players/243510/History/Naby-Keita
⁸ https://anfieldindex.com/32542/van-dijk-and-keita-posing-a-new-threat-from-deep.html
⁹ https://statsbomb.com/2016/04/statsbomb-mailbag-who-should-arsenal-buy-in-midfield-more-transfer-shopping/
¹⁰ @DanKennett via @AnfieldIndexPro