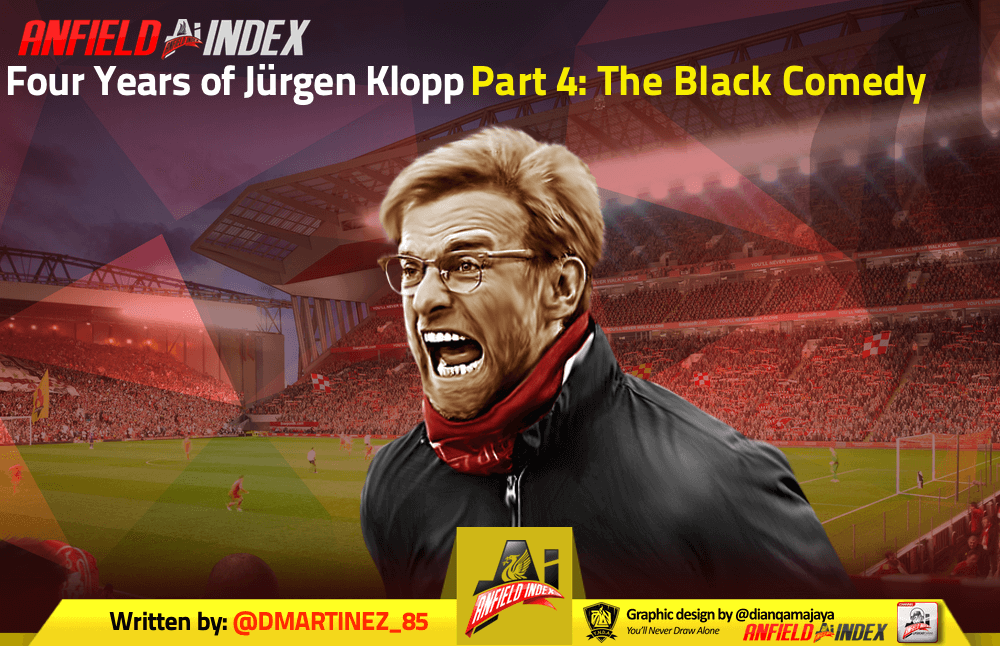 Four Years of Jürgen Klopp - Part 4: The Black Comedy
This month marks four years since Jürgen Klopp took charge at Anfield and began the process of transforming the Reds from Premier League also-rans into one of the dominant teams in world football. I've been reminiscing about some of the crucial games and moments that have stood out over that period.
You can read the previous entries in the series here:
Part 1: Liverpool 2-2 West Bromwich Albion
Part 2: Manchester City 1-4 Liverpool 
Part 3: Liverpool 4-3 Borussia Dortmund
Now, on to Part 4…

Tottenham Hotspur 4-1 Liverpool – 22 October 2017 
Liverpool XI: Mignolet, Gomez, Matip, Lovren, Moreno, Milner, Henderson, Can, Coutinho, Firmino, Salah
Subs: Karius, Sturridge, Grujic, Klavan, Oxlade-Chamberlain, Solanke, Alexander-Arnold
Goal Scorer: Salah (24)
It's not a day that any Liverpool fan particularly wants to recall, but if any game can be credited with being the turning point of Jürgen Klopp's time at Liverpool, this might just be the one.
At least from a defensive point of view. 
Almost exactly two years ago, Liverpool were laid bare at Wembley Stadium by a combination of ruthless Spurs counter-attacks and their own woeful defending. It's incredible to think that as recently as that, displays of defensive vulnerability were not an uncommon occurrence for the reigning European champions.
To be fair, even back in those days of comparatively high uncertainty, the sheer incompetence on display against Mauricio Pochettino's side during this particular game was truly something extra special. It resembled a slapstick comedy show at times, audacious in its ineptitude.
The cockney laughter began almost immediately.
Less than four minutes had been played when the home crowd was roaring its approval at Liverpool's first, side-splitting cock-up. Despite having every player back in position, a harmless throw-in deep in Liverpool territory down the Spurs right somehow ended with Harry Kane tapping into an unguarded net just a few seconds later. How did that happen? Was this a magic show as well as a comedy?
Well, not quite. In short, Dejan Lovren happened. 
The future European Champion and World Cup finalist inexplicably decided to let a benign Kieran Trippier pass drift nonchalantly over his head and into the penalty area. Watch it back on the video above and if you can explain what he was thinking then please let me know because, to this day, I remain completely nonplussed by his actions. Lovren could easily have cut the pass out but instead, he just watched it drift over him. It made absolutely no sense.
Not to be outdone, Simon Mignolet got in on the act. The Belgian keeper came sprinting off his line in an uncharacteristically decisive manner. Sadly, in more familiar fashion, he ended up grasping at thin air and sprawled out on the deck as Kane effortlessly nudged the ball around him and prodded home.
It was amusing for Spurs' fans. It was bemusing for Liverpool's.
Things would accelerate from awful to catastrophic for the hapless Lovren soon after. Another incomprehensible individual mistake allowed Spurs to double their lead just eight minutes later.
Again, a ball went over his head and again it led to his team conceding a goal.
This time though, it wasn't the result of the defender sleepily ignoring the ball on the edge of his own box. No, this was quite the opposite in almost every way. For his latest trick, Lovren completely changed his approach to dealing with an aerial ball. Instead of being too passive as he was for the opener, he went into full-on attack mode.
To say he overcompensated would be an understatement.
In his wisdom, Liverpool's senior centre back on the day made the decision to commit to a wild lunge at a throw out from the opposition's goalkeeper. Hugo Lloris had collected a cross in his own penalty area and was looking to get Spurs moving quickly on the counter-attack. He aimed a throw toward his striker Kane and then, well, Lovren happened again.
The Croat flew high through the damp Wembley air with all the restraint of a starving stray dog chasing a fillet steak. The problems with this approach and its outcome were numerous:
1. He was positioned inside the Spurs half at the time.
2. He only had one teammate – Joel Matip – behind him
3. He missed the ball. Completely.
After Lovren took flight and failed to get anywhere near the ball, Kane spun away from him, almost apologetically gathering possession. With his marker completely out of the game, the England forward ran unopposed all the way to the edge of the Liverpool area before squaring to Son Heung-min who duly converted to make it 2-0.
To my mind, this assist remains one of the standout achievements of Kane's career to date. How he made that 40-yard dash and played that pass without falling over laughing is beyond me.
It truly was a sight to behold.
Damningly and mercifully, Lovren was subbed off by his manager on the half-hour mark. A rare feat. Many people reasonably deduced that such a terrible showing would all but end his Liverpool career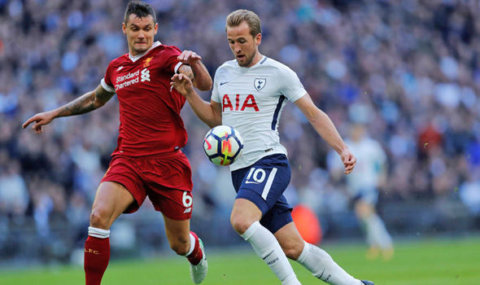 To be fair to the Croat, he has since recovered and held on to his place in the squad against all odds. Whatever one thinks of his abilities, the mental fortitude to come back from something this bad is impressive.
While he was understandably made the scapegoat for the defeat, Lovren was far from the only problem on the day.
From the first whistle, the Reds had thrown themselves at Spurs and played with reckless abandon. They were incredibly vulnerable to counter attacks as a result. It was naive in the extreme at times and also a brutal affirmation that the defensive personnel were simply not up to the task of being left exposed and asked to cope unaided against top attacking players.
Despite being the home team, Spurs simply sat in, allowed Liverpool to have the lion's share of possession and then sought to pick the visitors off, as they did for Son's strike. That Liverpool also gifted further goals from set-pieces to Dele Alli on the stroke of half time and Harry Kane again in the second half only compounded matters and further exposed Liverpool's soft underbelly.
As stated earlier, defensive uncertainty was not uncommon for Klopp's team a couple of years ago. At the end of this match, his team had conceded 16 times in their opening 9 Premier League games of the season, averaging 1.8 goals conceded per game. Drastic improvement was required.
Thankfully, it would arrive. Almost immediately.
Liverpool ended the season having conceded just a further 30 times in their remaining 29 league games that followed this nightmare, a marked improvement of just 1.03 goals conceded per game.
Naturally, Virgil Van Dijk's January arrival is often cited as the primary reason for this, but there were also other factors that played into the progress.
There was an undoubted defensive recalibration between this game and Van Dijk's debut at Swansea in January 2018. Indeed, Liverpool conceded just four goals in their next nine league outings and conceded more than once in just three of their eighteen games between the Wembley fiasco and Van Dijk's inaugural bow in red.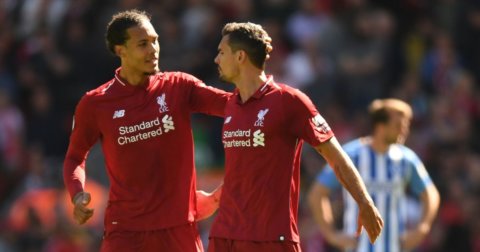 A smarter, if slightly more conservative approach was undoubtedly implemented by Klopp following this 4-1 defeat and it was allied with a gradual change in personnel.
Trent Alexander-Arnold was introduced to the team and Andy Robertson would belatedly make himself a fixture in the side after the unfortunate Alberto Moreno suffered an injury. Both fullbacks supplemented Van Dijk's January arrival and even the man between the sticks changed as Loris Karius supplanted Simon Mignolet during the second half of the season. Klopp's defence was almost unrecognisable by the time they took on Real Madrid in the Champions League final seven months post-Spurs.
In the two years since their mauling at the hands of Tottenham, Liverpool's defensive solidity has increased immeasurably.
The Reds now boast arguably the best defence in European football. 
That was a fanciful notion as recently as the 22nd of October 2017 when they were being made to look – and making themselves look – absolutely farcical.
While this was undoubtedly one of the lowest moments of Jürgen Klopp's Anfield story to date, the mistakes of this game were used, learned from and improved upon.
You can ask for no more than that.
Now let's never mention this game ever again.