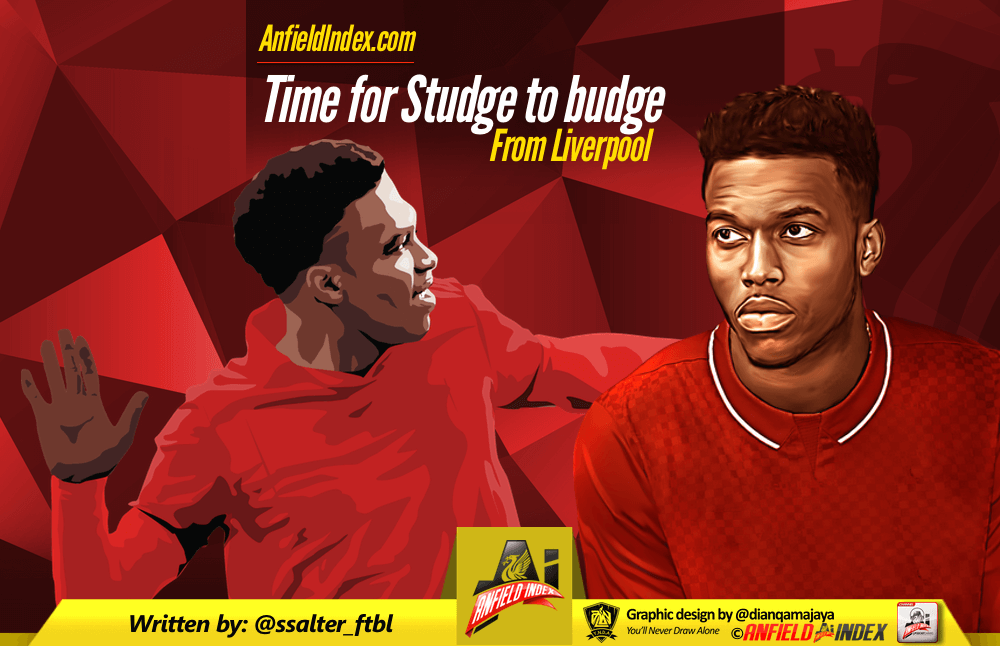 Time for Studge to budge from Liverpool
Before I get started on this article, let's get a few things out of the way.
I'm a big fan of Daniel Sturridge; I think he's one of the league's best finishers and can be a world beater on his day.
Secondly, this is my opinion. As Henry Jackson touched upon in his piece for Anfield Index, there is no need for Liverpool fans to slaughter each other for differences in opinion. I don't like Alberto Moreno, you may like him. That's fine, no need to bicker, move on.
Anyway, let's get down to business. I may get slaughtered for this, but it's time for Daniel Sturridge to leave Liverpool Football Club.
Here's why:
Square peg in a round hole
As I said above, Daniel Sturridge is a top quality striker. When he's on form, he's deadly. He'd get in pretty much any side in the world.
For Jürgen Klopp's Liverpool, though, it's a case of a square peg in a round hole. As Hamzah 127 wrote, the England man does not fit the system.
"The issue arises when Daniel Sturridge, by far Liverpool's best goalscorer, does not fit into this particular system as the spearhead; perhaps due to injuries sustained over the past few years, an unwillingness to press, or even that he simply is not as good as other offensive options, such as Firmino, as pressing intelligently from the front."
Sturridge is a selfish player, but in a good way. It's what makes him a deadly striker; he has to be selfish and take chances that others would not.
In Klopp's high tempo, high pressing system, the side can't afford for Sturridge to be selfish. Liverpool under Klopp are at their best when the likes of Firmino. Coutinho and Lallana are intricate around each other. Sturridge does not offer that type of intricate play. When Firmino would look to slot his team-mates through, link up with Coutinho or pull of a flick that puts a team-mate in on goal, Sturridge would look to create an opportunity for himself.
Roberto Firmino
The Brazilian striker has become arguably Liverpool's most important player under Jürgen Klopp. He's scoring goals, he's creating chances and he's a key component in the side's build-up.
He's indispensable.
Sadly for Daniel Sturridge, he also happens to play in the same position in Klopp's system. Liverpool is a better side with Firmino leading the line, so we must not look to force Sturridge into the starting XI.
Better back-up options
So, we've established that Roberto Firmino is a better option for leading the line, so surely Daniel Sturridge is the best second choice option for Klopp?
Wrong – well in my opinion anyway. Largely for most of the reasons mentioned above, but when Sturridge comes on he almost stagnates the play. His solo-minded approach on the ball means that Liverpool's play slows down, becomes one-dimensional and lacks real purpose. There's no surprise that Liverpool improved against Manchester United when Sturridge left the field.
Liverpool's other striking options are Divock Origi and Danny Ings. Both are relatively unproven at Premier League level but are promising players and are better suited to Klopp's system.
Ings is a prolific presser, which Sam McGuire discussed. "During his final season with Burnley he recovered the ball in the final third every 106 minutes and he also won 1.7 tackles per 90. He puts his team on the front foot."
Nobody can doubt Ings' hard-work or his attitude. Despite being with the Under 23s this year, Ings has got his head down and worked hard as well as firing in the goals, including a hat-trick against Ipswich. He looks as though he will finally get a chance under Klopp this week in the EFL Cup clash against Spurs.
Young Belgian striker Divock Origi has looked like a new man since Jürgen Klopp came in to replace Brendan Rodgers and in my opinion offers a lot more in place of Firmino than Daniel Sturridge does. He's quick, mobile and works hard to press the opposition back line.
Not only this, but Origi represents a possible change in style for Klopp's team, whereas Sturridge and Firmino are both players who like to drop deep. Origi can lead a line, hold the ball up, bully defenders and be a physical presence.
Whereas Sturridge is not far off a like-for-like replacement for Firmino, Origi enables Klopp to ramp up the pressure on an opposing back line or alternatively to be a presence up front when seeing out a game, something Sturridge is not.
Financial Value
Daniel Sturridge may be lots of fans' second choice striker, but for me he is third choice if not fourth choice. Ridiculous I know for a player of his quality, but for the team's sake I think it's realistic.
So is his reported £120,000 per week wages value for money for a third or fourth choice striker? Definitely not. Is it value for money for a second choice striker? I'd argue probably not.
Sturridge's value in this transfer market has to be at least £30million, considering his age, quality and fitness record.
That money, along with his wages, could be reinvested in the side to improve much needed areas.
Conclusion
I have no doubt that I will be berated on social media for holding this opinion, but I believe the points I make are perfectly valid. Why should Liverpool force a player into their starting XI just because he's Daniel Sturridge? We're a much better side without him and for the sake of the player and the club; it's time for Sturridge to move on.