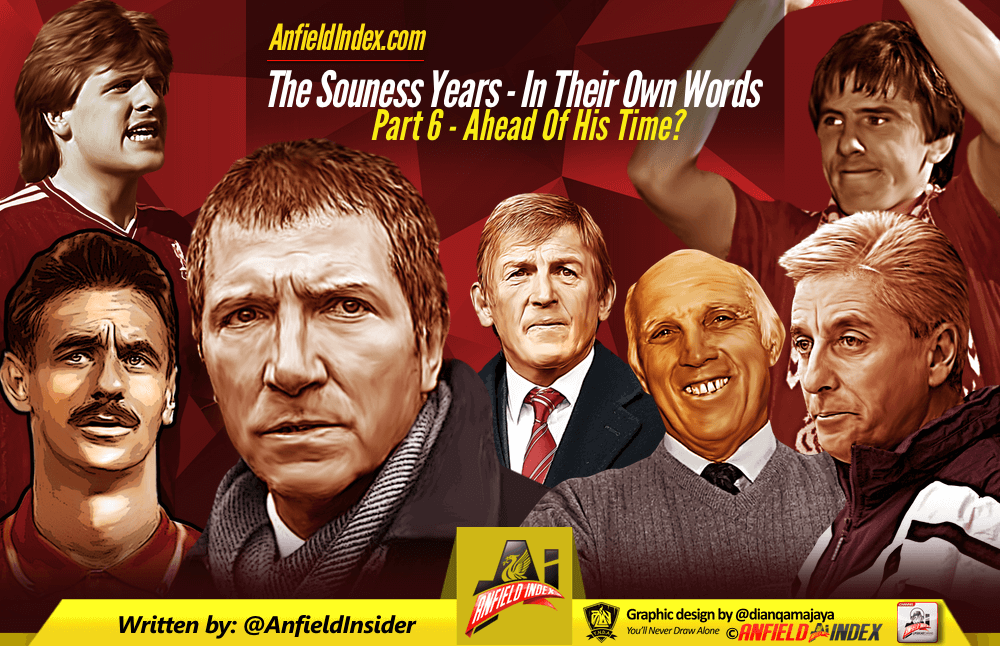 The Souness Years - In Their Own Words (Part 6) - Ahead of his Time?
This is the sixth instalment of our Souness Years series, looking behind-the-scenes of what went on at Liverpool during the Souness era of the early 90s.
You can find the first five parts here: Part 1 Part 2 Part 3 Part 4 Part 5
ROY EVANS: I tried to talk Graeme out of sacking Thommo. I told him to get him in the office, sit him down and have the whole thing out, face to face. Both of them could have got things off their chests and Graeme could have asked for Phil's backing while we were all present, but he wasn't having any of it. He wanted him out and nothing was going to change his mind.

PHIL THOMPSON: The same chairman who officiated over my sacking, David Moores, would eventually give me the opportunity to come back under Houllier. I was invited back for my loyalty, my ability and my honesty. I feel this says everything about who was right and who was wrong in the Graeme Souness affair.
GRAEME SOUNESS: When Roy left and Phil was appointed assistant to Houllier I found it hard to believe. But times change.
ROBBIE FOWLER: Thommo was the reserve team coach when I arrived, and I quickly found out why all the other kids used to say to stay out of his way.
DOMINIC MATTEO: I'll be honest and say that there were times when I hated him. He probably couldn't get away now with some of the stuff he said. I know him and Robbie Fowler didn't get on but that is something built-up over a lot of years.
ROBBIE FOWLER: He was so loud about the place, always bawling people out and having a go.
DOMINIC MATTEO: The thing with Thommo is that he had been there, seen it and done it during his own career. So, if he saw a cocky young kid come along then he would not hold back.
ROBBIE FOWLER: I didn't mind that particularly, but what I did find not so good was the way he used to knock people and test their confidence at such a young age.
DOMINIC MATTEO: He was maybe sometimes too honest.
PHIL THOMPSON: Yes, they got the verbals at times, but I had a great relationship with them.
DOMINIC MATTEO: I know a few of the lads thought he was a bit of a tosser at times.
PHIL THOMPSON: I felt they needed to know how to take criticism and be positive.
ROBBIE FOWLER: I heard stories from some of the other young lads back then that Steve Heighway had laid into Thompson, really slaughtered him in front of the manager.
GRAEME SOUNESS: On one occasion, my secretary begged me to intervene when a furious row between Steve and Phil threatened to get out of hand. Her office at Anfield was next to Steve's and she could hear them going at it hammer and tongs. The row was over how Phil was treating some of the lads who had come through the ranks under Steve. He was letting Phil know exactly what he thought of him.
ROBBIE FOWLER: And believe me, that is something because Steve Heighway is a gentleman and not the sort of bloke to go around laying into people.
JULIAN DICKS: I never got on with Steve Heighway. Souness introduced me to him and as I was shaking hands with him he was looking the other way. I thought 'you arrogant twat', and from that day I had no time for him.
GRAEME SOUNESS: I never made a major issue of what was going on and was prepared to allow him to continue with his job providing he modified his language and toned down his behaviour. It was his fault but I wouldn't expect him to admit it because it's not in his character.
DOMINIC MATTEO: But, on the whole, I got on fine with Thommo and realise what he did for my career. After Steve Heighway, I would say Thommo did the most for my development at Liverpool.
JAMIE CARRAGHER: Thommo's reputation under Souness wasn't so good, but he proved a lot of doubters wrong in the years that followed, particularly during those five months as caretaker boss. If a player was left out, he'd just explain the reasons. He wouldn't think twice about slaughtering anyone who deserved it in private, but publicly he wouldn't have a bad word to say about us.
GRAEME SOUNESS: Tommy Smith was also condemning me in the local newspaper and after-dinner circuit. In his pomp, he was an inspirational defender. His articles were becoming increasingly critical yet all the time he seemed to be under the impression that he had the freedom to go where he liked at Anfield. After a match, he would be in the Boot Room sipping a lager and chatting away with Ronnie Moran, Roy Evans, and the visiting manager and coach. I rang him before one night match to explain as politely as I could why he was no longer welcome in the inner sanctum, and I suspect I made an enemy for life after that call.
RONNIE WHELAN: The first thing that should be said is that Souey got some things right, even though people – and I was one of them – thought they were wrong at the time.
STEVE McMANAMAN: In Premiership football terms he was ahead of his time. After his experience in Italy, he introduced a healthier, Continental diet. He developed Melwood as a training ground.
RONNIE WHELAN: He emphasised the importance of good nutrition, eating the right food, taking the right supplements, drinking enough water. It was the Italian influence. He'd learned a lot about the football culture in Italy during his two years at Sampdoria. He'd adopted the lifestyle of the professional footballer there and that included their diet. Now he was introducing it to us, and with our typically insular attitude in British football, we thought it was a load of cobblers.
GRAEME SOUNESS: To me, it was just common sense. All the big clubs in Europe had training area away from the stadium. I wanted Melwood to be built on those lines with proper dressing rooms, a medical centre and a canteen. We could work in privacy, have the space we needed, and none of the distractions we faced at Anfield. Diet was another issue.
JAN MOLBY: Souness said he would turn us into the fittest squad in Britain the following season. As well as me, he had a pop at one or two other players, like John Barnes and Peter Beardsley.
GRAEME SOUNESS: In the old days, the team coach would stop on way home from an away trip, and everyone would be handed fish and chips wrapped in newspaper.
PAUL STEWART: We had a thing called 'weigh-in day' where Souness used to check the players' weight to make sure they were not over-eating.
GRAEME SOUNESS: Players would report back for pre-season overweight and out of condition.
PAUL STEWART: There were some real characters in the squad: Ian Rush, Steve Nicol, John Barnes, great pros who did not always take too kindly to being treated like schoolboys.
IAN RUSH: Under Kenny, we often enjoyed 'snack' type meals at Melwood – beans on toast, cheese omelette, that sort of thing. Graeme introduced a new menu which largely consisted of boiled fish and chicken, pasta and salads.
RONNIE WHELAN: It was fish and salads and boiled chicken and pasta. Get it into you and stop moaning about it. Didn't Souey himself win plenty of trophies on steak, chips and lager? Now it's feckin' pasta and Perrier water.
JAN MOLBY: Ian Rush, for one, didn't like being told he couldn't have steak before a match. He argued that having scored more than 250 goals for Liverpool after eating a medium steak three hours before a game meant that he was entitled to keep things the way they were.
IAN RUSH: When he informed us of the change I mildly took him to task. 'But we won the double on egg and chips', I quipped. Graeme said nothing but gave me a long stare, which I took to mean he would not have his authority questioned, even in a humorous way.
JULIAN DICKS: They say Alan Hansen never warmed up. He just sat there with his legs crossed and a cup of tea. He'd then put his top on and go out and play, so they were used to that.
RONNIE WHELAN: I can remember going into training one winter's morning and looking forward to my bacon-and-egg toastie in the Melwood canteen because it was cold. I was hungry, and a nice hot toastie would do the trick. But I was told it was off the menu. 'What? You're joking.' 'Sorry love, we're not allowed anymore. We can toast a slice of brown bread you like?' The days of your bacon, sausage and egg breakfast – with toasted white bread – were gone.
JAMIE CARRAGHER: He tried to impose the more continental methods he'd picked up in Italy. But he alienated the players.
RONNIE WHELAN: In England, he was ahead of his time on this issue.
IAN RUSH: He was ahead of his time.
RONNIE WHELAN: That was 1991. I don't think many clubs were preaching the importance of proper diet then. Everyone takes it for granted now.
To be continued…
References
John Aldridge – Alright Aldo (2011)
Arnie Baldursson – Ronnie Moran – Mr Liverpool (2017)
John Barnes – The Autobiography (1999)
Peter Beardsley – My Life Story (1995)
Kirk Blows – Terminator – The Authorised Julian Dicks Story (1996)
Jamie Carragher – Carra: My Autobiography (2009)
Jan Molby – Jan The Man (2004)
Kenny Dalglish – My Liverpool Home (2010)
Rob Jones & Paul Hassall – Robbed
Dominic Matteo – In My Defence (2011)
Steve McManaman – El Macca (2005)
Neil Ruddock – Hell Razor (1999)
Ian Rush – Rush: The Autobiography (2009)
Graeme Souness – The Management Years (1997)
Graeme Souness – Football: My Life, My Passion (2017)
Paul Stewart – Damaged (2017)
Phil Thompson – Stand Up Pinocchio (2005)
Ronnie Whelan – My Life In Red (2011)