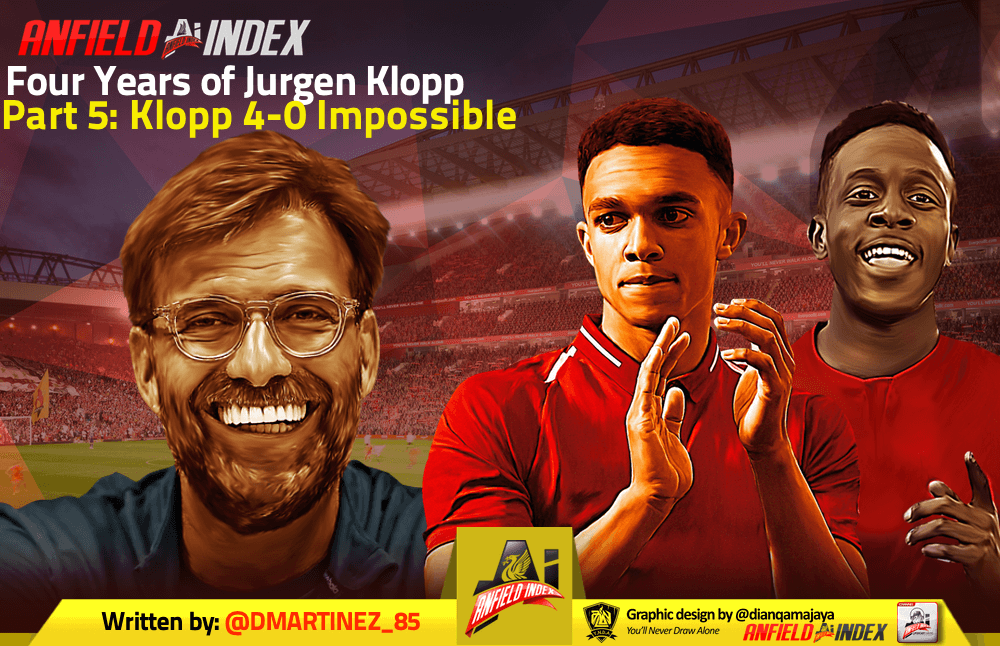 Four Years of Jurgen Klopp - Part 5: Klopp 4-0 Impossible
This month marks four years since Jürgen Klopp took charge at Anfield and began the process of transforming the Reds into one of the most dominant teams in world football.
You can read the previous entries in the series below:
Part 1: Liverpool 2-2 West Bromwich Albion
Part 2: Manchester City 1-4 Liverpool 
Part 3: Liverpool 4-3 Borussia Dortmund
Part 4: Spurs 4-1 Liverpool

Now for the final entry…
Liverpool 4-0 FC Barcelona – 7 May 2019 
Liverpool XI: Alisson, Alexander-Arnold, Matip, Van Dijk, Robertson, Henderson, Fabinho, Milner, Shaqiri, Origi, Mane
Subs: Wijnaldum, Lovren, Gomez, Sturridge, Mignolet, Brewster, Woodburn
Goal Scorers: Origi (7, 79), Wijnaldum (54, 56)
I genuinely considered not even covering this game for this retrospective. It's just too obvious, isn't it? Too 'been there, done that'. Too trite. Too predictable. Redundant.
Everything that needed to be said has been said again and again and again. And again. Then once more. Everything read, watched, listened to and injected into the Liverpool fan base's collective circulatory system more times than is probably healthy.
Every second of incidental video footage examined as though it were the Zapruder film: 'Did you see the video of Rhian Brewster singing along with the Kop when he was on the bench?'.
Brewster singing we shall not be moved sat on the bench. What a lad!! pic.twitter.com/MtjE7pKiYs

— Andrew (@andyjohnson85) May 7, 2019
Each delighted squeal from every commentator on duty that night shared online more often than 'Mr Brightside' gets played at millennial wedding receptions: 'Corner taken quickly…ORIGI!'.
Every moment retweeted, liked, celebrated, cried over, savoured. You know it all already. 
So I should probably stop now and save us all a bit of time.
But I can't. And neither can you.
Because no matter how many times the night of May 7th 2019 is revisited, there's always something to marvel at. Things to make you appreciate it that bit more. Things that you've forgotten. Things that didn't happen quite as you thought they did. Things that you overlooked.
Andy Robertson went off injured at half time, you know? Of course you do. But one person I've spoken to – who was at Anfield that night – recently informed me that he'd completely forgotten that the Scot wasn't on the pitch in the second half. I can only surmise that he thought Gini Wijnaldum snuck on as a twelfth player during the break. I bet Gerard Piqué and co felt like that was actually the case throughout those glorious final 45 minutes.
Other Liverpool fans I've spoken to have almost no recollection of the fact that, while we were smashing Barcelona to pieces, we were doing so with James Milner playing at left full back with a bang in form Lionel Messi as his primary direct opponent. (That's an unsettling sentence to write. No wonder some have chosen to dispatch it to the darkest recesses of their minds.)
But do you know why these people forget or overlook all of these otherwise obviously memorable aspects of arguably the best game in the history of their football club? They forget because there were approximately six million different things – I've added them up – that blew minds apart that night.
Allow me to prove this. Are all the following facts about that night things that immediately appear in your memory as you cast your mind back?
Liverpool were dead on their feet three days earlier as they scratched, clawed and bit their way past a, quite frankly, unreasonably motivated Newcastle outfit. (No need, Rafa)
Fabinho was booked after ten minutes and had to walk the tightest of tight-ropes for the remaining 80.
Jordan Henderson's knee was knackered and he was running on adrenaline after the first half an hour.
Mo Salah was sat in the crowd, laughing, wearing that t-shirt.
Bobby Firmino wasn't on the pitch. I checked. He wasn't. Not for a single second.
The in form Naby Keita was sat at home with his leg in some space age healing device that the Guinea national team would render utterly pointless a few weeks later. (I unironically forgot this fact too, until I was reminded moments before sending this piece for review. See what I mean?)
Barcelona practically had a full week off between the two legs because they'd already sewn up the La Liga title. Yes, while Mo Salah was getting knocked out cold up in the North East between the two legs, Leo Messi was sat at home with his feet up.
There's just so much to pore over. So much to take the breath away.
It's rightly acknowledged – alongside Istanbul – as the most ridiculous, incredible, inspiring result in the history of Liverpool Football Club and descriptions like that still doesn't do it justice.
Ah, Liverpool Football Club. Now we come to it.
To many, this night will go down as a consequence of that nebulous, romantic concept many of us hold about 'Liverpool'. The spirit of Shankly and Paisley. The magic of that old, hallowed ground.
Liverpool Four Impossible Nil: Brought to you by Anfield and every ghost that resides within her. A miraculous result that would only be conceivable for a select few clubs with the requisite amount of 'European Heritage', 'History' and 'Je nais se quoi'.
I'd ordinarily be inclined to agree with this narrative. I've stood on the Kop when that idea of Liverpool, that spirit of Shankly, that Anfield atmosphere and the sheer 'Liverpool-ness' of the occasion has rescued the Reds in hopeless situations in European ties before. I've felt it. It exists. No matter what people want to argue to the contrary.
But for me, this Barcelona game was something different. This was a game dreamed up and made real by the manager rather than the club.
It's the game that he's imagining when he takes his team, arm in arm, to acknowledge the Kop End to 'celebrate' their 2-2 draw with West Brom three years earlier.
Barcelona felt more about the man in the dugout than the fabled spirit of Liverpool Football Club to me.
Every ridiculous, improbable, breathless second of it just screamed 'Jürgen Klopp'.
The sheer bloodymindedness. The acceptance and embrace of adversity. The balls to have a go and risk a hiding. The defiance. The ability to believe, no…the necessity to believe in a sporting miracle and the audacity to will it into reality.
'If it was anyone else but you boys I would say this match is impossible' he famously told his players before kick off.
He was partly right, of course, but it wasn't the players who had made such things possible at Anfield again. James Milner, Joel Matip, Divock Origi and Xherdan Shaqiri, fine players though they are, weren't the reason that Anfield refused to wake from it's dream that night.
The fans believed because of him.
The players believed because of him.
The club pulled off a miracle because of him. 
Because of Jürgen Klopp.