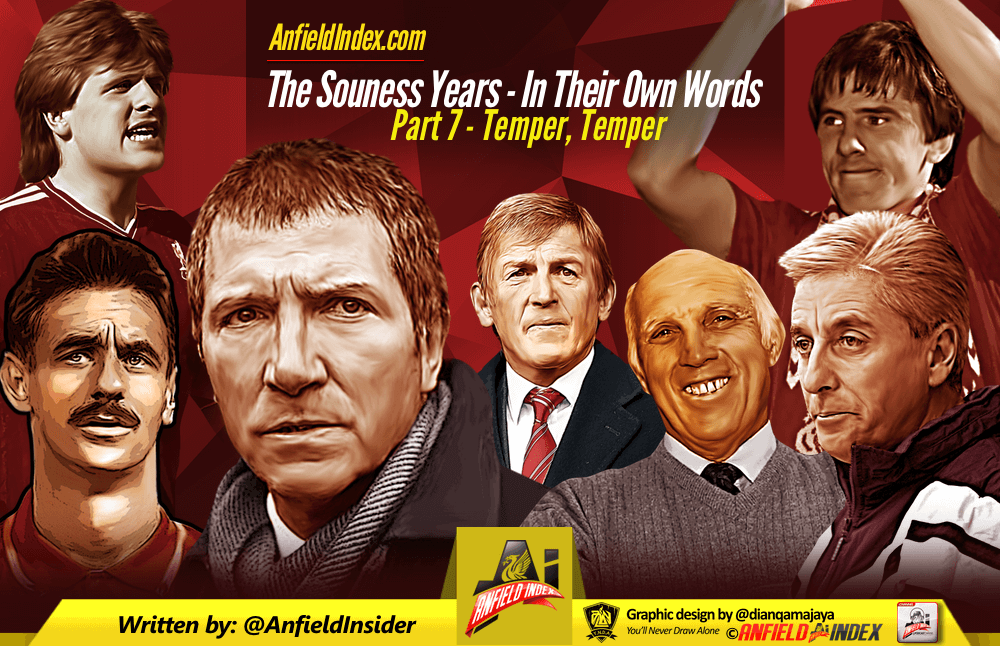 The Souness Years - In Their Own Words (Part 7) - Temper, Temper

This is the seventh instalment of our Souness Years series, looking behind-the-scenes of what went on at Liverpool during the Souness era of the early 90s.
You can find the first six parts here: Part 1 Part 2 Part 3 Part 4 Part 5 Part 6
IAN RUSH: He had learned a lot from his time in Italy, and was introducing ideas and methods that just about every manager since has adopted. Wenger changed the training, diet and lifestyle of Arsenal when he took over in 1996, but what he didn't do initially was drastically overhaul the team. I don't think Graeme was wrong in what he did. I do feel, however, that he made too many changes too soon.
DOMINIC MATTEO: I felt sorry for Graeme. With hindsight, I believe he was unlucky. He could see the way English football was heading and tried to change things to be more in line with how had lived as a player with Sampdoria in Italy. Graeme was a pioneer in that he wanted us to do all the right things, such as stretching properly before training and cutting certain things off the menu before games. But the older players wouldn't buy into it. They had mega careers and won everything, so thought: 'Why should we change?' It is a shame the older players couldn't see that and be more receptive.
PETER BEARDSLEY: It was soon clear that he did not like the accustomed Liverpool methods. Tried and tested traditions were not part of the Souness approach. He came in and changed a lot of things very quickly.
IAN RUSH: People felt Graeme had run roughshod over methods that had served the club so well for thirty years and more. Many felt 'the Liverpool way' had been confined to the dustbin, and they didn't take too kindly to that.
STEVE NICOL: Graeme tried to rule with an iron fist, and that didn't suit everyone.
RONNIE WHELAN: With Souey it was my way or the high way. His man-management skills could have been a lot better.
ROBBIE FOWLER: He was fucking ferocious in the dressing room if he lost his temper, and I'll admit I was scared of him.
RONNIE WHELAN: When Souey started ranting about 'older players' in the Ewood Park dressing room (a 4-1 defeat to Blackburn), I took exception. He didn't name us but he was referring to me, Nicol, Barnes and Rush. Souey's accusation was that we weren't doing enough to help him along. Not just this game but every game. He had a bee in his bonnet about us for some reason, and it didn't just start at Blackburn, he'd raised it as an issue several times. I was fuming inside.
ROBBIE FOWLER: He was a bit of a thrower when he got mad, and you didn't want to be around for that.
JAN MOLBY: We lost 3-2 to Wimbledon at Anfield. Souness was livid. After storming into the dressing room, he picked up a bottle of smelling salts and threw it at the mirror. It smashed into a thousand pieces. That was the worst I'd ever seen him after a game.
ROBBIE FOWLER: There was one time he smashed this tray of tea and it went all over the players in their suits. Not one of them dared say a word.
RONNIE WHELAN:  At Blackburn, I said 'Look it's not as simple as that. You try talking to these young lads and they tell you to fuck off.' That only made him worse. 'Who!? Who tells you that? Who tells you that?' I just shrugged my shoulders. 'Tell me who they are and I'll back you up!' He was losing it now. I said 'Just like you're backing me up now?' He flipped after that, started screaming, 'You tell me! You tell me!' Every time he says it I say 'Fuck off, Souey'. 'You tell me!' 'Fuck off Souey'.
ROBBIE FOWLER: He was not the type of manager you wanted to make angry.
STEVE NICOL: I'm old school. Being treated that way when I first joined Liverpool helped mould me into the player I would then become. As far as I'm concerned, Graeme was a victim of circumstance.
ROBBIE FOWLER: But he was always fair, especially to the younger players.
DOMINIC MATTEO: Graeme was someone I respected and I liked him as a person, mainly because he never lied and always told you straight what he thought. If I had a good game, he would say so. And if I didn't, he would make that clear too. Players appreciate that sort of honesty in a manager, even if they might not agree in the heat of the moment.
RONNIE WHELAN: I found out in the 1992-93 pre-season that Wrighty would be the permanent captain now and that he'd be wearing the No.5 shirt. I'd be wearing No.12. A manager with half-decent man-management skills would've gone to a player who'd been there all his career, whether it was me or anybody else, and explained the situation. No big deal: just show a bit of respect and courtesy to a long-serving player, that's all.
DOMINIC MATTEO: Once, after I had played sweeper for the reserves, Graeme came straight up to me and said: "You didn't give the ball away tonight, well done." I was so happy but didn't know whether to say 'yes', 'thank you', or nothing at all. But Graeme coming over and saying a few words of congratulations made it probably the highlight of my early career. It gave me a lot of self-belief, just when I needed it the most.
RONNIE WHELAN: I'll never forget the tribute he paid me on television after we beat Villa in the FA Cup. He said I epitomized what Liverpool Football Club was about. He said I'd given my heart and soul to the club over the years. It was a really nice thing to say and it gave me a great boost at the time.
JAN MOLBY: I had a love-hate relationship with Graeme Souness. Sometimes I could do no wrong; at other times, it seemed he wanted me nowhere near his team. It was strange, and to be honest, I couldn't work it out.
PAUL STEWART: There was still a drinking culture at Liverpool despite Souness' best efforts to change it.
DOMINIC MATTEO: Graeme's attitude to drinking was another that did not go down well with the squad. He wanted to stop it but couldn't.
RONNIE WHELAN: To be fair, he didn't impose a drinking ban. Maybe because it wouldn't have worked.
DOMINIC MATTEO: Looking back, I had started to get sucked into football's drinking culture almost from the moment I stepped up to the first team. I had been out with some of the most seasoned boozers in football – lads like Steve Nicol, Jan Molby and Rushie – but managed to match them drink for drink, hence the nickname 'Hollow Legs', as I had been christened on the Dublin trip in 1993. From then on, I just saw football and drinking as a natural pair.
PAUL STEWART: I got on really well with Rushie, and the likes of Molby, Whelan, Nicol and Barnes would regularly come out too. We'd often head into the city centre, making a beeline for the Mathew Street area, places like Labinsky's. It would vary how much coke I would take. It might be one or two wraps on some occasions but if I was in the mood I'd go looking for more.
NEIL RUDDOCK: It's never easy when a player who is used to being 'one of the lads' and chief socializer, like Souey, returns to a club and takes charge of players who used to be his team-mates. Suddenly, he was pulling them up for doing things he got away with as a strong-willed player and captain, the life and soul of the party, and it created an uneasy atmosphere at times. I think the older players resented him laying down the law and felt he was being hypocritical. There were bad vibes between him and the senior players, and I don't think the likes of Bruce Grobbelaar, John Barnes and Ronnie Whelan, people who had been around for years, gave Graeme the same respect as the newer members of the squad.
DOMINIC MATTEO: The culture was just too ingrained in English football at the time and it took the emergence of the next generation after me, the Gerrards, the Carraghers of this world, for things to change. Because of how attitudes within the game have changed since, I firmly believe that Graeme could have brought success to Liverpool if he had been appointed a few years later.
To be continued…
References
John Aldridge – Alright Aldo (2011)
Arnie Baldursson – Ronnie Moran – Mr Liverpool (2017)
John Barnes – The Autobiography (1999)
Peter Beardsley – My Life Story (1995)
Kirk Blows – Terminator – The Authorised Julian Dicks Story (1996)
Jamie Carragher – Carra: My Autobiography (2009)
Jan Molby – Jan The Man (2004)
Kenny Dalglish – My Liverpool Home (2010)
Rob Jones & Paul Hassall – Robbed
Dominic Matteo – In My Defence (2011)
Steve McManaman – El Macca (2005)
Neil Ruddock – Hell Razor (1999)
Ian Rush – Rush: The Autobiography (2009)
Graeme Souness – The Management Years (1997)
Graeme Souness – Football: My Life, My Passion (2017)
Paul Stewart – Damaged (2017)
Phil Thompson – Stand Up Pinocchio (2005)
Ronnie Whelan – My Life In Red (2011)