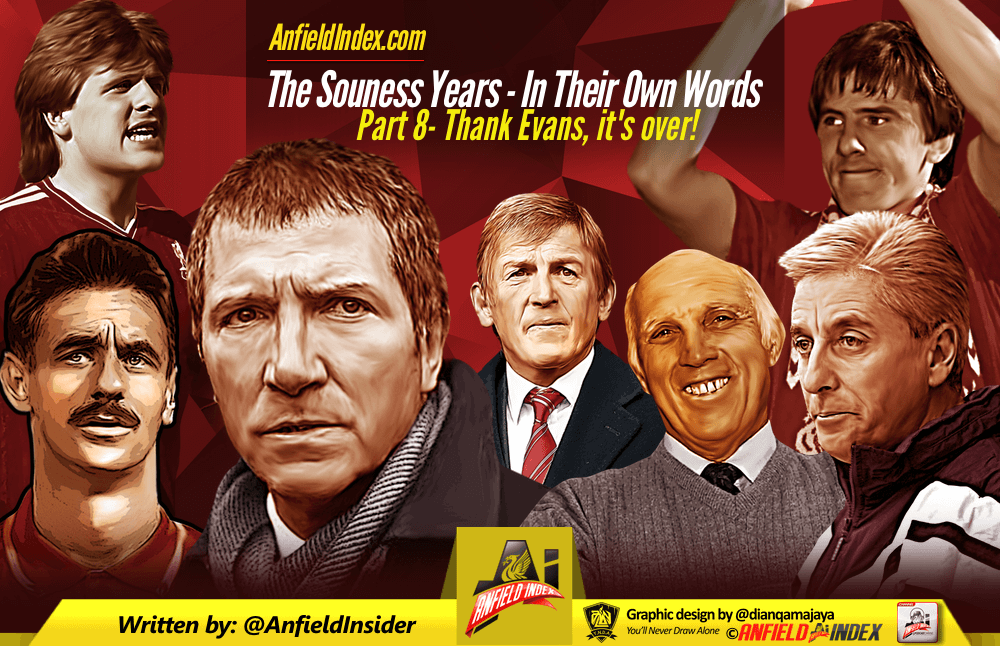 The Souness Years - In Their Own Words (Part 8) - Thank Evans, it's over!

This is the eighth and final instalment of our Souness Years series, looking behind-the-scenes of what went on at Liverpool during the Souness era of the early 90s.
You can find the first seven parts here: Part 1 Part 2 Part 3 Part 4 Part 5 Part 6 Part 7
STEVE NICOL: On a positive note, he did introduce two of Liverpool's greatest players in the modern era into the first team – Robbie Fowler and Steve McManaman.
ROBBIE FOWLER: Macca, Rob Jones, Mike Marsh, Don Hutchison, Jamie Redknapp, Steve Harkness, David James, Phil Charnock, Dominic Matteo and – eventually – me, were all given a chance by him.
JOHN BARNES: He did introduce some wonderful talents into the first team, skilful individuals like Steve McManaman, Jamie Redknapp and Robbie Fowler. Liverpool and England enjoyed the fruits of Souness' decision to promote these youngsters early.
ROBBIE FOWLER: It's obvious that he fell out a lot of the senior guys around the club, the players that had been there for years, and he was trying to shake things up. A lot has been said about him in his time as manager of Liverpool, but I can honestly say that I've got nothing but admiration for him. People slagged him off so much that season, and I heard plenty of the talk in the dressing room about him from some of the players – mostly the ones who had fallen out with him – but how can I say a word against him? He gave me my chance in football for a start, and for all his hard-man approach – and he was hard, believe me – he cared about Liverpool, and he cared about those players who put it in for him.
ROB JONES: It's more the senior players at the time that have an axe to grind.
GRAEME SOUNESS: After the 4-2 loss to Aston Villa, we were 17th after 9 games. I was totally depressed and it crossed my mind I might never be the strong forceful character that I had been before the operation. I headed up the M6 for Knutsford and I cried all the way home. I had tears streaming down my face on the 80-mile journey and goodness knows what other motorists would have made of that if they had recognized me. I was in bed by eight and seriously questioning whether I was strong enough, mentally and physically, for such a demanding job. I feared my personality might be undergoing a dramatic change. A local journalist pointed out the fact that we faced three crucial games – including the visit of Man United – all in a short period and these fixtures could determine our season. The response received from an experienced player to this journalist was 'Maybe it won't be such a bad thing if we lose all of them.' The writing was on the wall. Defeats could hasten my departure. That player was in the side that lost to Bristol City, and continued to be a regular in the side after I left. I hope he can look me in the eye if we meet again.
IAN RUSH: Graeme was so incensed with an interview given to a Sunday newspaper in which John had been critical of his style of management. I felt Graeme was right to haul him over the coals. Where I felt Graeme made a mistake, however, was subsequently ordering John to write an apology to him in the match programme. This was not so much a reprimand as a humiliation.
JOHN BARNES: Some people thought I tried to undermine him, but that's not the case.
ROBBIE FOWLER: People might think that sounds shocking, but believe me, in a football dressing room you do get that, course you do. Some characters, if they're not playing, if they don't like the manager, if they don't like the look of the future, they don't try.
RONNIE WHELAN: He went on a rant to the press after the Bolton game. 'They (the players) don't see playing for Liverpool as the pinnacle of the careers. They are only interested in getting another move or another lump sum of money and that's totally unacceptable. You can have players with all the ability in the world but when they go out not wanting to run around and fight for the ball as much as other teams then you're going to lose.'
JULIAN DICKS: John Barnes. Ian Rush. If they weren't doing the business, they were in the reserves and they didn't like Souness for that. But that's the way he was – if you didn't do the business, he'd bin you. He dropped Rushie completely, not even using him as a sub. At the end of the day though, if you upset players, then they're not going to work for you.
RONNIE WHELAN: As a manager, you're going to completely lose the dressing room if you come out with stuff like that too the press. He broke a cardinal rule, slating the players like that. I never once thought about leaving. I never once made the slightest inquiry about a transfer.
NEIL RUDDOCK: There was lots of bickering and moaning behind his back and you could sense that not everyone was pulling in the same direction. The annoying thing was that no-one would confront the manager to his face. I don't think they dared. Instead, there were snide little comments being made here and there and the disharmony spilled onto the pitch where some players were not performing to their full potential.
STEVE NICOL: How the fuck did we lose that game? Maybe Bruce, me, Barnesy and Rushie had seen better days but with talented kids like Jamie and Macca in the side we should still have been far too strong for our opponents. There was little urgency in our play that night, and that hunger, that will to win was missing. But I think the problems went deeper than that.
GRAEME SOUNESS: The day after the Bristol City game, I asked for a meeting with David Moores. I told them I intended to resign.
ROBBIE FOWLER: Graeme said later that he happened to have a room in the hotel next to the suite where Bristol City held their team meeting before going up to Anfield for the match.  He could hear every word of what was being said.
GRAEME SOUNESS: It was the Holiday Inn. I could hear Russell Osman give a scathing but accurate assessment of my side in his team talk through the wall.
ROBBIE FOWLER: Apparently, their manager said we were a sack of shite, and if they got stuck into us we'd wave the white flag, which is basically what happened.
GRAEME SOUNESS: I thought 'you are spot on'.
ROBBIE FOWLER: That sickened the gaffer. He said the experience of hearing a second-division side laugh about his players was enough to make his mind up to go, but I've always felt it went much deeper than that. The politics around Liverpool were bad at that time, and I've heard a few stories that he wanted to sign players and had them vetoed by the board. One thing you know about Souey is that if anyone tried to stop him doing things his way then he wouldn't stand for it.
GRAEME SOUNESS: I have to admit Nigel Clough was not my first choice when we signed him, I had been tracking David Batty for a long time. The Leeds chairman had assured me that we could get him at the end of the season, and I was giving my board regular updates. But they felt we should sign Nigel because his contract was due to expire and we were sure to get him.
JAN MOLBY: I don't think the club persevered long enough with Nigel. He got a raw deal.
ROY EVANS: Being the guy he is, Graeme's a very straight guy, it got to the stage where he felt enough is enough. We got beat by Bristol City in the FA Cup and he decided to walk.
NEIL RUDDOCK: He knew what he wanted, and nothing was going to stand in his way, but when he failed to deliver the trophies people began to question his methods and to suggest a return to the old Liverpool ways.
RONNIE WHELAN: This was a manager who was going to do it his way: I'm getting my own players in and I'm going to succeed with these players.
NEIL RUDDOCK: I honestly believe that, given time, Souness would have returned  Liverpool to a major force once more.
DOMINIC MATTEO: I felt sorry for Graeme.
PHIL THOMPSON: I have to admit, I did not shed too many tears.
JAN MOLBY: I didn't want Souness to go, but after that defeat, there really was no alternative.
NEIL RUDDOCK: I was deeply saddened by Souness' departure from Liverpool, a club he loved and where he desperately wanted to succeed, and I still stand by what I thought at the time that the club's top brass dropped an almighty clanger in ending the contract of a man I confidently believe would have made Liverpool bigger than Manchester United. He would have done too, if only he had been given the sort of time Alex Ferguson was allowed to get things right at Old Trafford. But he was taking more stick than he deserved and I think it all got too much for him, especially as he had undergone heart surgery a couple of years before and probably thought he didn't need all this hassle.
ROB JONES: When he left that was it. He didn't come into the dressing room to say goodbye. I'd like to have said my own personal farewell to him, simply to thank him for making all my dreams come true. But he was gone and Liverpool moved on.
RONNIE WHELAN: I honestly know that he wanted it to work. From the bottom of his heart, he wanted it to work. I would have loved if he'd succeeded, and I wanted to help him as much as I could. He was an old mate, after all, and I had nothing but admiration for him as a player.
NEIL RUDDOCK: I could see where he wanted to take the club, but those upstairs wanted success and they wanted it now, not later; especially with our arch-rivals Manchester United doing so well and already developing a real stranglehold on the Premiership. But we had to put the disappointment and the shock of Graeme's departure behind us and give the same sort of commitment to Roy Evans, who was rewarded for his remarkable service to the club as a player and coach by being made the manager of the club he loved.
ROB JONES: Once Souness was gone, there was only one man who the players wanted to take charge.
NEIL RUDDOCK: It was strange, really, because one week we were calling him 'Eddie', his nickname for years, and beating him up on the training ground, and the next he was the manager and we were calling him 'boss.'
GRAEME SOUNESS: Roy had originally been promoted as my assistant because he was rightly regarded as a nice guy, and the thinking was he could counter my more abrasive approach. After four years in the job, Roy left with his critics claiming he had been too soft on the players. Oh for the happy balance! Sometimes you wonder if you can ever win in this game.
KENNY DALGLISH: As the years passed, I still thought of Liverpool. When they brought in Gerard Houllier to work as joint-manager with Roy Evans in 1996, I wished it had been me. Why didn't they approach me to help Roy?
ROY EVANS: Everything happened so quickly that you don't have time to think will you be the next manager, your first thought is probably will you still have a job. The chairman called me round to his house and offered me the job. I said yes – I didn't ask him how much or how long, and to be fair I felt that I'd served my apprenticeship.
IAN RUSH: Roy was appointed caretaker manager, and two days later was given the job on a permanent basis. The press hailed the appointment, the consensus being the board members were wise to return to the boot room to appoint a manager – except there was no longer a boot room, as Graeme had got rid of it.
GRAEME SOUNESS: It was a club decision to demolish it. The ground was being renovated and more space was required to expand the press room. That certainly did not come within the manager's brief but because it happened during my time, I was saddled with the blame.
RONNIE WHELAN: Whatever the truth, times had changed. The original Boot Room men were gone.
JULIAN DICKS: It was the chairman who broke the news. He came to the training ground and said that Graeme had resigned and Roy Evans was taking over for the time being. I think a few of the players were glad to see Graeme go, such as the players he'd dropped.
IAN RUSH: I was saddened to see Graeme go. We'd had our differences, but the fact we hadn't seen eye to eye didn't in any way lessen the respect I held and still hold for him. I sensed that not too many Liverpool supporters were sad to see him go. They loved Graeme as a player but the general feeling was he hadn't cut the mustard as manager. Many fans remained upset over his sale of Peter Beardsley to Everton. A lot of supporters were not happy with the quality or style of player Graeme had brought to the club. Supporters were also upset he'd made so many changes, which many felt had destroyed the time-honoured 'Liverpool culture'. The treatment of John Barnes also left a sour taste, but the bottom line was that results had been nowhere near good enough. Graeme felt this more than anybody, which is why he resigned.
GRAEME SOUNESS: I reflected on the squad I had inherited and will always maintain that the odds were stacked against me from the start. The squad had required major surgery when I arrived.
STEVE NICOL: The main reason Graeme didn't succeed at Liverpool was, ultimately, because his players weren't good enough.
RONNIE WHELAN: Souey failed for two reasons: his judgment of players and the way he handled players, both young and old. You live and die by the players you bring in – and also by the players you let go. After that, you need good man-management skills, and at times his were terrible.
KENNY DALGLISH: Graeme's time as manager wasn't a huge success, because, I believe, he made too many changes too quickly.
GRAEME SOUNESS: Too many players were past their sell-by date and there was little coming through the ranks. Roy Evans spent heavily to try and turn things around and then Gerard Houllier, but I don't know if the great days will ever return for Liverpool. The bright lights of London attract the top foreign players and with Liverpool out of Europe what do they have to offer as an alternative?
ROB JONES: I saw Graeme in Dubai last year for the first time since he was sacked and he admitted he would have done things differently at Liverpool. He knows now that he should have asked the older players for help instead of trying to move so many of them on – and it probably wasn't a good idea making Mark Wright his captain given he'd just signed for the club. He tried to change things too quickly but it should be remembered that it was Graeme who brought through the likes of Steve McManaman and Robbie Fowler.
RONNIE WHELAN: Occasionally you will hear him say if he's being interviewed about that era, that he has his regrets. That he learned a lot more about management in the years after, and that he'd do things differently if he had his time back. And that's fair enough. I mean, wouldn't we all?
References
John Aldridge – Alright Aldo (2011)
Arnie Baldursson – Ronnie Moran – Mr Liverpool (2017)
John Barnes – The Autobiography (1999)
Peter Beardsley – My Life Story (1995)
Kirk Blows – Terminator – The Authorised Julian Dicks Story (1996)
Jamie Carragher – Carra: My Autobiography (2009)
Jan Molby – Jan The Man (2004)
Kenny Dalglish – My Liverpool Home (2010)
Rob Jones & Paul Hassall – Robbed
Dominic Matteo – In My Defence (2011)
Steve McManaman – El Macca (2005)
Neil Ruddock – Hell Razor (1999)
Ian Rush – Rush: The Autobiography (2009)
Graeme Souness – The Management Years (1997)
Graeme Souness – Football: My Life, My Passion (2017)
Paul Stewart – Damaged (2017)
Phil Thompson – Stand Up Pinocchio (2005)
Ronnie Whelan – My Life In Red (2011)